ArtistSpace Presents Shades of Green by Raul Lebajo: An Unparalleled Display of Flora and Fauna Fantasy
ArtistSpace Presents Shades of Green by Raul Lebajo: An Unparalleled Display of Flora and Fauna Fantasy
Take a journey into the progressive five-decade career of visual artist Raul H. Lebajo as ArtistSpace displays a unique solo exhibition of his latest works in Shades of Green running from December 6 to 19, 2018, at Ayala Museum.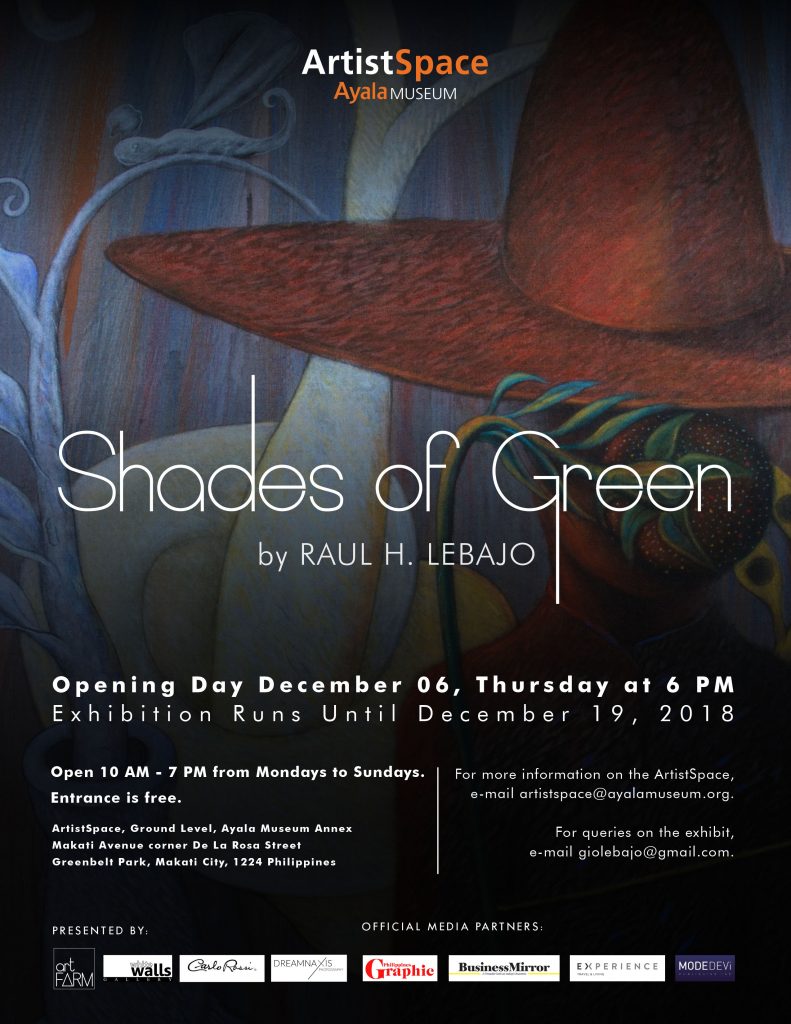 Being one year in the making, this much-awaited exhibit flourishes a one of a kind glimpse into the imaginary representation of worlds from the eyes of one of the most respected masters of his generation.
Also read: Ayala Museum
Born in 1941, Raul H. Lebajo studied at the University of the East in 1965 and finished his degree on Bachelor of Fine Arts at the Philippine Women's University in 1969. He earned a first prize award in the 1968 Shell National Student Art Competition.
Since then, his paintings were presented in international art galleries such as the National Gallery of Kuala Lumpur, Malaysia, Art Center of Silpakorn University in Bangkok, Thailand, and various commercial galleries in Hong Kong and Germany. He has also adorned solo exhibitions at the Le Plaza Hotel in Basel, Switzerland, and the Chicago Cultural Center, USA, among others.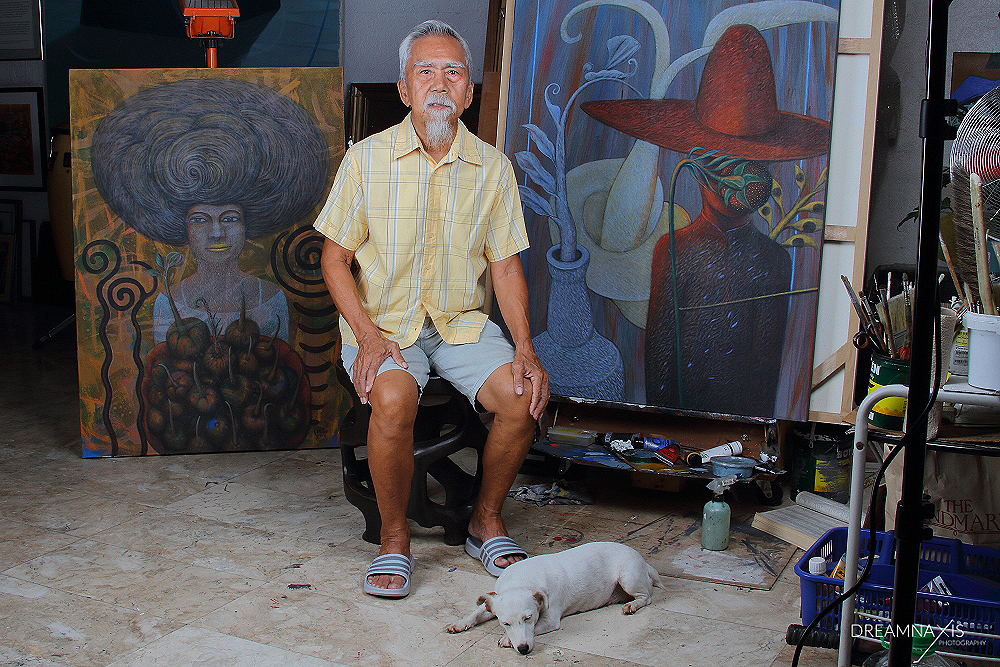 Visual artist Raul H. Lebajo with his work of art Shades of Green
This time, Lebajo's latest art pieces drew inspiration from the flora and fauna, and mystical creatures and realms that dramatize both his artistic career and his normal life on the far side of canvas and paints. As he reinvents his abundant passion for arts, this exhibit represents the fruitful and vibrant five decades of Raul Lebajo's career in the art of painting.
Also read: Ayala Museum Mobile App: Redefining the Modern Museum Experience
Some of his pieces on display are the After The Rain, Angel of the South, Bird Watch, Let It Grow, Portrait in the Woods, and Shades of Green.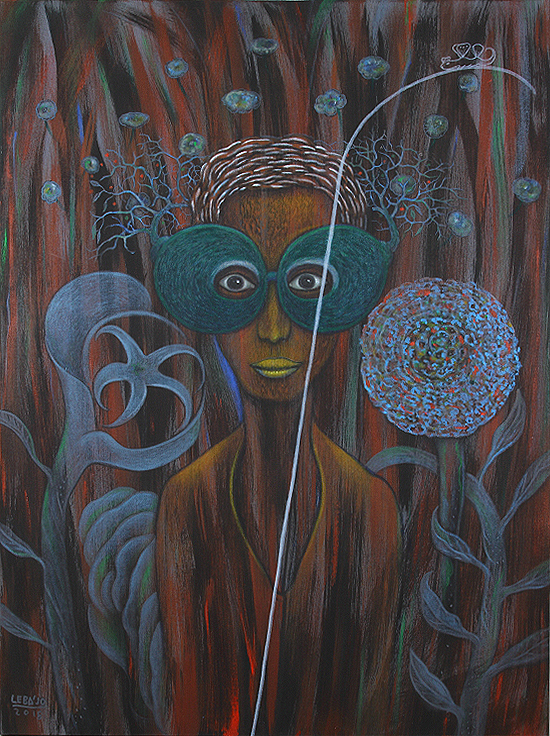 Raul Lebajo's Portrait in the Woods
Also read: New Virtual Reality Diorama in Ayala Museum Features Two Filipino Historical Figures
Shades of Green is a collection of reinvented life forms that grow in bloom and spirit in the form of art. It is open free to the public from December 6 to 19, 2018, Mondays to Sundays, 10:00 a.m. to 7:00 p.m, with an Artist Reception happening on the opening date at 6:00 p.m.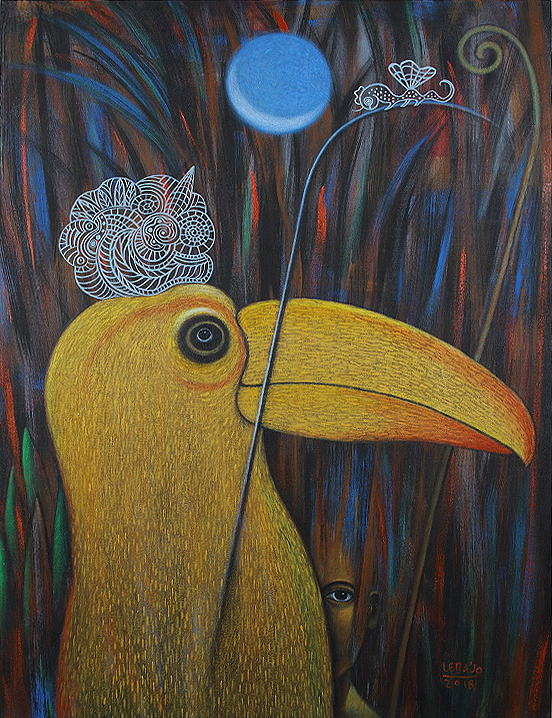 Raul Lebajo's Bird Watch
For more information regarding the event, please call or e-mail Jane Salvador at (02) 759-8288 and artistspace@ayalamuseum.org. For queries on the exhibit, you may contact Gio Lebajo at giolebajo@gmail.com.
Details:
What: Shades of Green by Raul H. Lebajo exhibit
Where: Ayala Museum Annex, Ground Level, Makati Avenue corner De La Rosa Street, Makati City.
When: December 6 to 19, 2018, 10:00 a.m. to 7:00 p.m.
Ticket information: Admission is free
Website: www.ayalamuseum.org
---
This is a press release. Minor edits were made prior to publishing.
Images courtesy of Artistspace