CINCO: A Solo Exhibition of Anita del Rosario Happening at the Ayala Museum from November 7 to 19!
CINCO: A Solo Exhibition of Anita del Rosario Happening at the Ayala Museum from November 7 to 19!
ArtistSpace presents a solo exhibition of jewelry designer, sculptor, painter, and illustrator, Anita del Rosario, titled CINCO: Celebrating 50 Years of Sublime Craftmanship and Creativity. 
Join fellow artists and art-lovers alike as del Rosario takes guests on a journey to the past and the future as a symbolic window to her artistic life, happening at the Ayala Museum, Makati City. The exhibit started last November 7 and will run through November 19, 2018.
Also read: Ayala Museum Mobile App: Redefining the Modern Museum Experience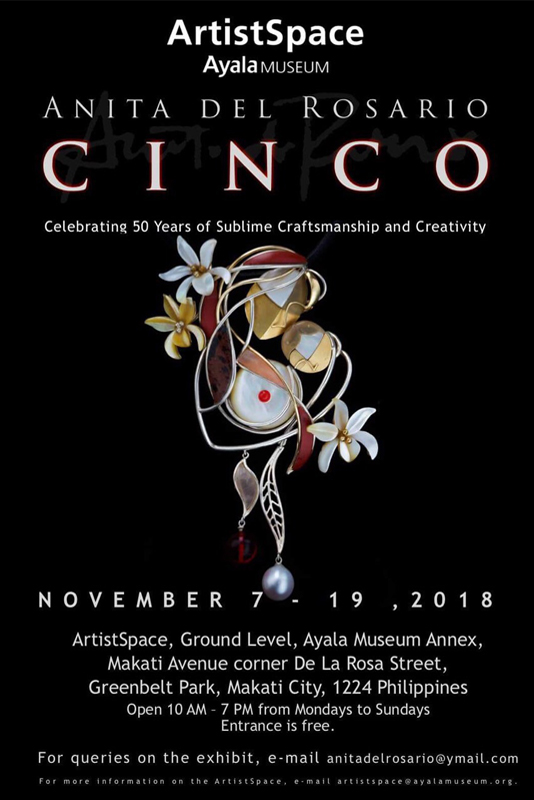 The Artist
Even in her youth, del Rosario was enthused with the existence of art and all of its forms. She chose a Fine Arts degree at the University of Santo Tomas (UST) and selected advertising as her major, which enabled her to study different kinds of media.
Del Rosario–inspired by the works of other artists that she admired and encountered, as well as the observations of beauty that she wanted to preserve–picked up a brush and immortalized them on canvas, with oil and watercolor as her paint of choice. She considers painting as one of the most robust forms of art, and has the utmost respect for it. Painting invoked her to discover her own style and find her voice.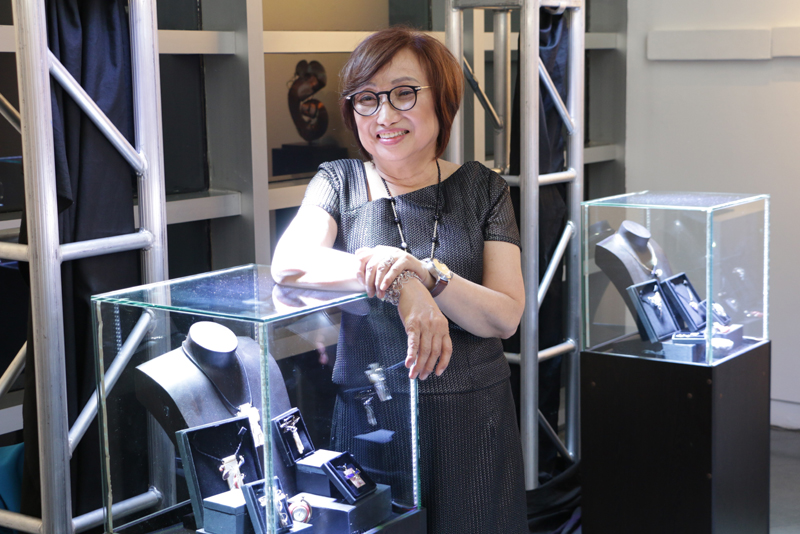 Painter, designer, illustrator, jewelry designer, and sculptor – Anita del Rosario is genuinely a sublime figure
Because of her background in Advertising, she explored drawing and subsequently became an illustrator for a local comic book magazine.
While the process of transforming words into a visual journey was a challenge, it was a very gratifying one for del Rosario. She assisted in weaving graphic narratives of universal emotional themes such as love, despair, victory, and tragedy.
The craft was meticulous and demanded high-level technique and ingenuity, where del Rosario established her status as a premier artist in sculpted jewelry.
Her unique definition of elegance is reflected in her pieces where the authentic and meaningful value of a piece does not automatically parallel with extravagance or lavishness as she can set illustrious gems using the most modest of materials.
Madre y' Niño, one of the del Rosario's pieces that are on display at the exhibit
Further, del Rosario's craft earned her a reputation in the "Who's Who" of the Philippine social circle who collected her pieces because each piece is unique that is designed exclusively for a single client. Her friend and one of her patrons brought up that she should craft bigger versions so that the details are more evident, which led to her starting her sculptures.
Because of diversity in work, she was one of the recipients of 100 Women Artists: The Centennial of the Feminist Movement in the Philippines by the Cultural Center of the Philippines in 2015.
So if you want to know more about Anita del Rosario, CINCO gives a rare opportunity for the public to view this amazing artist's works for the first time. Plus, admission is free!
Also read: New Virtual Reality Diorama in Ayala Museum Features Two Filipino Historical Figures
For more information, you may call Ms. Jane Salvador at 02-759-8288. You may also email artistspace@ayalamuseum.org. You may also contact Tzee del Rosario at (63) 922-897-8933. You may also visit the ArtistSpace Facebook page and the Ayala Museum website.

Details
What: CINCO: Celebrating 50 Years of Sublime Craftmanship and Creativity
Where: ArtistSpace at the Ayala Museum Annex, Ground Level, Makati Avenue corner De La Rosa Street, Makati City
When: November 7 to 19, 2018, 10 a.m. to 7 p.m.
Facebook: www.facebook.com/artistspacegallery/
Website: www.ayalamuseum.org/
---
This is a press release. Minor edits were made prior to publishing.
Photo courtesy of ArtistSpace.