Social Media Week Manila 2018: Connecting the Missing Link
With its vast platform, social media is no longer used just for communication alone. Over the years, it continues to innovate, opening new opportunities in many industries such as marketing. The Philippines is particularly known as the Social Media Capital of the world due to a large number of Filipinos who spend a lot of time using the internet on a daily basis.
Having earned this status, Social Media Week, one of the world's premier conferences and industry news platforms for media, marketing, and technology professionals since 2009, brings its series of international conferences to the country.
Also read: PH best at 'Social Networking' according to International Number Ones map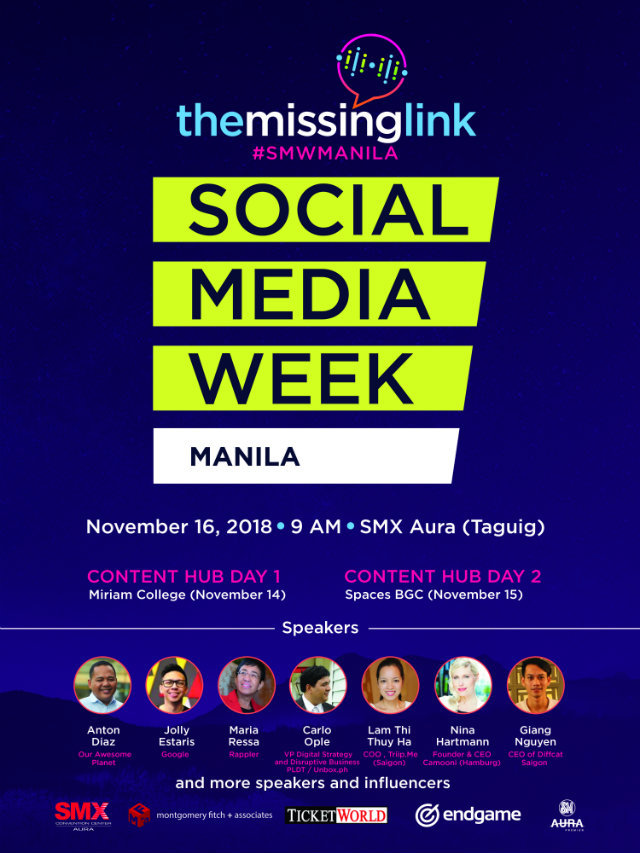 Social Media Week 2018 takes over Manila on November 14 to 16, 2018, 9 a.m. to 5 p.m at the SMX Convention Center Aura in BGC, Taguig as it celebrates human connectivity and the power of technology with the theme "The Missing Link", which is based on the 2018 global theme "Closer".
By providing an effective platform to discuss "The Missing Link", referred as the lost human connectivity in technology, Social Media Week Manila enables participants to exchange ideas and reconnect with our humanity in a digital way.
Our outstanding social media stats earned us the reputation of being the social media capital of the world. So it's only fitting that we celebrate Social Media Week here in Manila! Join us on November 14 to 16, 2018! Get your tickets now: https://bit.ly/SMWManila2018#SMWManila #SocialMediaWeek

Social Media Week Manilaさんの投稿 2018年10月22日月曜日
The 3-day event will provide a series of talks, forums, and panel discussions from leaders and key personalities in the media, marketing, and technology industry. These speakers will provide their expertise and insights for individuals and groups to recognize the potential and responsibility of social media communication.
Also read: Social Media Etiquette: Most Important Tips to Keep in Mind, Always.
Gracing the event are international speakers Triip.me Chief Operating Officer Ms. Lam Thi Thuy Ha, Diffcat CEO Mr. Giang Nguyen, Camooni Founder and CEO Ms. Nina Hartmann, Blogapalooza CEO Ms. Ace Gapuz, Rappler CEO Maria Ressa, and Subtue Chief Marketing Officer Dr. A.J. Minai.
Bloggers are also attending the event, including psimonmyway.com blogger Trisha Velarmino, techpinas.com founder Mark Milan Macanas, and multi-awarded mommy blogger of aboutmyrecovery.com Noemi Lardizabal-Dado, and a lot more other influencers in the country.
Tickets are available at Ticket World for Php 9,999 for VIP, Php 4,999 for Patron A Regular, and Php 1, 499 for Patron B Student tickets. There are also ticket promos for groups of 5, which cost Php 3,000 per head for Patron A Regular and Php 750 per head for Patron A Student.
For more information regarding the event, visit SMWM website at www.smwmanila.com or shoot them a message at info@smwmanila.com. Also follow their social media accounts on Facebook, Instagram, and Twitter at @smwmanila. For ticket inquiry, you may visit Ticket World through their website.
Details
What: Social Media Week Manila 2018
Where: SMX Convention Center Aura, 3rd and 4th Level SM Aura Premier, 26th St. cor. McKinley Parkway, Fort Bonifacio, Taguig City
When: November 14 to 16, 2018, 9 a.m to 5 p.m.
Website: www.smwmanila.com
Facebook: www.facebook.com/smwmanila
Ticket Information: 

VIP – Php 9,999
Patron A (Regular) – Php 4, 999
Patron B (Student) – Php 1, 499 (Available online and over the counter, must present ID upon entering the venue)
Group of 5 (Patron A Regular) – Php 3,000 per head
Group of 5 (Patron A Student) – Php 750 per head
---
Source: Social Media Week Manila official website