Pinoy Playlist 2018 Music Festival in BGC Highlights Filipino Musicality this October
A home and a platform for people to share their love and passion for arts, BGC Arts Center continuously creates cultural experiences to keep arts and music, as well as our culture, alive.
This year, BGC Arts Center launches a one-of-a-kind music gathering of over a hundred music icons highlighting talents and musicality of Filipinos at Pinoy Playlist 2018, Ito ay Atin, Sariling Atin happening for six days this October 2018!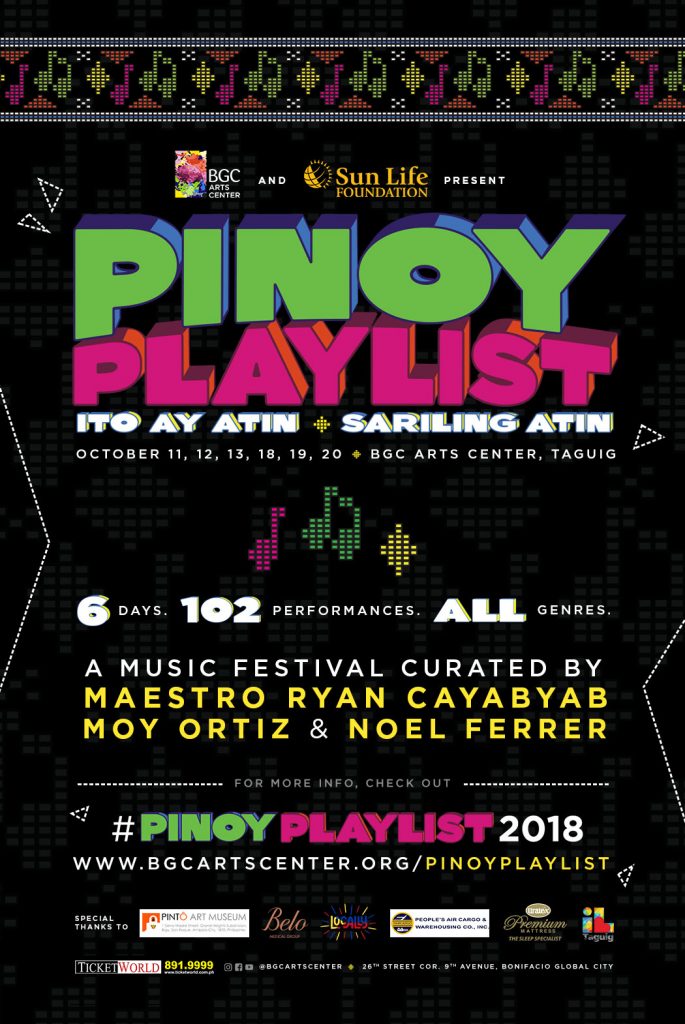 In a country with a diverse perspective in life, Filipinos hold onto music and arts as our common denominator. It reveals our deep connection and the tale of the rich history of our country. Though Filipino music has long evolved through time, we were a witness of how the wide range of Filipino musicality, across time, have been a huge part of our lives.
Also read: BGC Arts Center: The Centerpiece of BGC's Cultural District 
To celebrate the evolving nature of Flipino music, BGC Arts Center together with Sun Life Foundation, brings us six days of music festivity featuring artists from vocal groups, solo, bands, classic, indigenous, pop, and collaborations.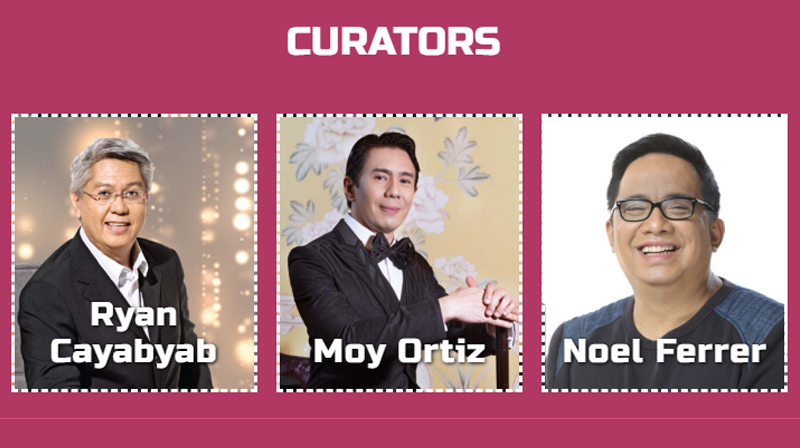 A labor of love of the Pinoy Playlist curators Maestro Ryan Cayabyab, Mr. Noel Ferrer, and Mr. Moy Ortiz, Pinoy Playlist 2018 aims to bring together people to experience the rich tapestry of homegrown Pinoy music and to acknowledge, honor and celebrate Filipino music in all its forms.
The Artists
This music festival gathers great music icons from all forms and generations with each and everyone, shining in their own variety of talents. With over a hundred guest performers, Pinoy Playlist 2018 celebrates Filipino music for six days this October 11,12,13, 18,19 and 20, 2018 with a spectacular line up: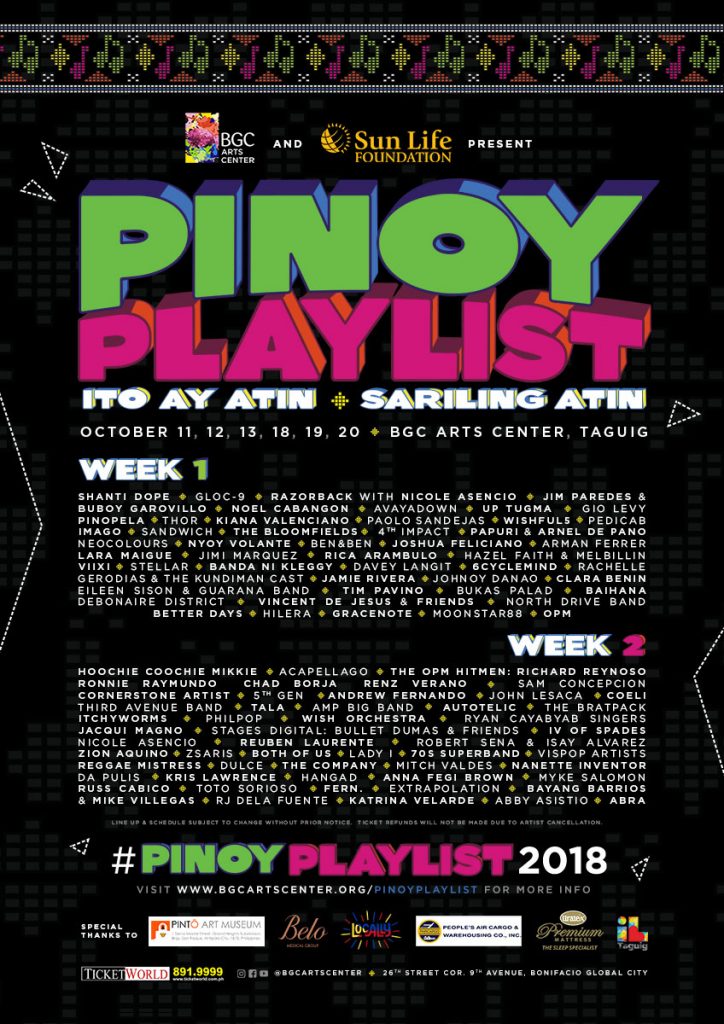 IMAGE Ticketworld
For the full schedule of performance, you can visit playlist.bgcartscenter.org.
Note that line up and schedules are subject to change without prior notice. Ticket refunds will not be made due to artist cancellation. 
Venue and Tickets
The six-day music festival will be held in three venues simultaneously: Globe Auditorium (Maybank Performing Arts Center), Zobel de Ayala Recital Hall (Maybank Performing Arts Center) and Sun Life Amphitheater. Ticket prices range from Php 375 for students to Php 7,650 for a group of four. Student rates are only applicable until college. To purchase your tickets, visit here: Pinoy Playlist Ito ay Atin • Sariling Atin
Also read: Lost in BGC? There's an app for that 

IMAGE Pinoy Playlist's Official Website
There's nothing more fulfilling than to witness talents from different generations come together to celebrate one love for music, culture, and arts. Pinoy Playlist 2018, Ito ay Atin, Sariling Atin will be happening on October 11,12,13, 18,19 and 20, 2018 at the Globe Auditorium, Zobel de Ayala Recital Hall and Sun Life Amphitheater.
Also read: Several BGC Streets to Follow New One Way Scheme 
For more information, visit Pinoy Playlist's official website at playlist.bgcartscenter.org and like BGC Arts Center's Facebook page at BGCArtsCenter for more updates. 
Details:
What: Pinoy Playlist 2018, Ito ay Atin, Sariling Atin
When: October 11,12,13, 18,19 and 20, 2018
Where:
Globe Auditorium Maybank Performing Arts Theater, 26th St, Taguig, City
Zobel de Ayala Recital Hall Maybank Performing Arts Theater, 26th St, Taguig, City
Sun Life Amphitheater, 24 Federacion Drive, Taguig, Metro Manila
Facebook:  facebook.com/BGCArtsCenter
Website: https://playlist.bgcartscenter.org
Ticket Prices:
Regular Rate – Php 750
Student Rate – Php 375
Group of 4 – Php 2,500
3-day Pass Regular Rate – Php 1,500
3-day Pass Student Rate – Php 750
3-day Pass Group of 4 – Php 5,000
Festival Pass Regular Rate – Php 2,250
Festival Pass Student Rate – Php 1,125
Festival Pass Group of 4 – Php 7,650