8th Likhang Habi Textile Fair Seeks to Showcase Cultural Heritage this October 12 to 14
The most wonderful time of the year is fast-approaching. Along with that is the mad dash to complete one's holiday shopping. What better way to send Christmas cheer than by sending gifts that keep on giving? Drop by HABI's trade fair WOVEN Voyages: 8TH Likhang Habi Textile Fair from October 12 to 14, 2018 at Glorietta Mall's Activity Area.
The fair is organized by HABI Philippine Textile Council, a non-profit organization, and is meant to showcase the artistry of the country's indigenous weavers. This year, there will be a total of 84 exhibitors, some of which are from the weaving communities of the ASEAN region, namely Brunei, Indonesia, Myanmar, Malaysia, and Vietnam. According to HABI co-founder Maribel Ongpin, this will be HABI's biggest trade fair to date.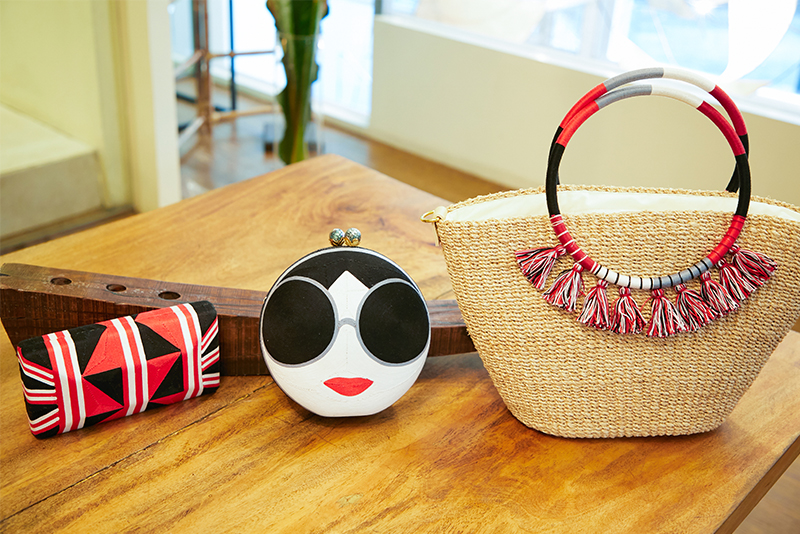 Beatriz Accessories for HABI 2018
Ditch neutral-colored items for some more colorful ones. HABI is putting emphasis on products made of natural fabrics. There will be established brands touting goods using these fabrics such as bags adorned with cloth made by the Yakans of Basilan as well as hand-woven blankets, covers, and napkins from the Ilocos Region. Kids and collectors need not feel left out because there will be toys and novelty items made by local craftsmen.
La Herminia Pina Silk
Culture Preservation
The fair is an avenue where local weavers can showcase their wares to Metro Manila's consumers, allowing them to transact directly with wholesale buyers, foreign buyers, and stores. By cutting out the middlemen, the weavers have a lower chance of being short-changed.
Cotton Ikat by Binalkay
The show also provides lucrative opportunities for weavers as some of them have been contracted to supply materials to prominent fashion designers, bag manufacturers, and gift and novelty shops. As a result, the younger generation from these communities is convinced that there is a future in weaving, thereby saving a cultural heritage from extinction and boosting their communities' economies.
Narda's Philippine Cotton Handwoven
Fashion-conscious female shoppers may want to give the fair a try. Ms. Adelaida Lim, a Baguio-based businesswoman and an active member of HABI said that they want to attract more fashion designers as these fabrics can be used for contemporary fashion and not just for traditional costumes.
Iraya Mangyan Ayala Foundation
Also read: A Woven Tradition: The Iraya-Mangyan Community of Puerto Galera
Beyond selling goods, the fair is also educating the public regarding the use of earth-friendly raw materials, sustainability, and the preservation of old traditions. Apart from the stalls, there will be a fashion show, an exhibit featuring the textile art of Filipino-French artist Olivia d'Aboville, and the works of the winners of the Lourdes Montinola Weaving Competiton. Other highlights include workshops and lectures on sustainability as well as a tribal food lounge.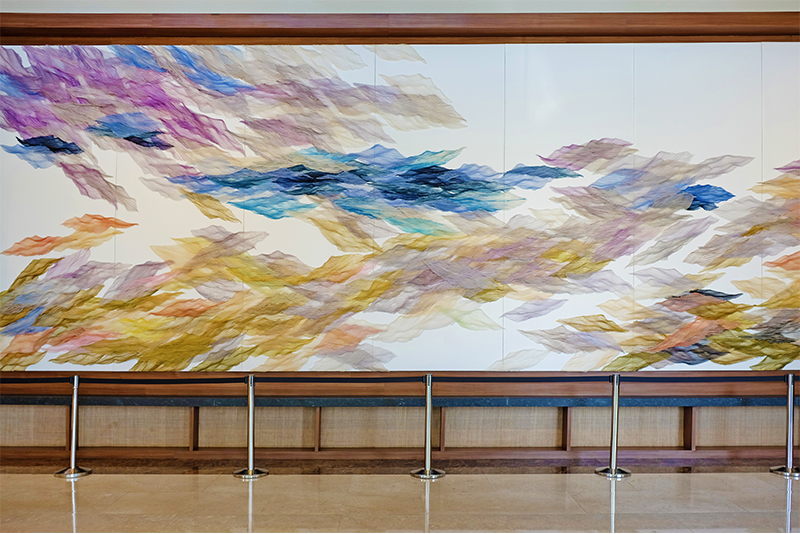 Olivia d'Aboville Philippine Silk Artwork
For more information, please call the HABI Philippine Textile Council at +63 927-852-6955 or send an e-mail to likhanghabi@gmail.com. You may also visit their website habitextilecouncil.ph.
Details:
What: Woven Voyages: 8th Likhang Habi Textile Fair 2018
Where: Glorietta Mall Activity Area, Ayala Center, Makati City
When: October 12 to 14, 2018
Ticket: Free Admission