2018 Chili Festival Chases the Heat with Johnny Scoville
Chase the heat as the Philippine Chili Federation (PCF) gives you the biggest gathering of Chiliheads in South East Asia, featuring heat chaser, and famous Chili personality, Johnny Scoville, in the latest and hottest 2018 Chili Festival! Witness a fiesta of fiery competitions and supreme hot kicks from chili tastings at Whitespace Manila as PCF celebrates their fifth anniversary on September 2.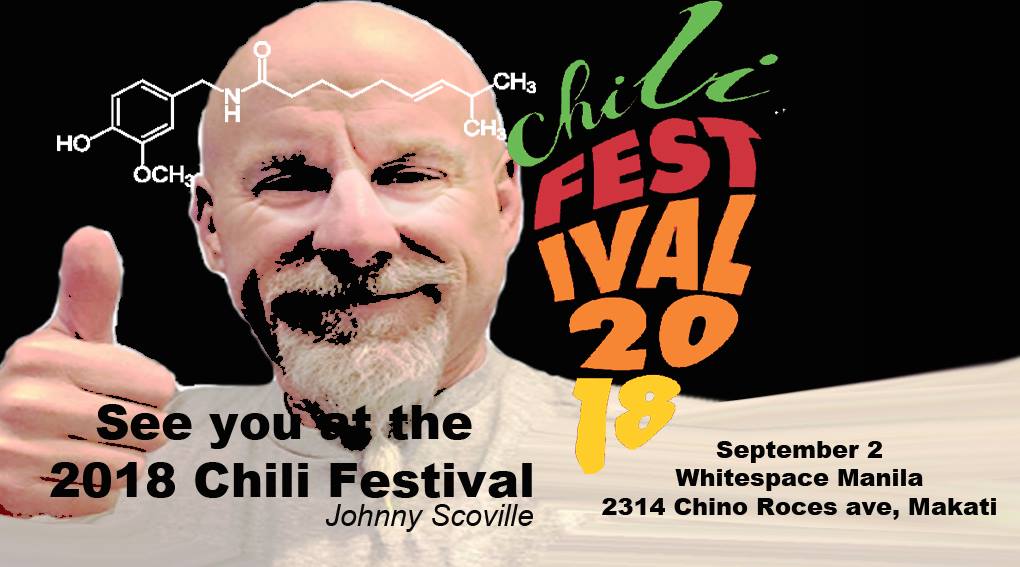 Visit the All Day Chili Pod Tasting booth put up by one of PCF members, Chili Growers Philippines, who will be making different types of chilis from the Mild Jalapeño to the Carolina Reaper, the hottest chili in the world, 300x hotter than Labuyo, only for your taste buds! In addition, another table is prepared by the Philippine Hot Sauce Club, called THE TABLE OF FIRE as the All Day Hot Sauce Tasting of over 200 different hot sauce mostly made from the Philippines is open for everyone to sample.
Meanwhile, Lectures, featuring the best grower of these super hot chilis will also be held alongside Demonstrations from award-winning hot sauce makers.
Now, if you want to closely join the fun, you can compete in over 20 different categories during the festival's Hot Sauce Competition, or take home the Best Plant in the Show award when you participate in the Chili Plant Competitions throughout the day. Chili Pod Arrangement Contests will also be held within the festival to determine who is the best pod flower arrangers in the Chili World.
A Bazaar composed of over 60 chili vendors from hot sauces to baked goods, seeds, plants, gardening tools, and chili garments, will also be selling throughout the day, complementing the Food Hall which serves milk as an antidote to chili spice.
As Chiliheads gather in this annual celebration, take this time to build connections with other buyers and suppliers, paving the way for networks to be made among local sellers of hot sauce and other chili products.
Among various member groups to attend the 2018 Chili Festival are Philippine Hot Sauce Club, Labuyo, Chili Growers Philippines, Mindanao Chili Growers, Ka Sili, and Sili Wars, who are among the promoters of everything chili for food and health value.
For more information, you can visit the Philippine Chili Federation at www.facebook.com/PhilChilliFed or call 0917-300-1054.
Details:
What: 2018 Chili Festival
Where: Whitespace Manila, 2314 Chino Roces Ave. Extension, Makati City
When: September 2, 2018; 8 a.m. to 8 p.m.
---
This is a press release from the Philippine Chili Federation. Minor edits were made prior to publishing.