Pocari Sweat Colors and Bubbles Fun Run in Alabang
Get ready for a fun run that is truly fun, exciting, and colorful. Bring your children and friends to the Pocari Sweat Colors and Bubbles Fun Run this August 26, 2018 at the Alabang Town Center.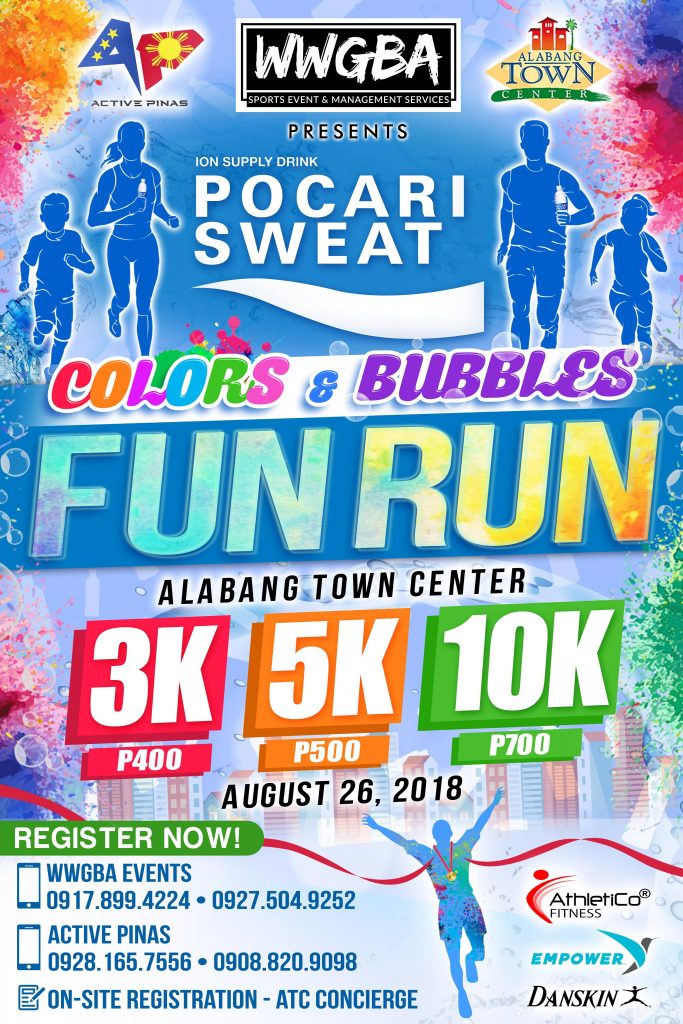 WWGBA Events, in partnership with Alabang Town Center, Active Pinas, and Pocari Sweat Philippines brings you double the fun with both a color run and bubble run. The color powder that will be used is food grade and non-toxic to make the experience safe. The event will have three categories: 3k, 5k, and 10k, with a Php 400, Php 500, and Php 700 registration fee respectively.
All fun run participants will receive a race singlet, race bib, finishers' medal, and loot bag with goodies from the sponsors. Additionally, 10k runners will get a finishers' shirt. Assembly will be at Alabang Town Center Deck Parking, and the race starts at 5 am on August 26, 2018.
Finisher's Medal
There will also be a program after the run so don't run home too quickly because participants can win the Youngest Runner award, Oldest Runner award, Biggest Team Delegation award, and the Happy Runner or Most Colorful Award. Register a group of 10 and get 1 for free!
Pocari Sweat Colors and Bubbles Fun Run is a fun-filled event for runners of all ages. On-site registration is available at the Alabang Town Center Concierge. Online registration is also available.
Contact WWGBA Events at 09178-994-224 or Active Pinas at 0908-820-9098. Registration is until August 19, 2018. To register for the Pocari Sweat Colors and Bubbles Fun Run 2018 fill out the form at http://bit.ly/pocarisweatrunph.
Details:
What: Pocari Sweat Colors and Bubbles Fun Run
When: August 26, 2018, gun starts at 5:00 am
Where: Alabang Town Center Deck Parking – Beside McDonald's
Ticket Information: 3K (Php 400), 5K (Php 500), and 10K (Php 700) registration fee
Website: www.pinoyfitness.com/2018/07/pocari-sweat-colors-and-bubbles-fun-run-2018-in-alabang/