The Artologist Gallery Celebrates 5th Anniversary with "Quartet II", an Exhibition with a Twist
The Artologist Gallery Celebrates 5th Anniversary with "Quartet II", an Exhibition with a Twist
The Rolling Stones' chart-topping "Angie" conquered Europe in 1973, and it has little to do with its song title. In fact, even Keith Richards, who wrote "Angie" himself, describes it as "just a working title". No, let's face the facts. What made "Angie" hit the charts was because of the musical foursome, Richards, Ron Wood, Charlie Watts, and Mick Jagger, who made the ballad exude a bittersweet, soft harmony, making it a unique and beautiful addition to their albums along the years.
And just like a String Quartet with its 2 violinists, a violist, and a cellist working together to produce one cordial sound, Four seems to be a fitting number for four forces gathering together for The Artologist Gallery's Quartet: The Second Time Around on August 11 to 21 at the Shangri-La Plaza East Wing Activity Center!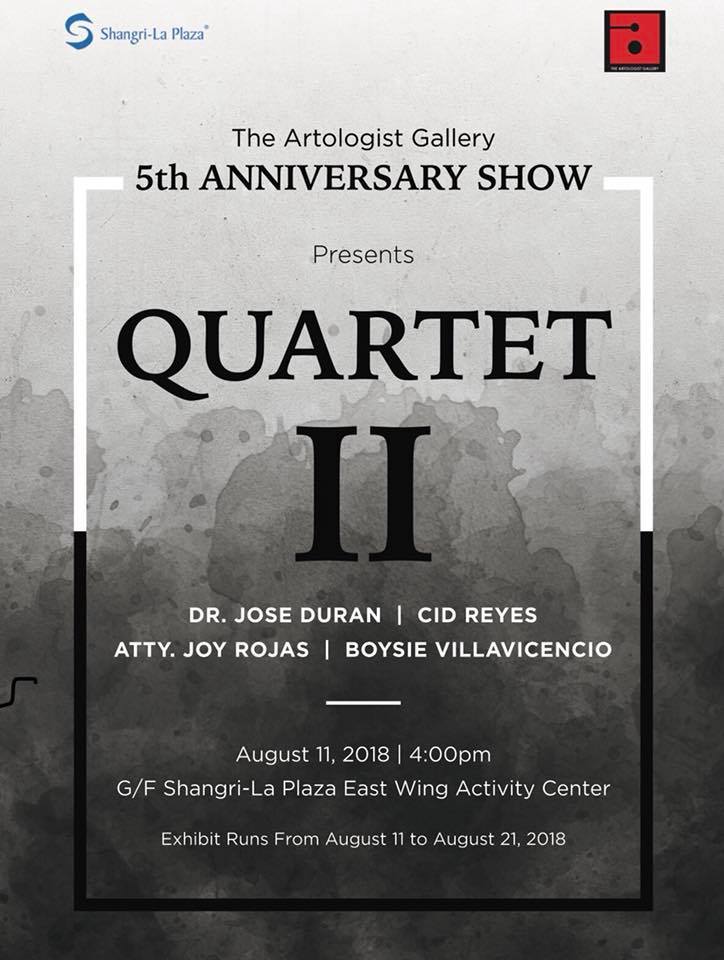 Here in lies the twist: the "quartet", while well-versed in painting and is practicing the art for years, are actually experts, who have made a name for themselves, on another profession.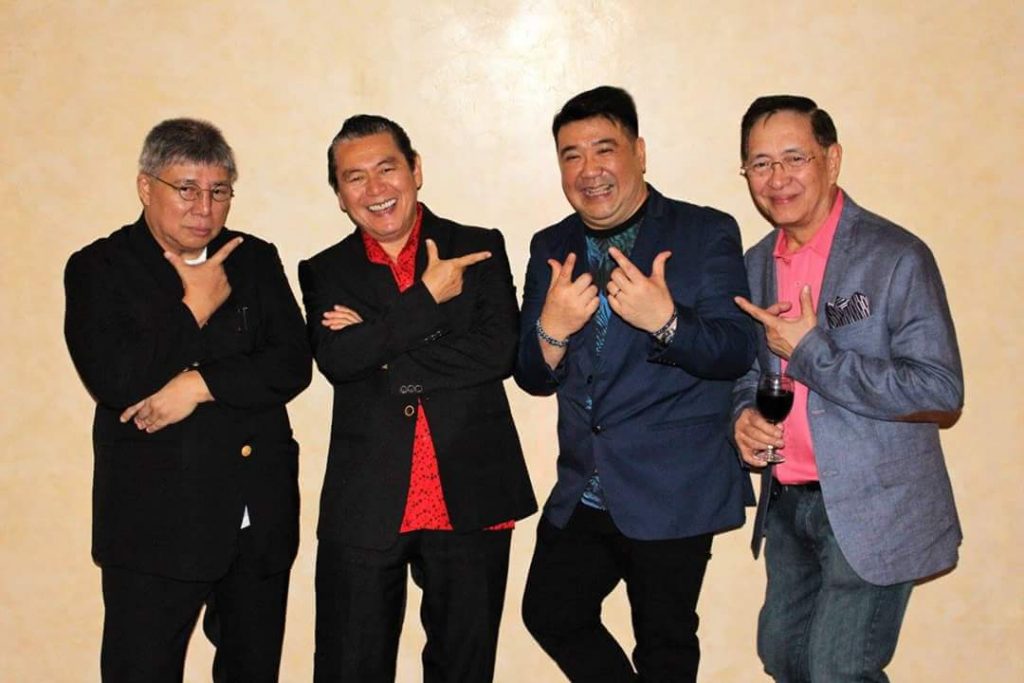 The Quartet comprised of (from left to right) Boysie Villavicencio, Cid Reyes, Atty. Ferdinand "Joy" Rojas, and Dr. Jose "Ping" Duran from Quartet 2017./ IMAGE The Artologist
Eye-specialist, Dr. Jose Duran, for example, used to head University of Santo Tomas' Ophthalmology Department. With his eye for the flora and fauna, blossoming naturally with a burst of colors that give cheer to anyone who sees it, his paintings dwell in a setting that rivals that of a paradise. In The Artologist's own words, "Dr. Duran creates a pastoral world, a return to an idyllic place, a soothing nourishment for the human spirit."
On the other hand, Cid Reyes—an advertising creative, an art critic, and 4 National Artists' choice—favors the touches of blacks, whites, and grays on the seas more than the splashes of color of terra firma and of bucolic settings. With the motion of water on the forefront of his mind, Reyes manipulates paint and sets them to freedom as an Abstract Expressionist.
Meanwhile, former Philippine Charity Sweepstakes Office (PCSO) General Manager, Attorney Joy Rojas, who is also an enthusiast of racing, revels in the "abstract possibilities of the expressive texture", with a gentle mix of telluric colors. Like racing, with its portrayal of fluidity and movement, as well as endless possibilities, Atty. Rojas' works are described by The Artologist as "distinctive and instantly recognizable", leading to several sell-out solo shows.
Finally, businessman-slash-fashion designer Boysie Villavicencio embraces his prowess on design as he enters a new phase with "Goddesses and Queens", reminding of shimmering fabric rolls, fashioned and draped elegantly on women.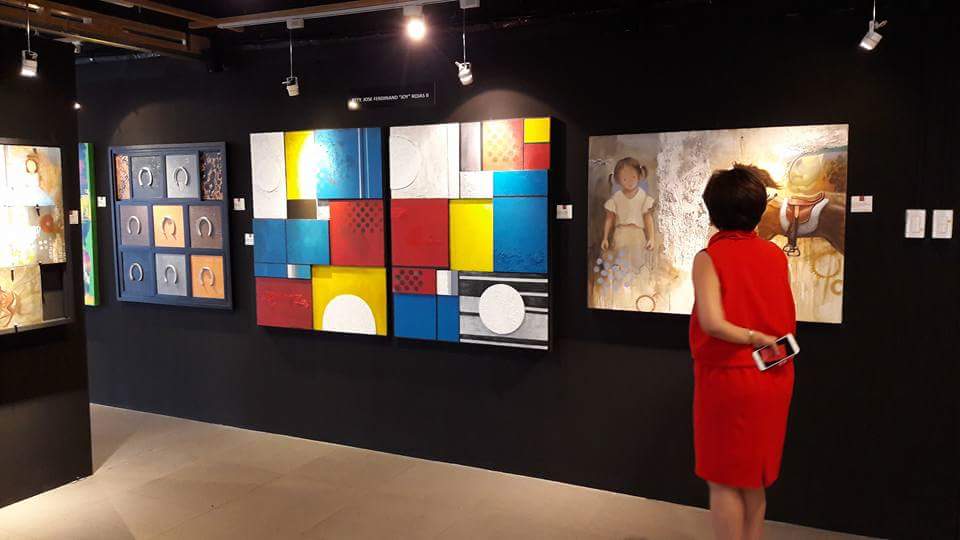 The Artologist Gallery's Quartet exhibit from 2017 featured artworks from Villavicencio, Reyes, Rojas, and Duran as well./ IMAGE The Artologist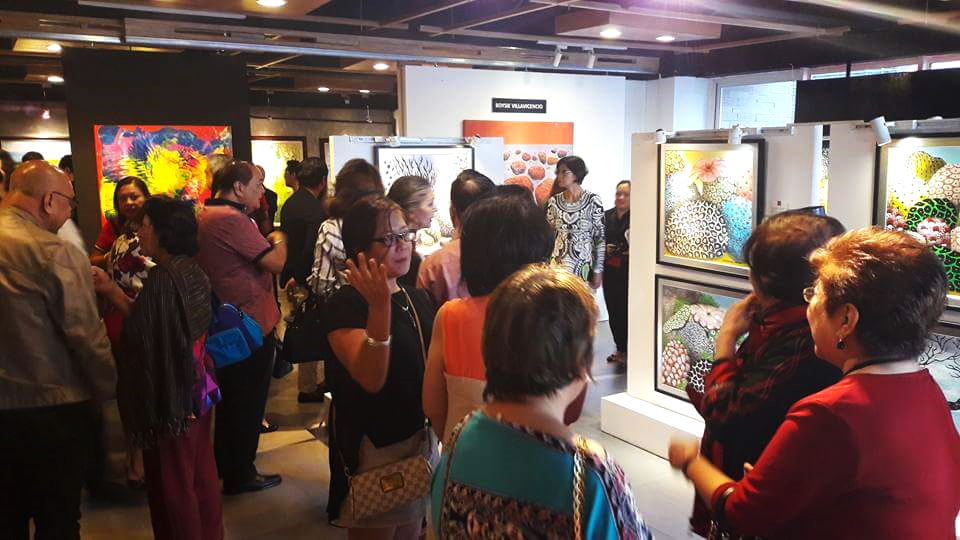 IMAGE The Artologist Gallery
"Quartet", which was first launched in 2016 and is a brainchild of couples Ron and Bambi De Castro, is the 5th Anniversary exhibit of The Artologist Gallery. The gallery, which started humbly at Eisenhower Street in San Juan, is now a home to both contemporary and post-modern art for artists who are just about to venture on their careers and who are currently on their pathway to success.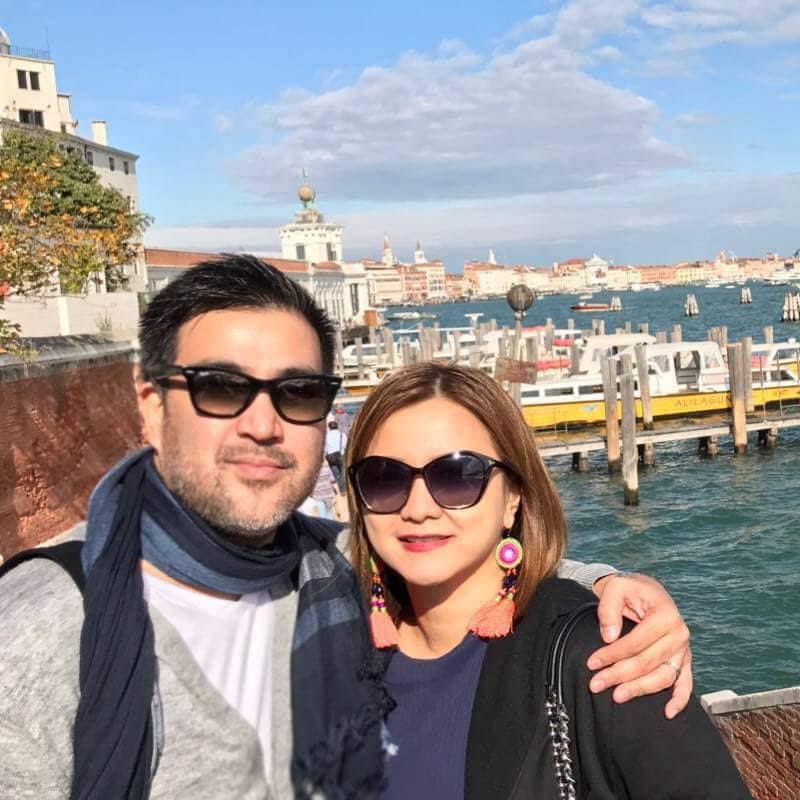 Ron and Bambi De Castro of The Artologist celebrates the gallery's 5th anniversary with Quartet./ IMAGE The Artologist Gallery
Now, it is one of the premier art hubs, known not only in the Philippines but also in Paris, where Monnar Baldemor, dubbed as "voice of a new generation of Paeteños" from Laguna by The Philippine Star, was presented by The Artologist to showcase "Adieu" on September 2017.
The Artologist's main gallery is currently located at Xavier Street in San Juan, Manila with a branch called the Happy Art/Abstrak Art in Tiendesitas, Pasig City.
Quartet: The Second Time Around is a FREE for all exhibit! Visit The Artologist's Facebook Page at www.facebook.com/artologist for more of their up and coming events and workshop this year.
Details:
What: The Artologist's  5th Anniversary Show Quartet: The Second Time Around
Where: G/F Shangri-La Plaza East Wing Activity Center, Ortigas Center, Mandaluyong
When: August 11 to 21 at 4 pm
Ticket charge: FREE for all!
---
This is a press release. Minor edits were made prior to publishing.
Sources: The Artologist Gallery, Rolling Stone, The Current
Images grabbed from: Ron-Bambi De Castro of The Artologist Gallery