Philippine Sustainable Gastronomy seminars at WOFEX Manila 2018
In the food industry, there is more than just cooking and serving meals on top of tables in restaurants, or even in the comfort of your own home. Several aspects such as food preparation, food security, nutritional standards, and sustainable food production should be considered by someone who cooks professionally—or even just as a hobby.
That is why from August 02 to 03 2018,  the Philippine Sustainable Gastronomy will be conducting seminars that focus on the influence and necessity of food sustainability.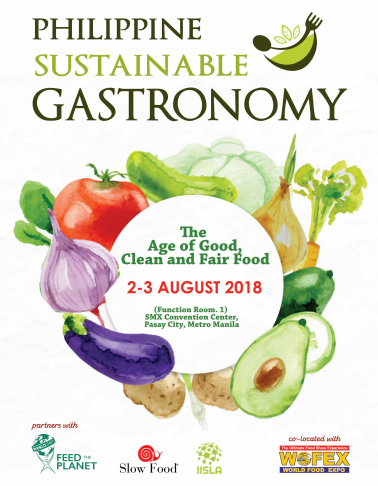 Few of the said seminars are the following:
Voting with your Fork
Food Activism Exploring actions aims to impart its staunch support for food justice, sustainable farming, biodiversity, preventing food waste and ensuring shorter food chains.
Slow Travel
A Journey of the Senses Travel is based on the gastronomic traditions and culture places around the country—here, attendees can hear stories of farmers, and be knowledgeable on the food biodiversity of a specific region.
Waste Not, Want Not: Reducing the Food Waste Footprint
The attendees will be introduced to the process of preserving and canning food, and composting and tips on leftover cuisine.
The event will be inside the World Food Expo (WOFEX) 2018 at the SMX Convention Hall, Pasay City. Ticket charges will be Php 200 per day.
Details:
What: Philippine Sustainable Gastronomy
When: August 02, 2018; 1 p.m. to 4 p.m. and August 03,2018; 11 a.m. to 5 p.m.
Where: SMX Convention Hall, Pasay City
Ticket Details: Php 200 per day