Philippine Madrigal Singers Celebrate Their 55th Year at Ayala Museum
Catch another melodious performance of The Philippine Madrigal Singers as they mark their 55th year in the industry at Madz at 55: A Night at the Museum together with choirmaster Mark Anthony A. Carpio this May 3, 2018 at the Ayala Museum in Makati City.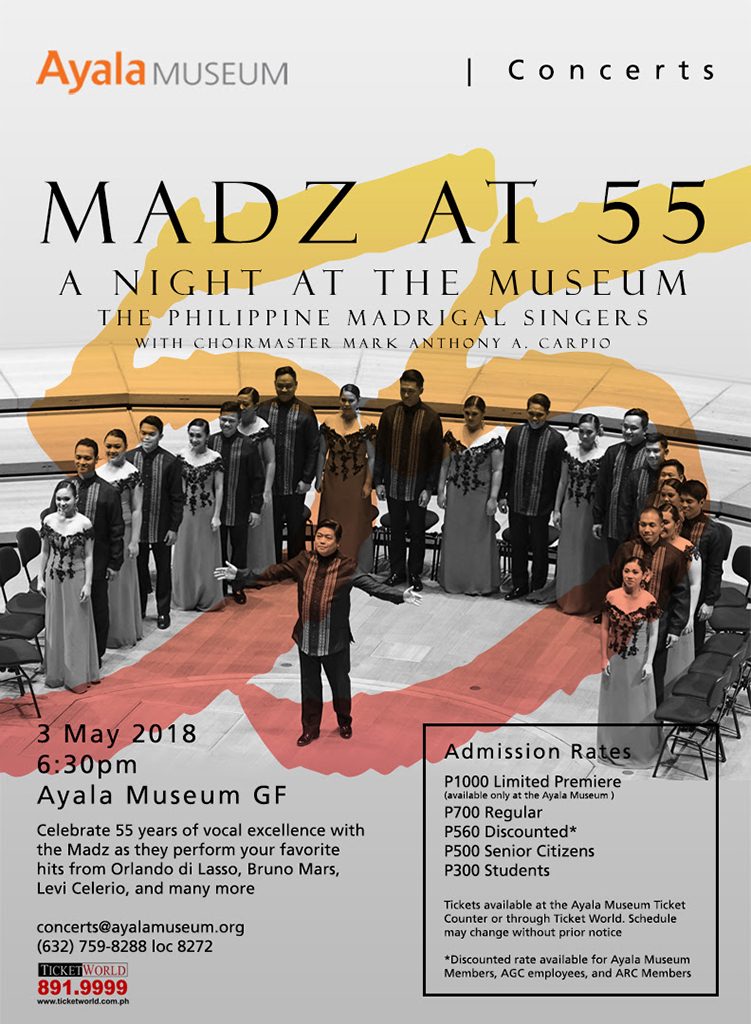 Starting at 6:30 P.M, spend the night at the museum filled with harmony as they jam with you to join the chorus of various hits from singers Orlando di Lasso, Bruno Mars, Levi Celerio and more. The Philippine Madrigal Singers is one of the most prominent choral groups in the country, having established their name through various choral competitions around the world. They have been consistent in winning top prizes among these competitions ever since they started in 1963. As an ensemble, they continue to perform a variety of pieces ranging from classical to pop music.
PHILIPPINE MADRIGAL SINGERS AT INQUIRER. The world-renowned choral group Philippine Madrigal Singers are a versatile bunch, performing everything from classical pieces to pop music like local band Sugarfree's Huwag Ka Nang Umiyak./VIDEO Inquirer.net
Tickets are priced as follows:
Php 1,000 Limited Premier
Php 700 Regular
Php 560 Discounted Rate**
Php 500 Senior Citizens
Php 300 Students
Limited premiere admissions are only available at Ayala Museum. Discounts are available for Ayala Museum members, Ayala Group of Companies employees, MSO Subscribers, and Ayala Rewards Circle. Also, Senior citizens and students have discounted prices as they avail tickets with just presenting their IDs. Tickets are also available at TicketWorld with additional charges.
For more information on admission and how to avail discounts, visit Ayala Museum.
Details:
What: Madz at 55: A Night at the Museum
When: 3 May 2018; 6:30 pm
Where: Ayala Museum Makati Avenue corner De la Rosa St., Greenbelt Park, Makati City
Tickets: Php 1,000 Limited Premier, Php 700 Regular, Php 560 Discounted Rate, Php 500 Senior Citizens, Php 300 Students; available at the Ayala Museum or through TicketWorld

---
Written by Vinnise Marcelo, Philippine Primer Intern