In Full Bloom: 6th Solo Exhibition of Love Marie Ongpauco-Escudero
Since her artistic debut in 2014, Love Marie Ongpauco-Escudero has transformed and reintroduced herself as someone other than Heart Evangelista– the name she uses as a Filipina TV personality. In her first exhibition this 2018 called "In Full Bloom," the actress-slash-artist will be showing us paintings bursting with new energy, evidently showing what Love Marie has to offer.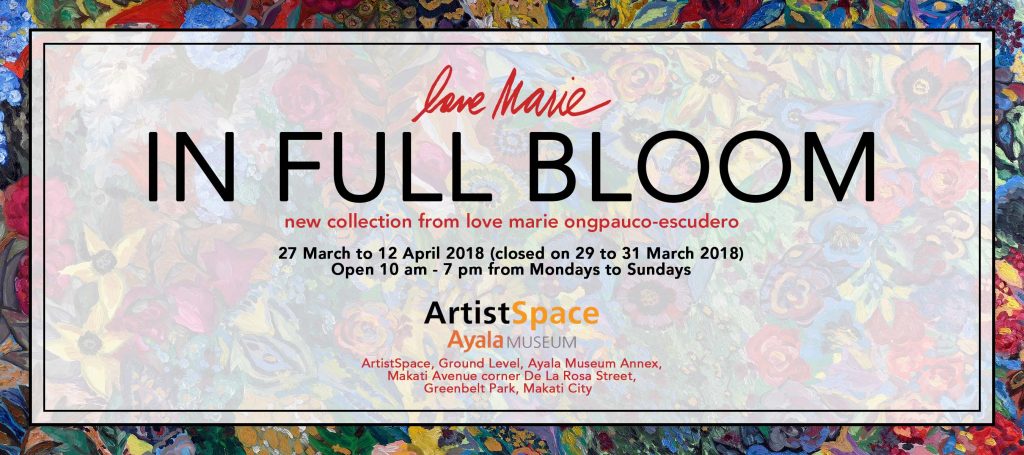 Author AA Patawaran sees a change in Love Marie's new collection. "[It is] so subtle it might disguise itself among the brushstrokes, now bolder and more nonchalant. It's so subtle it might blend with the wash of colors, more dauntless, unblinking in the shadows. Even the women in the paintings, veiled in flowers, unreachable in the abyss of their own thoughts, hinting at their creator's autobiographical approach but never quite confirming it, seem to have evolved, less confined to the reality of proportions, more daring to soar into the realms above the clouds and dive into the depths of dreams, floating like ruffled, colored petals on the wind or losing themselves in a deep well of emotions."
The centerpiece art, In Full Bloom, was first introduced on the cover of AA Patawaran's poetry book HAI[NA]KU And Other Poems. Many people can also see something new in Love Marie's art and when asked about it, "Maybe it's because I think I've found myself," Love Marie says. "I'm so much more comfortable with myself that, with every decision I make, I can go all out."
The exhibit entitled In Full Bloom opened last March 27 and will continue to April 12 from 10 AM to 7 PM daily at ArtistSpace Ayala Museum. Admission is free.
Details:
What: In Full Bloom: 6th Solo Exhibition of Love Marie Ongpauco-Escudero
When: March 27 to April 12, 2018
Where: ArtistSpace, Ayala Museum Annex, Ground Level, Makati Avenue corner De La Rosa Street, Makati City
Contact: (02) 759-8288
Email: artistspace@ayalamuseum.org