The 9th Philippine International Literary Festival – (AUTHOR)ITIES
The National Book Development Board (NBDB) invites all to the 9th cycle of the Philippine International Literary Festival at the Cultural Center of the Philippines (CCP) from April 19 to 20, 2018. This year's festival will feature talks, workshops, book fair to film screenings and performances carrying the theme (AUTHOR)ITIES.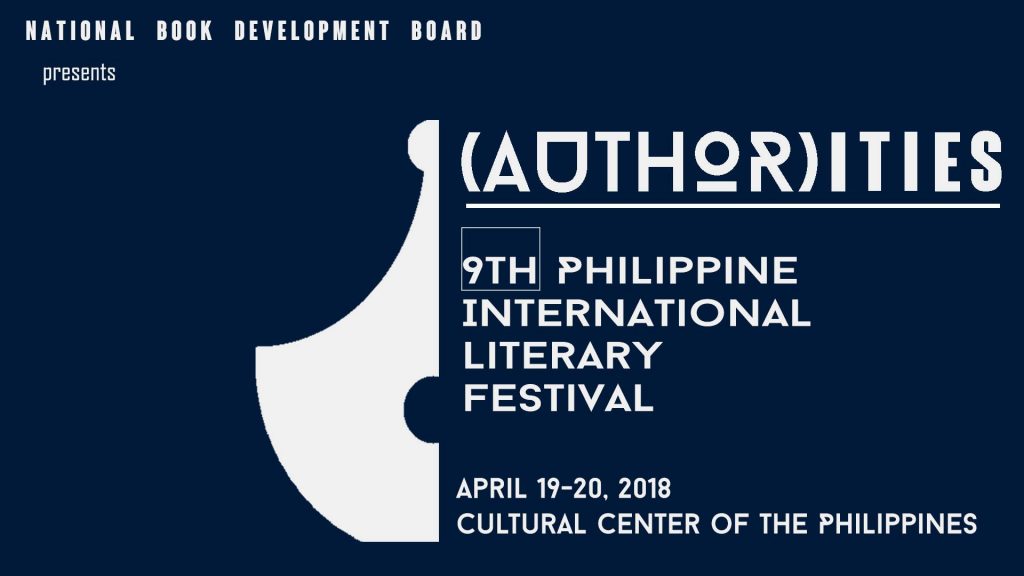 IMAGE grabbed from Philippine International Literary Festival Facebook Page
Held every year NBDB's holds the festival to support the Philippine book industry and in celebration of National Literature Month. This in partnership with the National Commission for Culture and the Arts (NCCA) and Komisyon sa Wikang Filipino (KWF). 
This year, we welcome speakers and guests such as:
London-based Filipina writer Elaine Castillo, who will debut her book "America is Not in the Heart,"
Writers Marra Lanot, Luna Sicat-Cleto, Glenn Diaz, Kristine Ong Muslim, Kristian Sendon Cordero, Liza Magtoto, Rody Vera, Genevieve Asenjo, MJ Cagumbay Tumamac, and Clarissa Militante,
Book designers Karl Castro, Ige Ramos, and R. Jordan Santos, and
Graphic lit creators Manix Abrera, Mervin Malonzo, Elbert Or, and Carlo Vergara
Partnerships that the NBDB had created will deliver more quality sessions and spur discourse from different perspectives:
Film Development Council of the Philippines (FDCP) – screenings of local films during the two-day festival, with films adapted from published Filipino artists and literary arts.
Game Developers Association of the Philippines (GDAP) – sessions on innovations, challenges, and opportunities in book-to-game adaptations and digital platforms. Tabletop games (card games and board games) based on Filipino folklore and literature will also be demonstrated at the book fair.
Department of Education-Bureau of Learning Resources (DepEd-BLR) – translation, including best practices and challenges, will be explored in the forum
Sessions will touch on timely and relevant discourses on comics, cross-media projects, literacy and reading programs, fiction writing, self-publishing, storytelling programs, book-to-film adaptations, translation, editing, independent publishing, playwriting and publishing, popular culture, and much more.
All activities in the 9th Philippine International Literary Festival are free and open to the public.
For updates on the Festival program, please visit National Book Development Board – Philippines on Facebook or check out their event page. For queries, you may contact the Festival team through litfest@nbdb.gov.ph or at 02-929-3887 local 804.
Details
What: 9th Philippine International Literary Festival
Where: Cultural Center of the Philippines in Pasay City
When: April 19 to 20, 2018; 8 am to 7 pm
Tickets: Online pre-registration will start on April 2, 2018