TEDx British School Manila 2018
Slated to be on April 14, 2018, the independent TEDTalk is set to impart new learnings once again under the theme "Transformations." With six notable guests, this will be the fourth TEDx event to be held at the British School Manila since their start on 2015.
TED is a non-profit organization that aims to promote new learning and the development of ideas. Through TEDx, independent communities, organizations, and individuals discuss and contemplate a range of concepts depending on a variety of themes such as anthropology and psychology. The guests this year will share ideas revolving around the theme Transformations.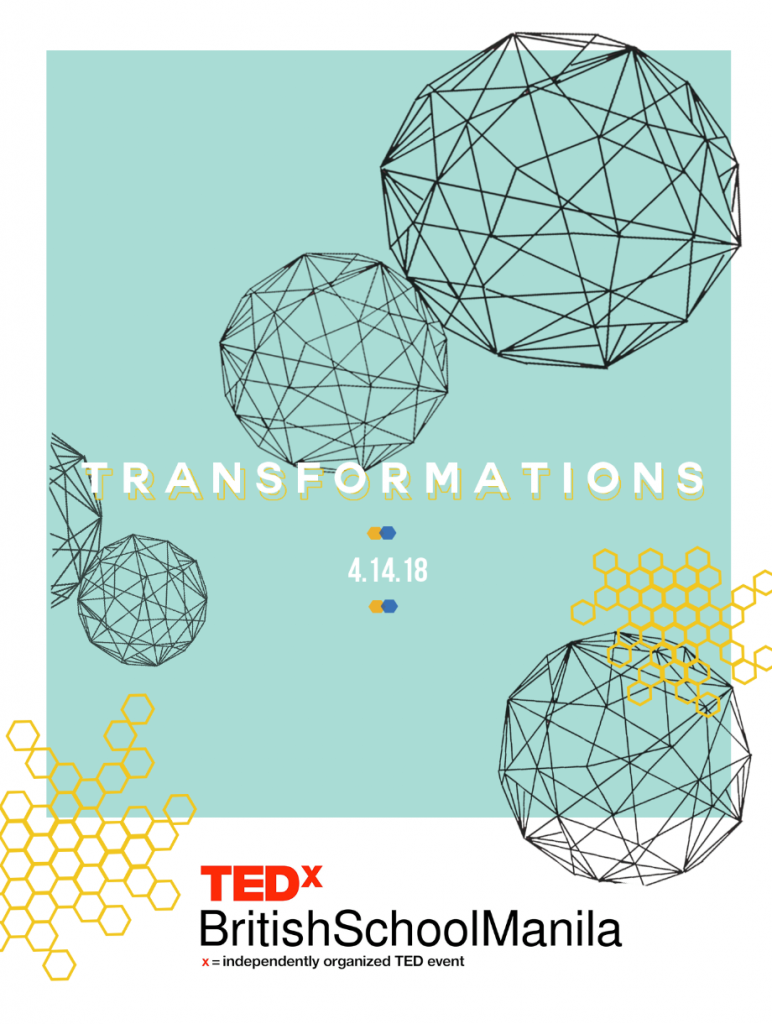 Here are the guests for this year's TEDx:
Dr. Aivee Teo, Dermatologist
The founder and Medical Director of the Aivee Group Of Clinics started her journey by taking and completing a medical degree from the University of Santo Tomas College of Medicine and finishing her dermatology residency training at the University of Santo Tomas Hospital. She is a highly trained board certified dermatologist with a special interest in Cosmetic Dermatology, Anti-Aging medicine, and Laser Surgery.
Brian Johnson Fung Ngan, Chief Investment Officer at Cedarside Holding Corporation
Ngan holds a masters in finance from New York Stern School of Business and HKUST Business School and holds a Bioengineering (Honours) degree from the National University of Singapore as a full scholar from the Ministry of Foreign Affairs, Singapore. Ngan once assumed strategy roles in Coca-Cola and DB Schenker.
Dinky Soliman, Former Secretary of the Department of Social Welfare & Development 
Soliman is a social development practitioner with over 40 years of experience in designing, implementing and evaluating social protection and community empowerment programs in the non-profit/NGO and the public/government sector. She is also skilled in coalition building and collaborative mechanisms in crafting the delivery systems of a program.
Joe Caliro, Globe Senior Advisor for Creative Marketing and Multimedia Business
As the creator of Gen3 and Iconic stores for Globe Telecom, Caliro has been instrumental in bringing Globe back to become the number one brand in the Philippines which is now one of the most watched Telcos in the world. Caliro has spent more than 17 years in producing, promotions and developing television shows, Theater, and Nightclub Entertainment.
Paul Soriano, Producer, Director and Screenwriter
Soriano is an award-winning producer, director, and screenwriter who owns the film production company called TEN17P that has produced award-winning films both in the local and international scene since 2008. Soriano has also directed and produced A Journey Home (2009), Thelma (2011) that won Best Film, Best Screenplay and Best Director, Kid Kulafu – The Manny Pacquiao Biopic (2015), Dukot (2016), and his most recent film, Siargao (2017) that bagged 7 major awards in the 2017 Metro Manila Film Festival. He also won the Best Director for the film.
Romnick Blanco, Harvard Scholar
Romnick Blanco is the seventh out of nine sons of a rice and vegetable farmer. He was born and raised in the foothills of the longest mountain range in the Philippines, the Sierra Madre in San Miguel Bulacan. In 2012, he became the first farmer's child to win a full-tuition scholarship at the International School Manila (ISM) in its 92-year history. He is presently entering the 9th month of his gap year at Harvard.
Atty. Angela Consuelo Ibay, Programme Head at WWF
Atty. Ibay used to work for the Department of Environment and Natural Resources focusing on the conduct of research and studies on environmental laws for the formulation of guidelines necessary for possible implementation. She also served as the Legal Counsel for the Pollution Adjudication Board. She is now the WWF-Philippines' Head of Climate and Energy Program.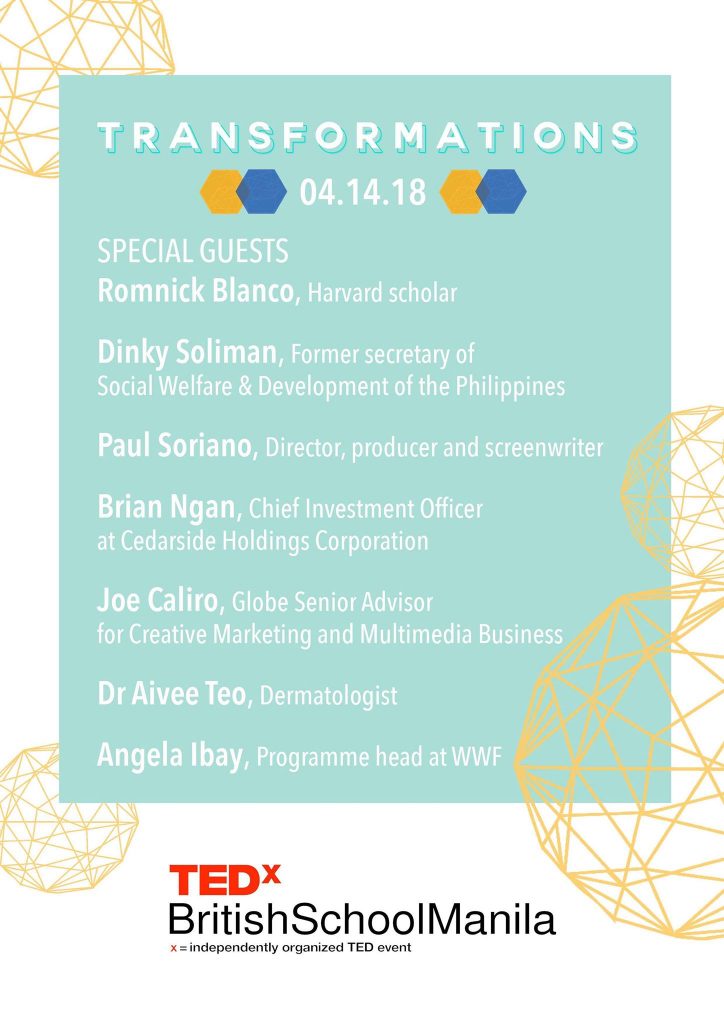 Details
What: TEDxBritishSchoolManila
Where: Learning Resources Centre, The British School Manila, 36th Street, Bonifacio Global City, Taguig
When: April 14, 12 pm – 6 pm
Website: https://www.ted.com/tedx/events/26368