Bryan White and Endless Summer for Bullcoin Gold Tour
If you're a fan of songs like God Gave Me You and Miss You Like Crazy, then this is the concert for you!
Bullcoin Gold is bringing Bryan White and Endless Summer (Bob and Clint Moffatt) from The Moffats to the Music Museum for a one-night-only concert happening on April 12, 2018.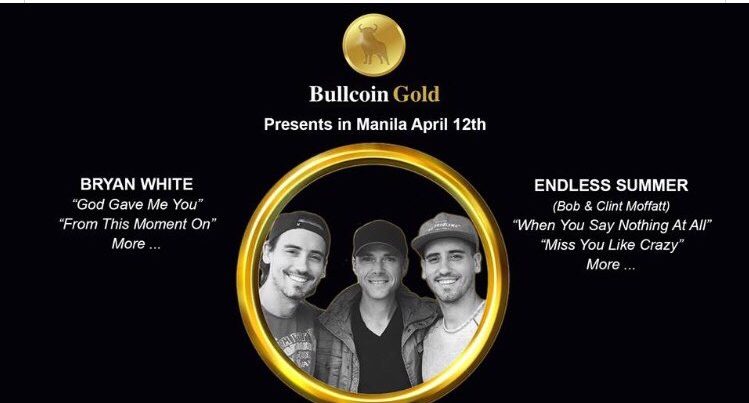 Listen to American country music artist Bryan White as he performs his famous hits. Some of his famous hits are God Gave Me You, From This Moment On, Beautiful Place and many more. It was back in 2015 when he had his God Gave Me You Tour in Manila, where he serenaded hundreds of fans.
The Moffats were one of the most famous bands in the 80's. Composed of brothers Scott, Clint, Bob, and Dave Moffatt, they rose to fame with their hit singles Miss You Like Crazy and If Life Is So Short. Although they've broken up as The Moffats, Clint and Bob have been making their name in the music scene. In 2016, they released an EP under the name Endless Summer, with the debut single Amen For Women.
Catch them collide in a one of a kind night at the Music Museum!
Details
What: Bryan White and Endless Summer (Bob and Clint Moffatt) from The Moffats
Where: Music Museum, San Juan City
When: April 12, 2018
Tickets: https://www.tickettailor.com/events/bullcoingold/146230