Solo Para Adultos To Hold a Limited Repeat Run this February 2018
After a successful run in 2017, Solo Para Adultos will once again own the spotlight this 2018!
Due to popular demand, a limited repeat run of Solo Para Adultos or "For Adults Only" will be happening on February 10 and 17 at the Music Museum in San Juan City.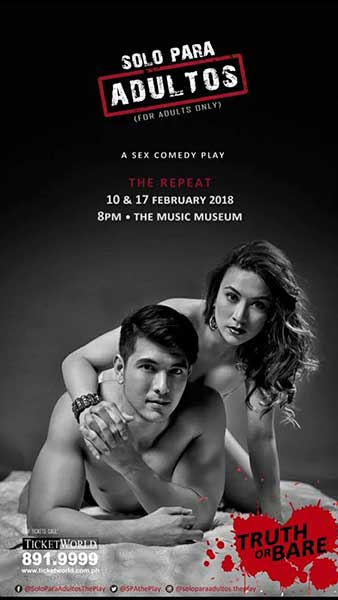 IMAGE Music Museum 
Solo Para Adultos or "For Adults Only" is a theatrical play that talks about how love struggles through the cruelty of life, focusing on the lives of Veronica Fox, JV San Miguel and Alfred, who share a common story of being victims in the world of entertainment.
The play starts with Veronica Fox, a porn star coming back to her native land to make a meaningful pornographic film while reuniting with her long-lost lover, Alfred. However, their love story was cut short after another party was involved through the matinee actor, JV San Miguel whom Veronica had worked with in the industry. With the pornographic film they are about to make, Veronica is faced with a challenge of working with Alfred and being intimate with him once again.
Will Veronica and Alfred's love for each other find a happy ending through the project or end up merely as an act to satisfy their audience?  Find it out this February 10 and 17, 2018 at the Music Museum, San Juan City.
Tickets for this live performance are priced at Php 2,000 for the VIP tickets, Php 1,500 for the Orchestra A tickets, Php 750 for the Orchestra B tickets, and Php 500 for the Balcony tickets. For questions and other inquiries, you may call Music Museum at 721-6726.
DETAILS
What: Solo Para Adultos
When: February 10 and 17, 2018
Where: Music Museum, San Juan City
Ticket Price:
Php 2,000 for the VIP tickets
Php 1,500 for the Orchestra A tickets
Php 750 for the Orchestra B tickets
Php 500 for the Balcony tickets
---
Image Source: Music Museum; Video from: StarsPhotog Vidz in YouTube