PPO to hold a concert entitled "Romancing the Classics"on January 19, 2018
For their 35th season, the Philippine Philharmonic Orchestra (PPO) continues their fifth concert season, entitled "Romancing the Classics," on January 19, 2018, at the Tanghalang Nicanor Abelardo of the Cultural Center of the Philippines.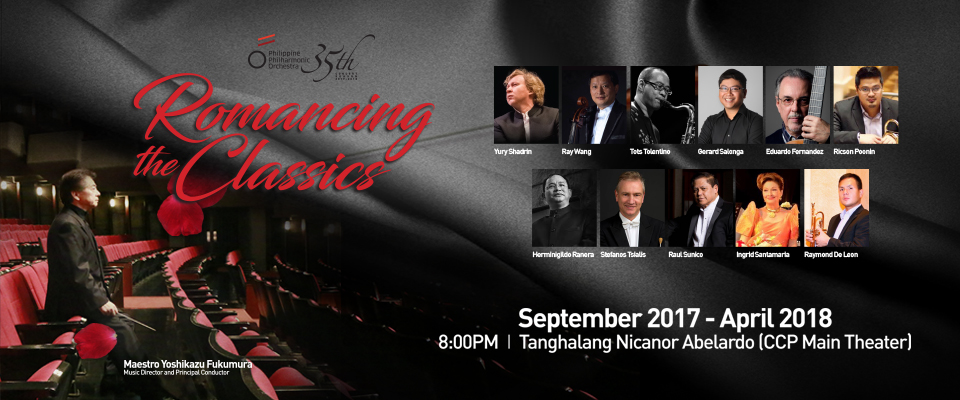 IMAGE TicketWorld
Romancing the Classics will highlight performances from Manuel P. Maramba OSB's Symphony Ode La Naval, Ferdinand David's Trombone Concertino in E-flat, and Peter Tchaikovsky's Symphony No.6 in B minor Pathetique, which will be under the baton of  Maestro Herminigildo Ranera.
One of the major highlights of this concert is a solo performance from Filipino trombone player Ricson Poonin, who has been known for his trademark musicality, his sound technique, and his versatility as a soloist, ensemble, and orchestra player.
Tickets for this month's PPO concert are priced at Php 1,500, Php 1,200, Php 800, Php 500, Php 400, and Php 300.
For tickets and other inquiries, you may call the CCP Marketing Department at 02-832-1125 local 1806 or the CCP Box Office at 02-832-3704.
Details:
What: PPO's Romancing the Classics
When: January 19, 2018
Where: Tanghalang Nicanor Abelardo of the Cultural Center of the Philippines.
Ticket Price:
Php 1,500
Php 1,200
Php 800
Php 500
Php 400
Php 300
---
This is a press release from the Cultural Center of the Philippines
Image Source: TicketWorld