Rush Hour Concerts: Silent Sanctuary vs. Manila Symphony Orchestra
Silent Sanctuary shows off their classical music talent as they perform as soloists of the Manila Symphony Orchestra in Rush Hour Concerts on October 5, 2017, at the Ayala Museum.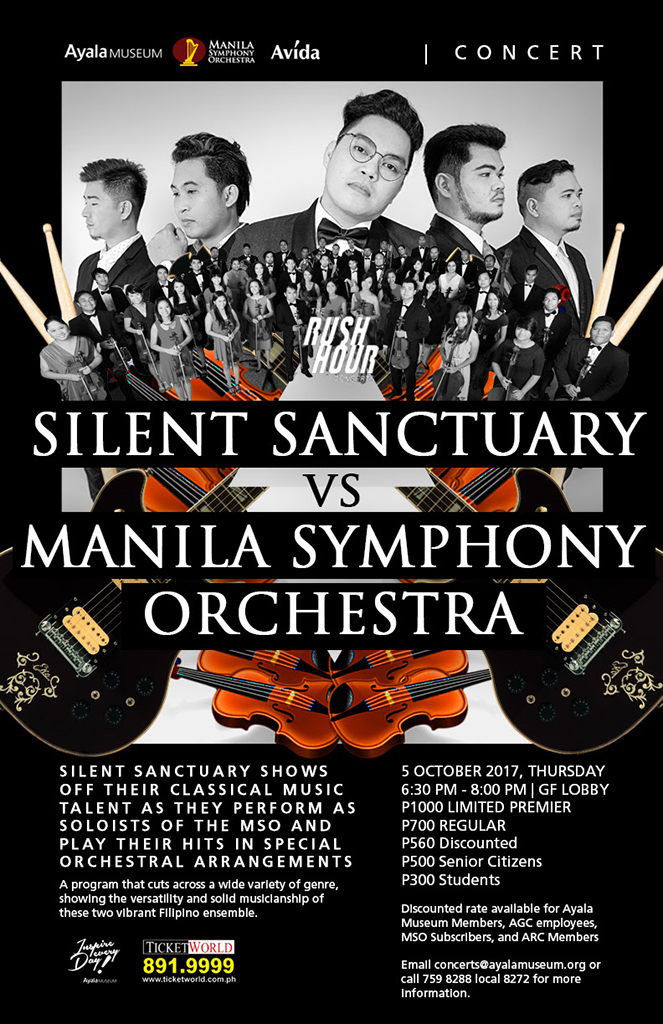 Presented by Ayala Museum and Avida, witness the 4-piece Filipino rock band as they play their hits in special orchestral arrangements.
With Silent Sanctuary and the Manila Symphony Orchestra, Rush Hour Concerts is a program that cuts across a wide variety of genre, showing the versatility and solid musicianship of these two vibrant Filipino ensembles.
Tickets are available at the Ayala Museum counter, and at ticketworld.com.ph.
Details:
What: Rush Hour Concerts: Silent Sanctuary vs. Manila Symphony Orchestra
When: October 5, 2017; 6:30 pm – 8 pm
Where: Ayala Museum Ground Floor Lobby, Greenbelt Park, Makati City.
Ticket details: Php 1,000 Limited Premier, Php 700 Regular, Php 560 Discounted Rate (applies to Ayala Museum members, Ayala Group of Companies employees, MSO Subscribers, and Ayala Rewards Circle. Visit ayalamuseum.org for more details), Php 500 Senior Citizens, Php 300 Students; Free seating tickets available via TicketWorld and at the Ayala Museum
---
Written by Pia Ramirez, Philippine Primer intern