Fujian Ware Found in the Philippines
Fujian ware (ceramics  from the Song – Yuan period that existed from the 11th – 14th century) that were exported to the Philippine islands 700 – 900 years ago, continue to serve as active witnesses of the  participation of the Philippines in the thriving maritime trade in the South China Sea. Come and see these treasures that will be presented by the Ayala Museum, running from September 5 to October 1, 2017!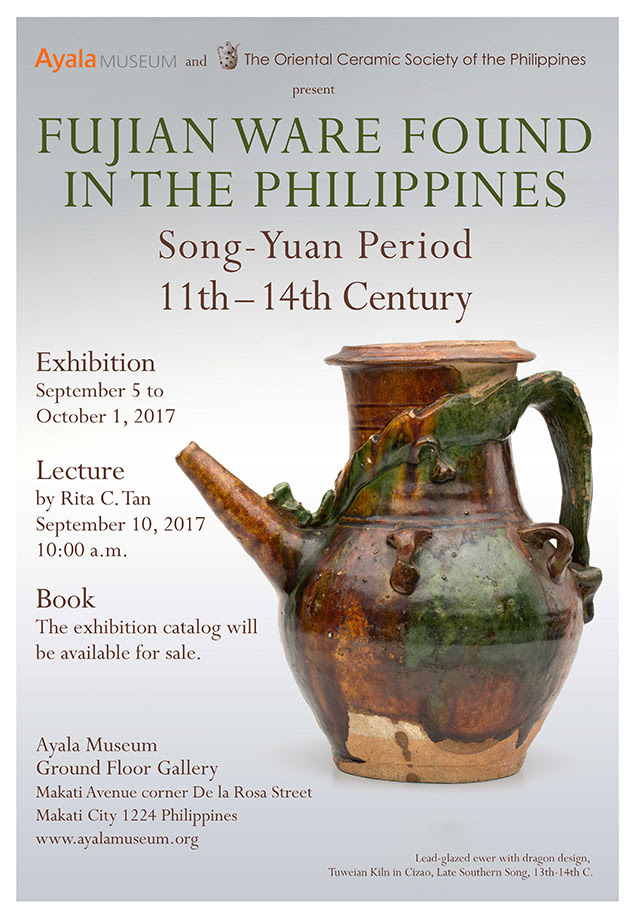 /IMAGE Ayala Museum 
In the Philippines, the variety of Fujian ware available varies from black-ware, green-glazed ware, white ware, and qingbai ware from Northern, Central, Eastern, and Southern Fujian. Ayala Museum's exhibit of Fujian ceramic ware collected and kept will feature more than 150 pieces on loan from different museums and more than 30 private collections.
Ayala Museum in partnership with the Oriental Society of the Philippines will be having an exhibit of the Fujian Ware that were found in the Philippines running from September 5 to October 1, 2017 at the Ayala Museum in Makati City. Aside from the exhibit, there will also be a lecture headed by Miss Rita C. Tan this coming September 10, 2017.
Tickets are priced at Php 150. You may click here to view the museum's complete guidelines and discounts. Ayala Museum is open from Tuesdays to Sundays from 9:00 am to 6:00 pm.
Details:
What: Exhibit on Fujian Ware in the Philippines
Where: G/F of the Ayala Museum, Makati City
When: September 5 to October 1, 2017
Ticket Price: Php 150
---
Written By: Patricia Antoinette M. Nacianceno
Image Source: Ayala Museum