All Roads Lead to Romblon: 3rd MIMAROPA Festival
Romblon, the Marble Capital of the Philippines is set to unravel its true beauty as it will host the annual MIMAROPA Festival on November 20-25.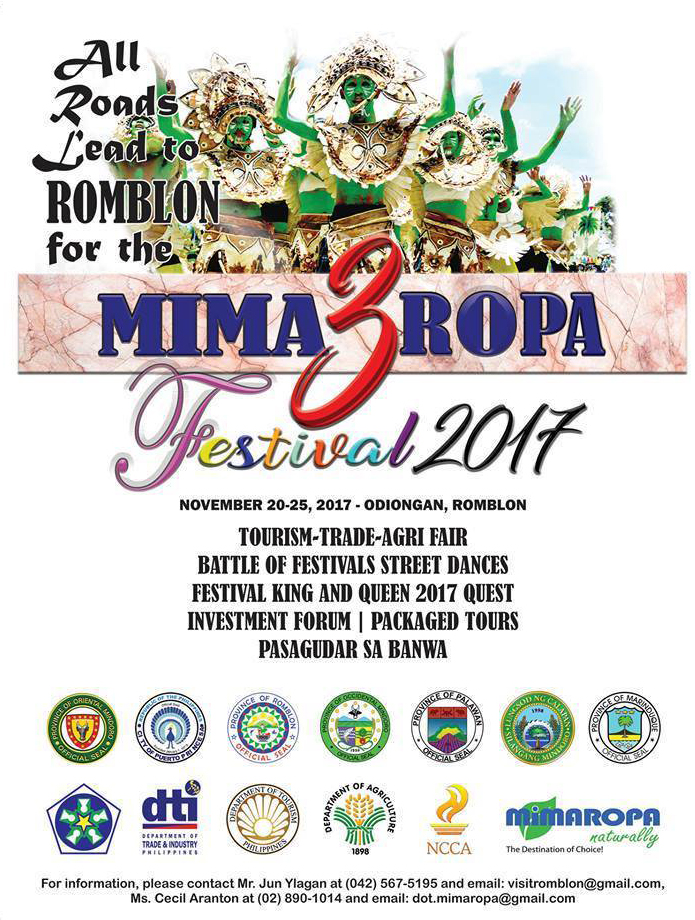 In a statement, Tourism Secretary Wanda Corazon Teo claimed the island-province is one of the best-kept secrets of Region IV-B or the MIMAROPA Region consists of Mindoro (Oriental and Occidental), Marinduque, Romblon, and Palawan.
Teo also added that while Romblon has been known as the largest marble producer in the Philippines and exporter of best quality marble products, the province also possesses the qualities of its neighboring Palawan province.
Among the province's jewels are its pristine waters, unspoiled beaches, wild rivers, and waterfalls. Romblon boasts its crystal-clear waters and white sand beaches in Tablas, Bon-Bon, Nonok-Nono, and Cobrador.
If you're a little adventurous, you can enjoy their waterfalls in Trangkalan, Dagubdob, and Busay, or try out their secluded paradise Cresta De Gallo Island. The province also offers 2,058-meter high Mount Guiting Guiting for those who wish to do mountain-climbing.
What's more, Romblon retained its historical character featuring the marble statues of Dr. Jose Rizal, a large roaring lion, and a grotto with the life-sized image of Our Lady of Lourdes.
Many ancestral edifices also remained intact, such as the Cathedral of San Jose with its antique tableau altar, stained-glass windows, and its vintage convent, and its old municipal hall that was built during the Spanish era and overlooks the ruins Fuerza de San Andres and Fuerza de Santiago, both declared as National Culture Treasures.
MIMAROPA Festival started in 2015 with a simple vision of the five governors of MIMAROPA provinces to gather in an event where they would be able to showcase and share their products and service to fellow MIMAROPANs.
Details:
What: 3rd MIMAROPA Festival
When: November 20-25, 2017
Where: Odiongan, Romblon
---
Written by Philippine Primer Intern Pia Ramirez
Sources: Philippine Star, NEDA – MIMAROPA, PIA Romblon on Twitter
Image source: PIA MIMAROPA on Twitter