Marketing on a Budget 2017
Many small- to medium-sized businesses fail due to a lack of an effective marketing and sales program. Entrepreneurs may be very good at their core business but know very little about marketing. Marketing on a Budget is the sequel to "Let's Get Down to Business Seminar", which has helped so many aspiring entrepreneurs actually jump start their business. Happening this August 26 and September 16, 2017!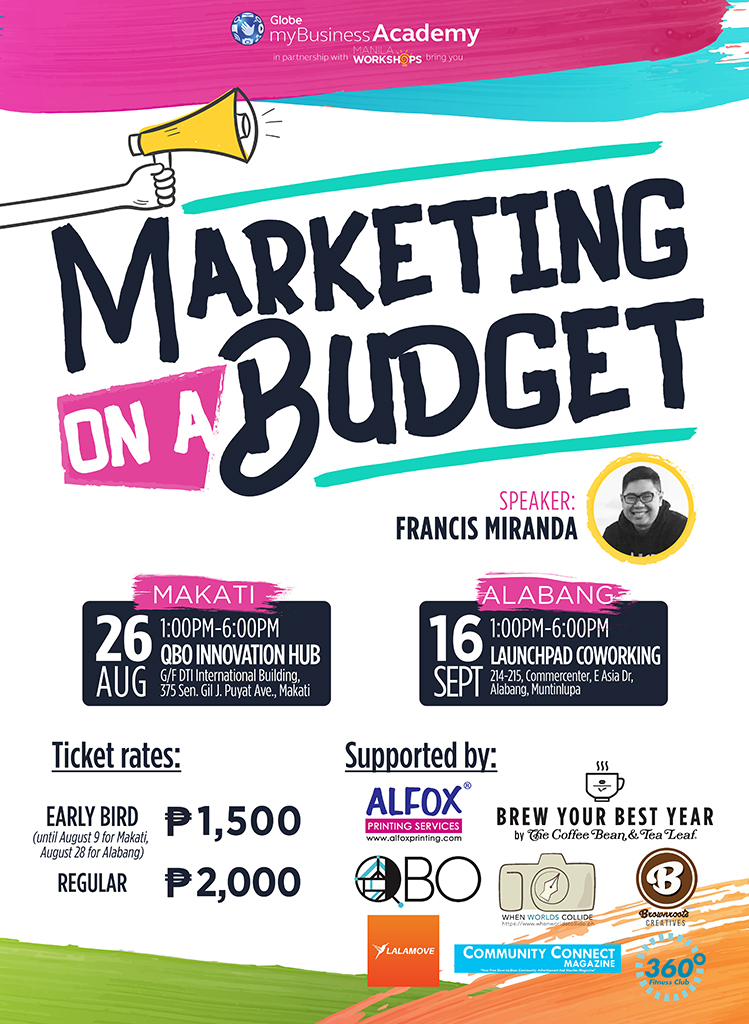 IMAGE MANILA WORKSHOPS
Taking place this coming August 26, 2017 from 1:00 PM -6:00 PM, at the ground floor of QBO Innovation Hub, DTI International Building, 375 Sen. Geil J. Puyat Ave., Makati City; and on September 16, 2017, from 1 pm – 6 pm at the Launchpad Coworking, 214-215 Commercenter, E. Asia Drive, Alabang, Muntinlupa City.
This workshop will serve as a gateway for potential and aspiring entrepreneurs who want to actually jump start their business. During the course of the workshop itself, there will be tips and guides shared on how to take businesses to a higher level through effective marketing strategies.
Regular Rate for the tickets will be sold at Php 2,000. You can still avail of their early bird promo for the Alabang venue, with tickets priced at Php 1,500.
---
Image Source: Manila Workshops

Details:
What: Marketing on a Budget Workshop
When: August 26, 2017 (1:00-6:00 PM)
Where: Ground floor of QBO Innovation Hub, DTI International Building, 375 Sen. Geil J. Puyat Ave., Makati City
Ticket Details: Regular Rate -Php 2,000
What: Marketing on a Budget Workshop
When: September 16, 2017 (1:00-6:00 PM)
Where: Launchpad Coworking, 214-215 Commercenter, E. Asia Drive, Alabang, Muntinlupa City
Ticket Details:
Regular Rate -Php 2,000
Early Bird Promo -Php 1,500