Lio Beach Festival 2017
Lio Beach Festival is an upcoming festival where paradise meets music which will take place at Lio Tourism Estate, El Nido Palawan, on June 9 to 11, 2017.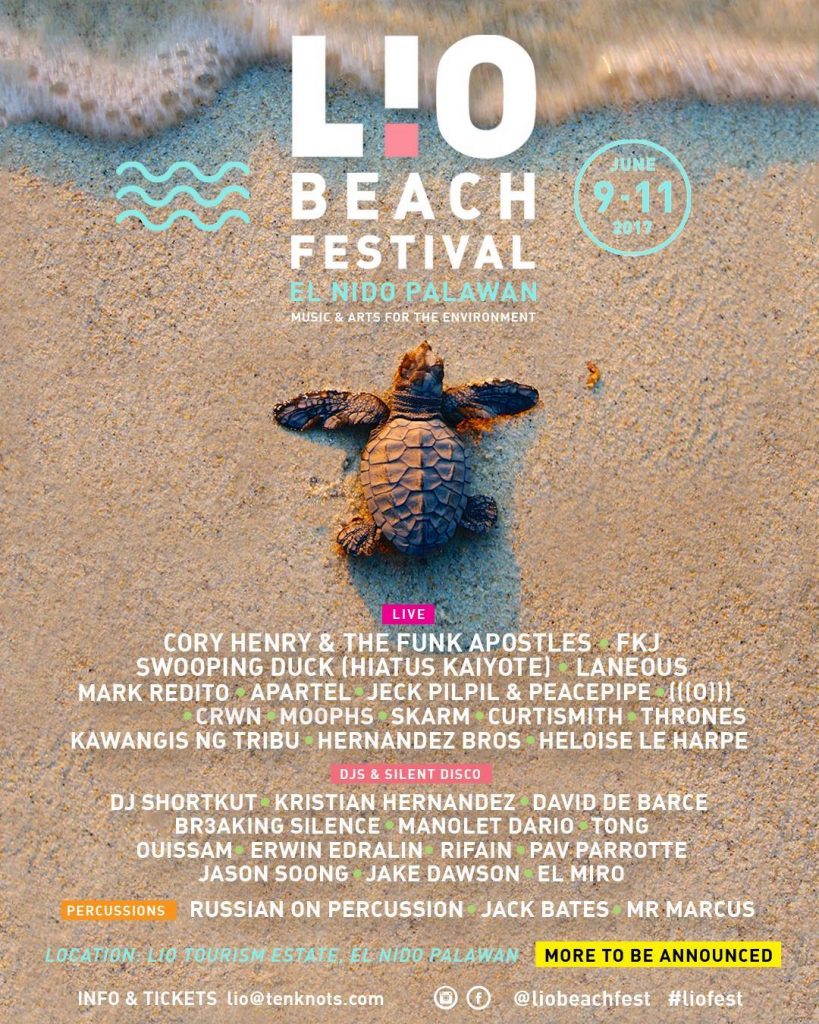 IMAGE www.bandwagon.asia
Lio Tourism Estate is an eco-tourism development, a destination with world-class amenities that blends with the natural landcape. It is comprised of bed and breakfast, resorts, shops, and dining establishments.
Lio Beach Festival will be happening in a long weekend, perfect venue for those who want an ultimate escapade from the busy metro. There will be three performance stages with 50+ artists and numerous art installations. Included in the line up are Cory Henry & the Funk Apostles, Swooping Duck, Electronic artist Mark Redito, June Marieezy. Local acts such the Apartel, Jeck Pilapil and Peacepipe, Skarm, Curtismith, Kidthrones, and more are also scheduled to perform.
Details:
What: Lio Beach Festival 2017
Where: Lio Tourism Estate, El Nido Palawan
When: June 9 to 11, 2017
Ticket information: 3-Day Pass: Php 4,500 Php / 2-Day Pass: Php 3,400 / 1-Day Pass: Php 1,800
Website: www.lio.ph
For reservations, click here
WATCH TVC HERE
Music and arts are about to hit El Nido Palawan's shores! This June 9-11 look forward to a long weekend with 3 performance stages, over 50+ artists, and 10 public art installations. Come for the music, stay for the experience and enjoy the great Palawan view. Ticket packages are up for grabs until they sell out at http://bit.ly/2oXvg6H, or secure a ticket by clicking "Book Now" on our Facebook page. See you there!

Lio Beach Festivalさんの投稿 2017年4月25日
---
Sources: Lio Tourism Estate, www.bandwagon.asia
Image grabbed from: www.bandwagon.asia