Sikuna Collaborative Art Festival 2017
Celebrate art and all its different forms in Sikuna Collaborative Arts Festival 2017. On May 13, 2017 at the Baluarte de San Diego in Intramuros, expect this event to be one filled with performances, workshops, open jams, and many other activities that would fuel the inner artist in everyone.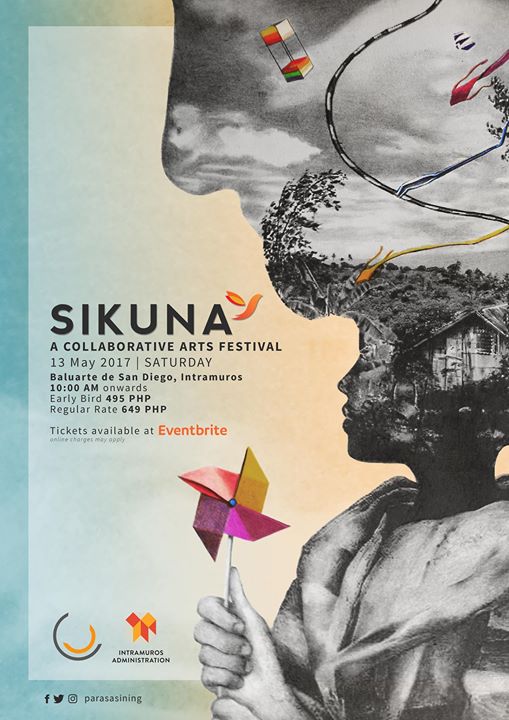 Launched in August of 2015, this year's Sikuna will be the culminating activity for Para sa Sining's 2nd official season. They will be bringing in more performances and activities within the walls of the venue, fit for the interest of every kind of artist and art-lover in the place.  Year after year, this Sikuna makes it a point to preserve and give birth to both the traditional and the contemporary art forms.
Sikuna will also be a fundraising event for Para sa Sining's Hiraya Collaborative Arts Education Program, an upcoming project planned in Sison, Pangasinan and Mt. Pulag, Benguet.
Tickets for the event are at P649, but those who will be purchasing tickets on or before April 30 may get it at P495. These may be purchased online through Eventbrite.
Para sa Sining, the event organizer, is a non-government organization (NGO) which aims to share and spread the arts and the culture of the Filipinos. They have already produced a number of events like Katha which aims to share and to experience different art forms.
For more information, you may visit Sikuna's official Facebook event page.
Details:
What: Sikuna Collaborative Arts Festival 2017
When: May 13, 2017, Saturday
Where: Baluarte de San Diego
Tickets: Available at Eventbrite.com
Regular Rate: P649
Early Bird (Until April 30): P495