CCP celebrates 100 years of Cesar Legaspi in 'Lying in State'
As National Artist Cesar Legaspi turns 100, the Cultural Center of the Philippines looks to celebrate the life of one of the Thirteen Moderns in his centenary exhibit "Lying in State" at the CCP Galleries from April 2 to June 4, 2017.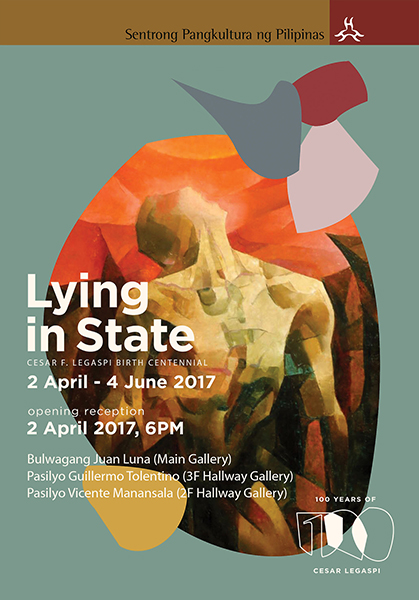 Cesar Legaspi is the country's pioneer "Neo-Realist" who is credited for refining cubism in the Philippine context. His best works showcased made use of his distinct technique and daring themes that contributed significantly to the advent and eventual acceptance of modern art in the Philippines.
"Lying in State" is the launching exhibit for National Artist Cesar Legaspi's birth centenary. It will showcase works from his public art projects and state commissions, which include pieces from the collections of the Cultural Center of the Philippines, the Bangko Sentral ng Pilipinas, the National Museum of the Philippines, the Development Academy of the Philippines, and the kilometer markers done for the Bataan Death March.
With some works no longer in existence like Legaspi's contribution to the Kulay Anyo ng Lahi mural project, this exhibition hopes to get younger generations of artists talking and between those who are trapped between artists who either chose to keep their distance themselves or were effectively positioned beyond the radar of art spaces activated by the state during Martial Law.
An opening reception will be held tomorrow, April 2, at the CCP Silangan Hall. Other highlights of Legaspi's birth centennial include a film screening on art during Martial Law and a forum. A closing program will be held on June 3.
Lying in State will be on display at the Bulwagang Juan Luna (CCP Main Gallery), Pasilyo Guillermo Tolentino (3/F Hallway Gallery), and the Pasilyo Vicente Manansala (2/F Hallway Gallery) from April 2 to June 4, 2017. Regular viewing time for gallery exhibits is from 10:00 am to 6:00 pm but it is extended during performances in theaters and other performance venues up to the first interval of the show.
For more information, contact the Visual Arts and Museum Division at (632)832-1125 loc. 1504/1505 and (632)832-3702, mobile (0917)6033809, email ccp.exhibits@gmail.com, or visit CesarLegaspi,org on Facebook.
Poster grabbed from CCP Visual Arts on Tumblr
Source: CCP Visual Arts, National Center for Culture and the Arts
Details:
Lying in State: Cesar F. Legaspi Birth Centennial
April 2 – June 4, 2017, 10:00 am – 6:00 pm
Bulwagang Juan Luna (CCP Main Gallery), Pasilyo Guillermo Tolentino (3/F Hallway Gallery), and the Pasilyo Vicente Manansala (2/F Hallway Gallery), CCP Main Building, CCP Complex, Roxas Blvd., Pasay City