Refresher Course on Business English: Workplace Communication for the 21st Century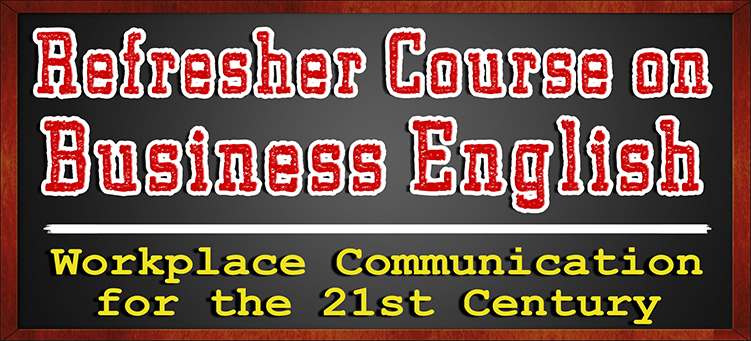 English RELOADED! This special two-day intensive course for professionals, senior executives and entrepreneurs is designed to refresh and re-polish language skills towards mastering the world's language for business. As we advance in age, we tend to have lapses in our grammar, or we begin to realize that our use of English is not according to world standards. With your busy schedules in mind, this English review is designed to deliver maximum results in the shortest time: no long-winded lectures and never a dull moment.
This is guaranteed to bring back that zing — whether you are composing a letter, crafting a proposal, editing a document, doing a sales presentation, or making a speech. It is for young and old, for rank-and-file and decision-makers. You'll enjoy with some pinch of nostalgia, the verve of verbs, the sizzle of well-constructed succinct sentences, an astounding adventure with adjectives and adverbs, and of nice nouns and pleasant pronouns. Be entertained by commonly mispronounced English and Filipinisms, and understand why we speak and write the way we do. Rated 5-Star!
Who should attend?
• Business Owners
• Decision-Makers
• Communication Specialists
• Executives & Professionals
• Ad Copywriters
Seminar Investment is P14,580 inclusive of Meals, Resource Kit, and Certificate of Attendance
Click here to register or view full course outline: Flyercourseoutline
Event Details
What: Refresher Course on Business English: Workplace Communication for the 21st Century
When: Thursday & Friday, April 27 & 28, 2017 * 9:00AM to 5:00PM
Where: Manila Marriott Hotel, Pasay City, Philippines
Source: cgbp.org, Flyercourseoutline