Noli Me Tangere "Touch Me Not" The Opera in 2017
Witness a world-class production based on a novel written by the Philippine national hero, Dr. Jose Rizal, by watching Noli Me Tangere, The Opera on January 28-29, 2017 and February 1-3, 2017 at the Tanghalang Nicanor Abelardo, CCP Main Theater in Pasay City.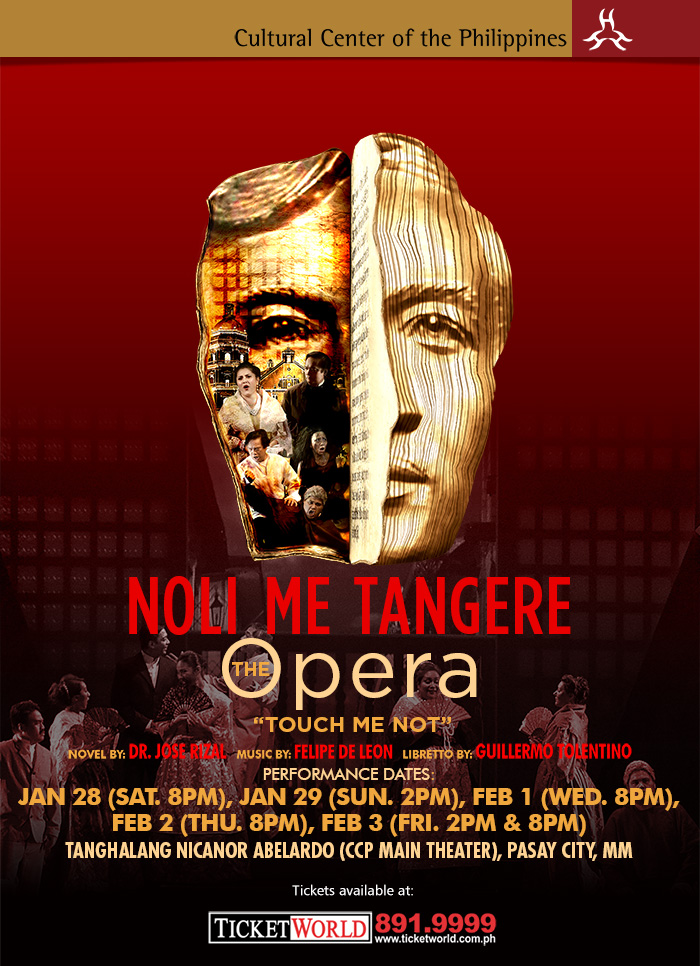 This limited six-performance run marks the 60th anniversary of the Philippines' first full-length opera     written by National Artist for Music Felipe de Leon and set to a libretto by National Artist for Sculpture Guillermo Tolentino.
Noli Me Tangere, The Opera follows the story of Juan Crisostomo Ibarra, who returns to the Philippines after pursuing scholarly studies in Europe. It will bring out a dramatic storyline of forbidden love, betrayal, and revenge.
Director Jerry Sibal said that watching the opera will make you feel "like you've found yourself wandering inside the Metropolitan Opera House or a century-old Broadway Theatre in the middle of a busy day in Old Manila."
Noli Me Tangere, The Opera premiered at the Far Eastern University in 1957 and made its CCP debut in 1987. It also had critically-acclaimed engagements in New York, Washington D.C., and at the Resorts World Manila.
Buy your tickets online via ticketworld.com.ph or call J&S Productions Inc. at 0926-038-0548 or the CCP Box Office 02-832-3704. For more details, visit nolimetangeretheopera.com.
DETAILS:
What: Noli Me Tangere, The Opera
When: January 28-29, 2017; February 1-3, 2017
Where: Tanghalang Nicanor Abelardo, CCP Main Theater, Roxas Blvd., Pasay City
Website: nolimetangeretheopera.com
Facebook : Noli Me Tangere Opera Manila
E-mail: nolimetangeretheopera@gmail.com
Ticket Outlets: J&S Productions Inc. 0926-038-0548, 0921-890-3816, 02-998-2356; the CCP Box Office 02- 832-3704/06; ticketworld.com.ph