Bimmerfest XIII: All-BMW car show back for its 13th year
The country's all-BMW car show is back for its 13th year as BMW Car Club Philippines presents Bimmerfest XIII, happening on December 10 in Pasig City!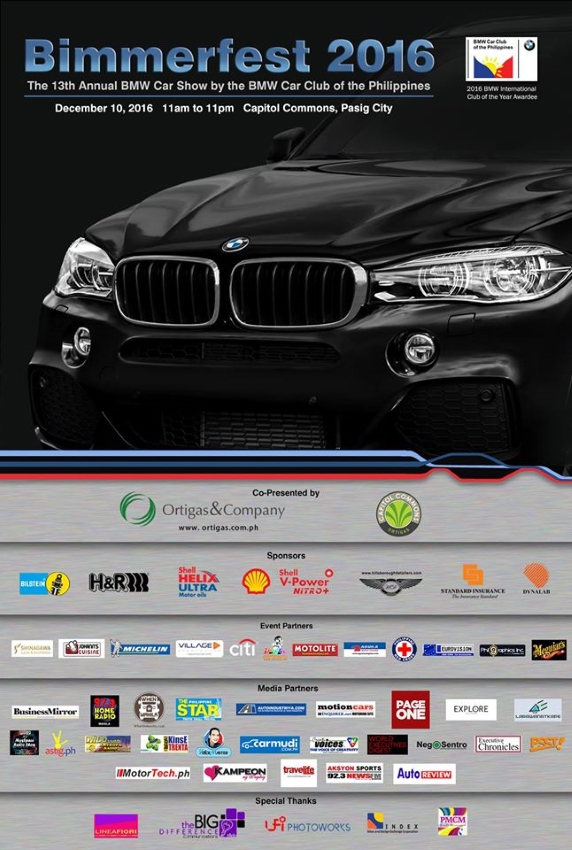 Image grabbed from PMCM Events Management Facebook page
BImmerfest XIII is the country's longest-running, all-BMW car show. It is presented by the BMW Car Club Philippines, the only official BMW car club in the country recognized as a member of the International of BMW Clubs AG, an umbrella group under BMW Clubs Asia.
The whole day event gives an opportunity for club members to display their pride and passion for the appreciation of both club members and the general public. It will showcase the rich automotive heritage of BMW as it features models from BMW's earliest years up to the present, including the special M cars.
Show categories for Bimmerfest XIII are Best in Interior, Best in Exterior, Best in Modern Display, Best in Heritage, Best in Show, People's Choice, Hall of Fame, Best Guest Display, Best Newbie Display, and the Bimmerfest Fanatic Award.
Bimmerfest XIII happens on December 10, 2016 from 10:00 am – 10:00 pm at Capitol Commons, Brgy. Oranbo, Pasig City. The event is free of charge and is open to the public. Make sure you register for a chance to win in their hourly raffle.
For more information, please call Linea Fiori Events at 0949-759-7216 or PMCM Events at 0917-834-4978.
Source: Bimmerfest 2016 Facebook event page, PSST.ph, Autoindustriya.com, Astig.ph, NegoSentro
Details:
Bimmerfest 2016
December 10, 2016; 10:00 am – 10:00 pm
Capitol Commons, Brgy. Oranbo, Pasig City
Event is open to the public