Pet Holiday Pageant on December 3 in Alabang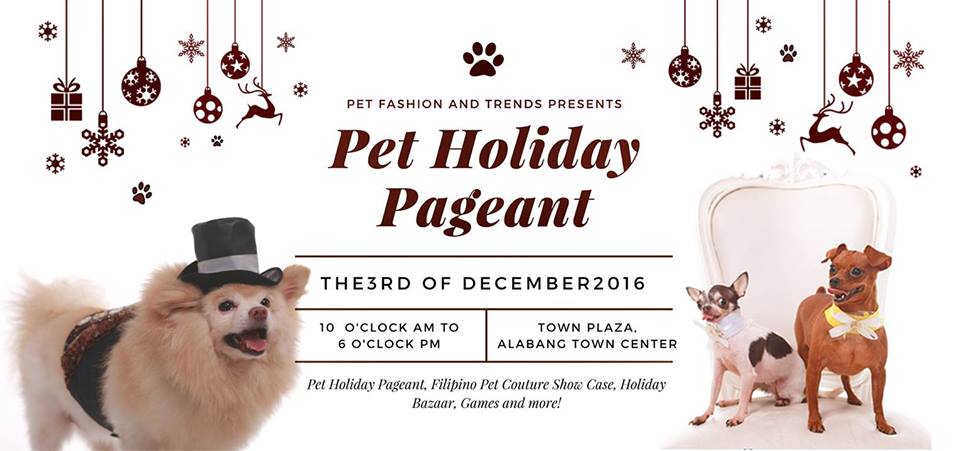 Here's an exciting news to all pet lovers out there! There will be a Pet Holiday Pageant on December 3, Saturday at the Town Plaza in Alabang Town Center.
It's best to include your animal family member during holidays, and engage them in fun activities every once in a while. This will be a great opportunity to spend the weekend with your furry pets.
Join in the following activities:
-Inquire at Baby Moon For Pets if you'd like to sell in their bazaar. All items must be pet-items or pet-lovers items.
Christmas Card Making Contest
-Make a pet-themed e-card greeting and get a chance to win gift bags.
-Just bring pet gifts worth P150-P200. You can buy from the pet bazaar. Don't forget to wrap your presents.
Christmas Pageant Contest (Free)
-This will be a holiday-themed pageant wherein all pet clothing must be pet-friendly; this means not too heavy nor too restrictive. You may purchase clothes but must add your own twist to it. Also, pet handler must also be wearing matching outfits.
Pet Coutourier Showcase (Free for Public, Designers with pay)
-Pet Coutourier Showcase will be centered around Baby Moon for Pets new IDENTITY Collection. It is a mixture of Victorian appeal and Filipino materials. If you'd like to be part of the showcase, you may email babymoon.lifestyle@gmail.com . 4-12 per designer is required for those who are interested. These are the collection you may present (Spring Summer 2017, Fall Winter 2016, Casual Pret-a-porte, Evening Gowns, Native Inspired, Avant Garde, and any costume.
For further details, visit Baby Moon For Pets on Facebook
Event Details:
What: Pet Holiday Pageant
Where: Town Plaza, Alabang Town Center
When: December 3, 2016 (10:00 am- 6:00 pm)
E-mail address: babymoon.lifestyle@gmail.com
Sources: What's Happening, Baby Moon for Pets