Philippine Ballet Theatre presents 'The Nutcracker' this November
Join the 30th anniversary celebration of Philippine Ballet Theatre by watching "The Nutcracker" on November 18-20, 2016 at the Cultural Center of the Philippines in Pasay City.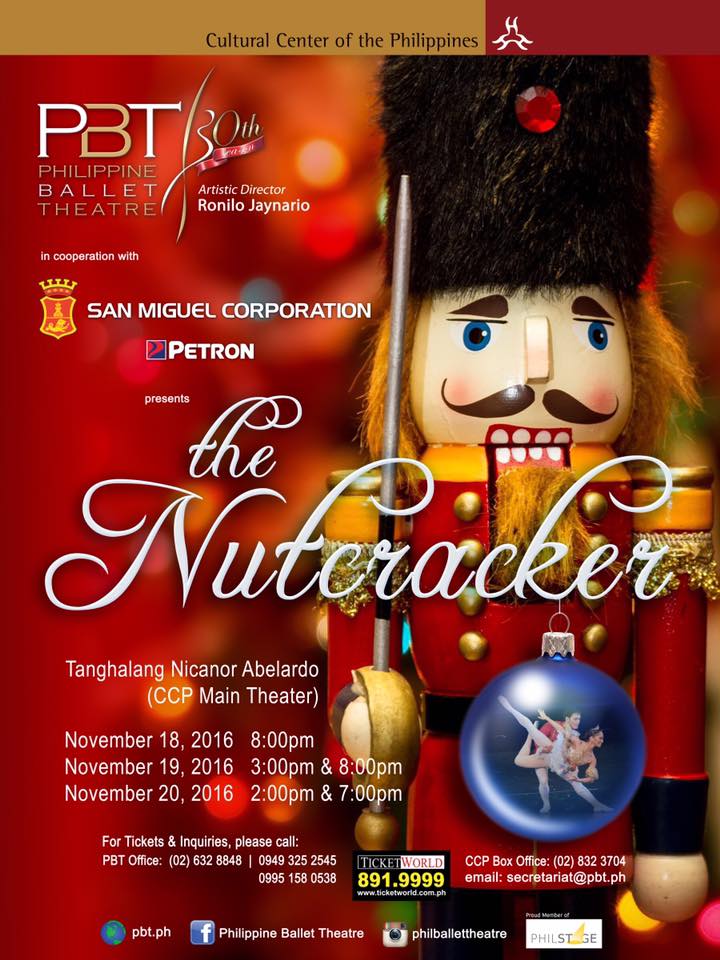 Image grabbed from Philippine Ballet Theatre
"The Nutcracker" is under the supervision of artistic director Ronilo Jaynario that follows a charming tale of a little girl's journey into a fantasy world of fairies, princess, and toy soldiers. It is based on the original story "The Nutcracker and the King of Mice" written by E.T.A. Hoffman.
This delightful holiday classic will surely connect audience of all generations through an entertaining fictional story that also brings a valuable lesson.
Invite your family and friends to watch "The Nutcracker" and enjoy together a world-class performance brought by talented ballet dancers this November.
Performance Schedule:
November 18, 2016 (Friday)                        8:00 p.m.
November 19, 2016 (Saturday)                  3:00 p.m. and 8:00 p.m.
November 20, 2016 (Sunday)                     2:00 p.m.  and 7:00 p.m.
Buy your tickets online via ticketworld.com.ph.
Details:
What: The Nutcracker
When: November 18-20, 2016
Where: Tanghalang Nicanor Abelardo, Cultural Center of the Philippines, Main Theater, Roxas Blvd., Pasay City
Ticket Information: PBT office at 02-632-8848; 0949-325-2545; 0995-158-0538; secretariat@pbt.ph
CCP Box Office at 02- 832-3704
Ticketworld at 02- 891-9999
Source: Philippine Ballet Theatre, ticketworld.com.ph