THE SCULPTOR IS A MEDIUM: Interpreting Guillermo Tolentino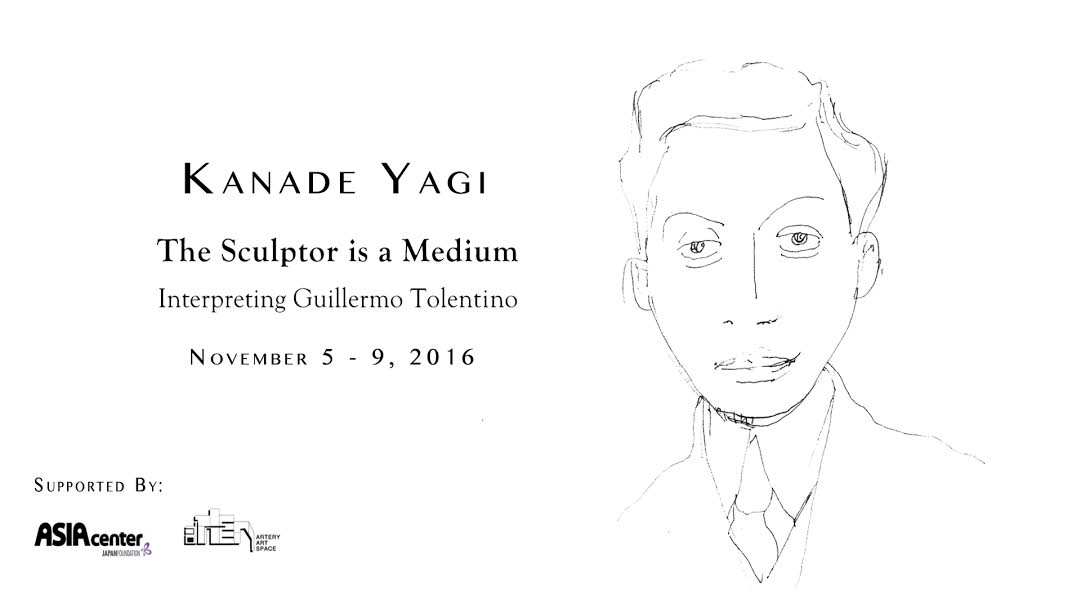 Artery Art Space is pleased to present an exhibit by Kanade Yagi with the support of The Asia Center Japan Foundation, featuring an installation of artistic research comprised of photographs, drawings, texts, and sculptural objects, that were inspired by the Filipino National Artist Guillermo Tolentino whose art touches upon deep spiritual truths and transcendental cosmic beliefs as pathways to identity.
Kanade Yagi is a contemporary visual artist from Japan who has been doing research on the Filipino National Artist for Sculpture Guillermo Tolentino with a grant from Japan Foundation Asia Center (8 August to 7 November 2016). This exhibition, "The Sculptor is a Medium: Interpreting Guillermo Tolentino", features her work inspired by her encounter/s with Tolentino's works during the process of her research. In this show, Yagi has chosen photographs to describe the impression she had gotten when she faced his sculptures. She finds that photographs more effectively represent the perceptible vividness in his (inorganic) sculptures, more so than painting or video.
In 2014 at the permanent collection in Vargas Museum, Yagi first learned about Guillermo Tolentino, both as sculptor and spiritist. She had since longed to research further about him, requiring of her an understanding and knowledge of Filipino history, Philippine art history, anthropology, language, and Spiritism, on top of the work of people who had studied Tolentino in the past. This has enriched her understanding of art's contexts, at the same time that it takes her imagination to the origins of why humans even make art.
Yagi sees interpretation as a thread that runs through Tolentino's work: in his sculpture, he interpreted the spirit of his models; in the books that he published, the meaning of Tagalog language and writing; in his translations, the poetry of Rizal; and in the seances he regularly held at his home, the voices of spirits from the afterlife. Tolentino in an interview had referred to sculpture as the platform in which he himself becomes a medium.
Kanade Yagi regards her artworks as a kind of system. By analyzing circumstance and environment, she attempts to construct concepts free from restrictions of time and space. Her artworks deal with the uniqueness of a particular situation by, for instance, manipulating the relation of a subject to the external world, or contrasting human timescales with cosmic ones. She began to travel extensively in 2013 to research various socio-cultural conditions in Southeast Asia. Yagi has a BA degree from the Tokyo Zokei University of Art and Design, and has participated in various artist residency programs including the Arquetopia Residency in Mexico, Jogja Independent Residency Project in Indonesia, with 98B Collaboratory in Manila, and at Artery Art Space. Kanade Yagi was also part of the exhibit curated by Mayumi Hirano with the title "The Lizard Says You're a Liar!" at the UP Vargas Museum in 2014.
Details:
What: THE SCULPTOR IS A MEDIUM: Interpreting Guillermo Tolentino
When: November 5-9, 2016, Saturday, 6:00 pm
Where: Artery Art Space, #102 P.Tuazon Blvd., Cubao, Quezon City, Manila, Philippines
Related post: Artery Art Space: a significant space for the creatives
This is a press release.