WHO DID IT? Midnight Museum 3: Murder in the Museum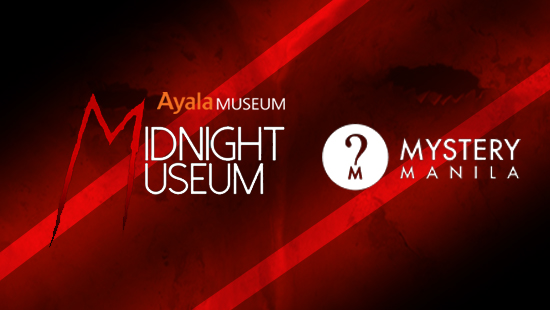 The senior curator of Ayala Museum is murdered during his gallery rounds just hours before the annual Midnight Museum event held every Halloween. But there is something very suspicious and amiss as it seems that the curator is aware not only of the threat to his life but also who is behind it. But why keep it a secret? Is there something at stake, making him decide to keep the information to himself at the expense of his life?
Guests will soon be coming in to find the corpse and possibly some clues he left behind revealing the identity of the perpetrator. But will they be able to figure them out before the killer escapes?
If you think you have what it takes to crack the curator's code, then join the very special ESCAPE-THE-MUSEUM game crafted by Ayala Museum together with the game experts of Mystery Manila​ on October 28, 2016, 7:00 pm – 12:00 mn!
Tickets are now available for sale at P850 (discounted to P760 for groups of 4 and above, members, ARC, AGC, and PWD) in Ayala Museum and Mystery Manila Branches (Century City Mall, Jupiter, and Libis).
Midnight Museum 3 ticket holders also get special freebies and stand a chance to win prizes from artwork​, Taters​, Brew Kettle Beer PH​, and Young STAR​!
LIMITED SLOTS SO REGISTER EARLY!
Guests can also purchase regular museum admission tickets. All ticketholders can enjoy going around the galleries and the following Midnight Museum only activities:
Artwork Silkscreen Station
Featuring limited edition designs for you to take home as special souvenirs!
Trick or Treat at the Brew Kettle and Taters Booths
1-Minute Horror Stories Open Mic
You think you have a tale that can send chills up our spines in 60 seconds or less? Well come on up our open mic stage and go for it.
Spooky Shorts Marathon
We'll be crowdsourcing 1-5 minute short horror/suspense/Halloween-inspired films from all over and screen the best ones during Midnight Museum. Keep posted on our social media pages for more details!
Best in costume awarding
Yes, that's right! If you're all decked out in your spookiest or most amazing ensemble, we're going to give you a special treat and other surprises!
For complete information on how to buy tickets and register, visit the Midnight Museum 3: Murder in the Museum FAQs page.
Source: Midnight Musuem 3: Murder in the Museum
Details:
Midnight Museum 3: Murder in the Museum
October 28, 2016; 7:00 pm – 12:00 mn
Ayala Museum, Greenbelt Park, Makati Ave. cor. Dela Rosa St., Makati City
Tickets are at P850 (regular price), P760 (groups of 4 and up, Ayala Museum members, ARC, AGC, and PWD).
Get your tickets at the Ayala Museum and Mystery Manila branches in Century City Mall, Jupiter, and Libis