Prepare yourself for bacon heaven at Baconfest
There's one food that's universally loved by everyone anywhere in the world: bacon. It has a multitude of uses, and the best of these can be seen at this year's Purefoods Baconfest, happening in The Yard and Mercato Centrale.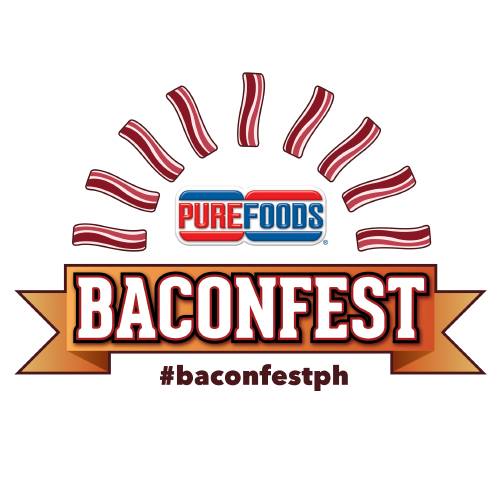 ALL THAT IS GOOD… is bacon. A favorite the world over, everything bacon comes to life at Purefoods Baconfest. Image grabbed from Purefoods Baconfest on Facebook
Baconfest started out as a bacon crawl in different restaurants in 2015. This year, they're upping the game by hopping from one food park to another, looking for the best of bacon dishes the metro has to offer.

BACON DISHES GALORE. If Malingap Marketplace had these mouth-watering bacon dishes for the first weekend, we can't imagine what will happen this weekend at The Yard. Images grabbed from Purefoods Baconfest on Facebook
Hungry for lots and lots of bacon? Then take your chance at the Bacon Eating Competition. Winners will get a brand new Instax camera, a Baconfest Shirt, a Purefoods giftpack, and a chance to compete at the final round in Mercato Centrale.
This year's Baconfest started last weekend (September 24-25) at the Malingap Marketplace in Teacher's Village, Quezon City. The next installments will see bacon lovers from all over flocking to The Yard from September 30 – October 1.
The end-all and be-all of Baconfest 2016 will be on October 8 at Mercato Central, where the final round of the Bacon Eating Competition will take place.
For the latest updates on Baconfest, bookmark this page or visit Purefoods Baconfest on Facebook. You can also follow @baconfestph on Instagram for all updates regarding Baconfest.
Details:
What: Purefoods Baconfest
Where: September 30 – October 1, 2016
What: The Yard, 83 Xavierville Ave., Quezon City
When: October 8, 2016
Where: Mercato Centrale, 25th cor. 7th St., Bonifacio Global City, Taguig City
For information, visit https://www.facebook.com/baconfestph/ or https://www.instagram.com/baconfestph/.
Source: Psst.ph, Purefoods Baconfest Facebook page