Gear up and give back at R.O.X. Bike For A Cause 2016!
Calling riders of all ages! It's that time of the year again to give back to our countrymen through ROX Philippines' Bike For A Cause, happening on August 14 in Clark, Pampanga!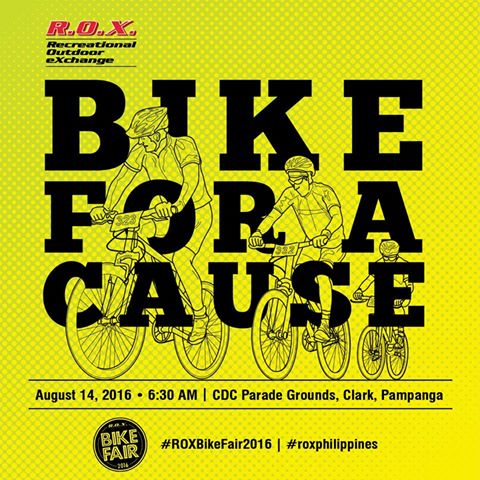 GEAR UP AND GIVE BACK. R.O.X. Bike For A Cause is on once more.
Bike for A Cause is R.O.X. Philippines' annual charity event that brings bikers from all over the metro in an effort to give students of Conception Integrated School in San Simon, Pampanga a more bike-friendly campus. Participants are asked to donate old but still usable bike accessories such as helmets, blinkers with batteries, tire pumps, bike bells, and gloves to help students in their daily use of their bikes.
This event is done with help from Bikes For The Philippines, an organization that seeks to improve the lives of the less fortunate by giving bicycles to communities in need.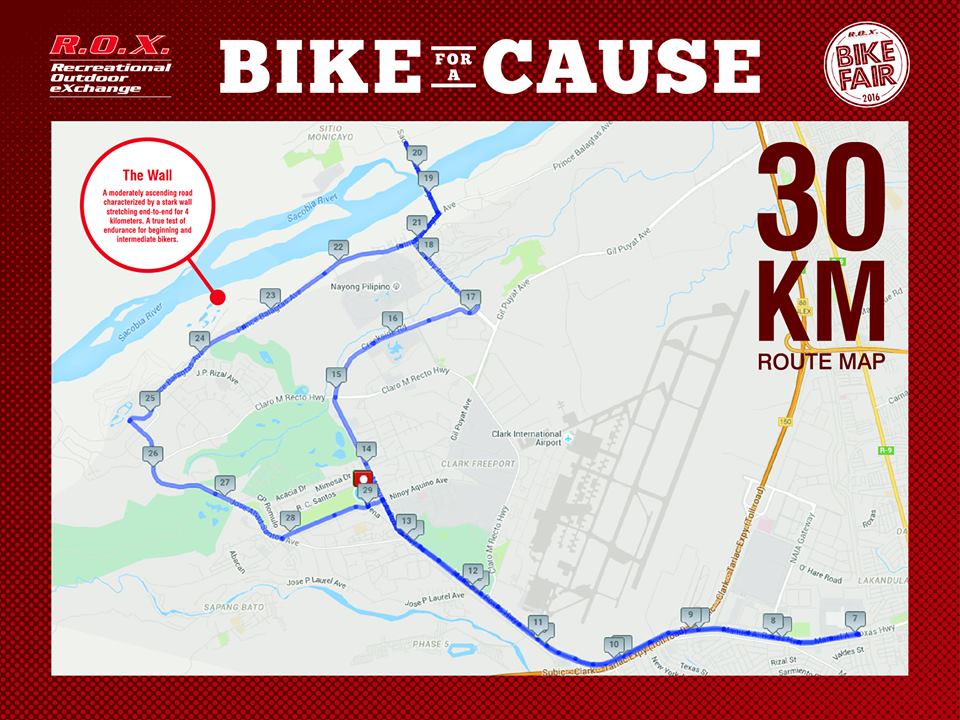 THE WALL WILL DEFINITELY be formidable for both beginner and intermediate riders.
Two categories were opened this year. A 30-km course made for beginners and intermediate bikers alike thank to the 4-kilometer "The Wall", an ascending road designed to test one's endurance.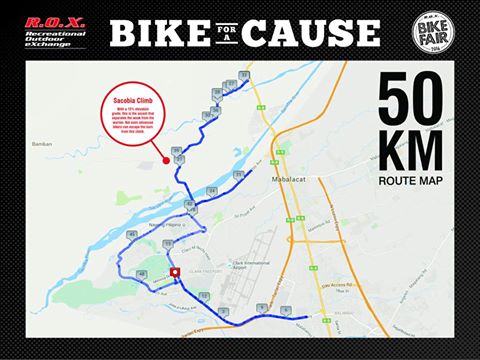 ARE YOU A WARRIOR? Test yourself with the Sacobia Climb.
The other is a 50-km route that has a challenge waiting for riders of all levels: Sacobia Climb. It's a stretch of road with a 15% elevation grade that will "separate the weak from the warrior."
Participants will also be entitled to discounts from top sporting brands like FOX, The North Face, Salomon, Nathan, Osprey, 360 Degrees, C3 Fit and more at the R.O.X. selling booth at the event. Challenges and games also await those who will be headed for the CDC Parade Grounds for the event.
The R.O.X. Bike For A Cause will happen on August 14, 2016 from 5:30 a.m. to 7 p.m. at the CDC Parade Grounds, Clark Freeport Zone, Angeles City, Pampanga.
Details:
What: R.O.X. Bike For A Cause
When: August 14, 2016, 5:30 am – 7:00 pm
Where: CDC Parade Grounds, Clark Freeport Zone, Angeles City, Pampanga
All images grabbed from R.O.X. Philippines Facebook page.