High quality goods, themed art, and more at AWCP Bazaar
The American Women's Club of the Philippines (AWCP) is back with their monthly bazaar on July 13, but this time they need your help!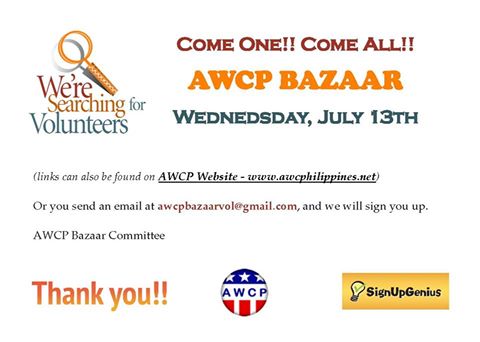 VOLUNTEERS NEEDED! The AWCP is kindly asking for your help in their monthly bazaar for a cause. Photo courtesy of AWCP Facebook page.
With most of their members leaving or travelling during the US Summer season, they are now in need of volunteers to help with upcoming bazaars. Sign up now and lend a hand!
Apart from being able to get the best food, skin care products, themed art, etc., the AWCP Bazaar's proceeds go to charities that they support, such as the Kalipat Negrese Foundation, Circle of Friends, Bukas Palad Street Outreach, and more.
The best way to help would be to sign up as a part of their pool of volunteers. You can visit www.awcphilippines.net or send an email to awcpbazaarvol@gmail.com to volunteer. No need to spend all day at the AWCP Bazaar, even an hour will make a huge difference.
Details:
What: AWCP Bazaar
When: July 13, 2016, 8:30 am
Where: SMX Convention Center, SM Mall of Asia Complex, Seashell Lane, Pasay City