Relive the adventures of Hansel and Gretel with Repertory Philippines
aHansel and Gretel is a timeless tale recorded by the Brothers Grimm back in the early 1800s. It's a tale for the ages, with two kids outwitting a wicked witch in a house made up of cakes and other sweet treats.
This classic makes an appearance on our shores just in time for Christmas as Repertory Philippines and the city of Makati present Hansel and Gretel from August 13 to December 15, 2016.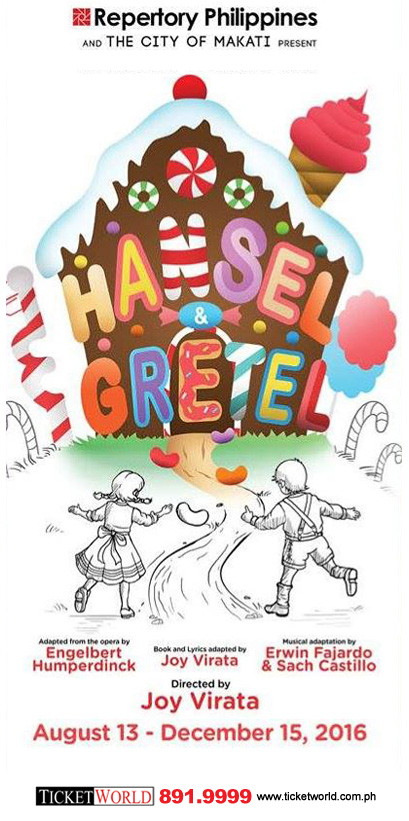 A CLASSIC TALE ALMOST as old at time itself, Hansel and Gretel is part of Repertory Philippines' 79th Season. Poster courtesy of TicketWorld.
Repertory Philippines have tapped Joy Virata for their adaptation of Hansel and Gretel, based on the opera made by Englebert Humperdink. It will tell the tale of two hungry children, Hansel and Gretel, sent into the woods by their mother to find strawberries, only to be lured into a gingerbread house owned by a wicked witch.
The witch tries to get the two into her oven like the other kids who've passed by her gingerbread house, only to be outsmarted by the two. She's eventually thrown into her own oven, never to be seen again. Hansel and Gretel also managed to turn all the gingerbread in the house back to children by merely touching them.
Hansel and Gretel will be shown at the Onstage Theater, 2/F, Greenbelt Mall 1, Paseo de Roxas St., Makati City. The show will run all Saturdays and Sundays between August 13 and December 15 at 3:30 p.m.
Tickets are available online at www.ticketworld.com.ph for as low as P418 (inclusive of ticket fees and ticket protect).
Details:
What: Hansel and Gretel
When: August 13 – December 15, 2016, Saturdays and Sundays, 3:30 pm
Where: Onstage Theater, 2/F, Greenbelt Mall 1, Paseo de Roxas St., Makati City
Tickets: https://www.ticketworld.com.ph/
Source: Aktivshow, Repertory Philippines official website, TicketWorld