Growee Kids on Bikes 2016
Parents, here's another exciting way to engage your kids into doing sports: popular food supplement brand Growee is inviting you to take your youngsters to the Kids on Bike 2016, the first ever fun race and bike carnival for kids in the country!  The event will be held on three different dates and at three different locations: March 19 (Ayala Alabang), March 27 (UP Diliman Grounds), and April 9 (SM Mall of Asia).
With a mission to promote discipline, good health, and sportsmanship for the kids, this year's Kids on Bike will hold a friendly biking competition which will be composed three types of races for different ages: Fun Race for children ages 3-5 y/o; Relay Race for 6-8 y/o; and Main Race for ages 9-13 y/o, wherein children can race each other. The grand winner will be awarded "The Biker Kid of the Year."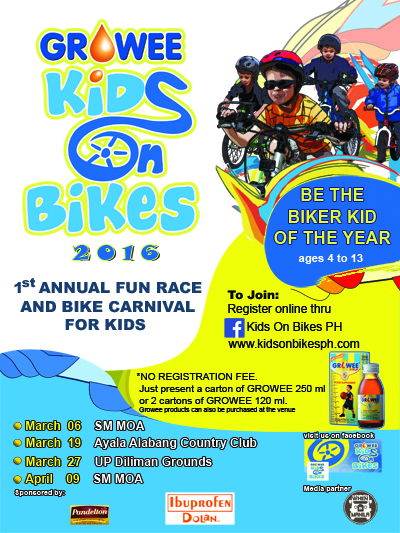 To join the fun, all you need to do is register on their Facebook page for free and present a carton of Growee 250ml or two cartons of Growee 120ml in exchange for a race kit.  For more details, please check their website.
Details:
What: Growee Kids on Bikes
When:
March 19, 2016 (Ayala Alabang Country Club, Alabang-Zapote Roadayala Alabang Village, Metro Manila)
March 27, 2016 (UP Diliman Grounds, Diliman, Quezon City 1101, Metro Manila)
April 09, 2016 (SM Mall of Asia, SM City Mall of Asia, Seaside Blvd, Pasay)
Facebook Page: KidsOnBukesPH
Website: http://kidsonbikesph.com/