UP Fair 2016: Kasama Ka Sa Trip
Gear up for one of the best local music festivals you will ever experience, as the University of the Philippines Student Council (USC) presents UP Fair 2016: Kasama Ka Sa Trip from Feb. 9 to 13, 2016!
#KasamaKaSaTrip. UP Fair 2016's official hashtag, emphasizing the best adventures you can have: with your friends.
UP Fair is the University of the Philippines' annual week-long school fair featuring the best musicians and the best of young talent the country has to offer. Each night features a different theme, with different acts headlining each concert night.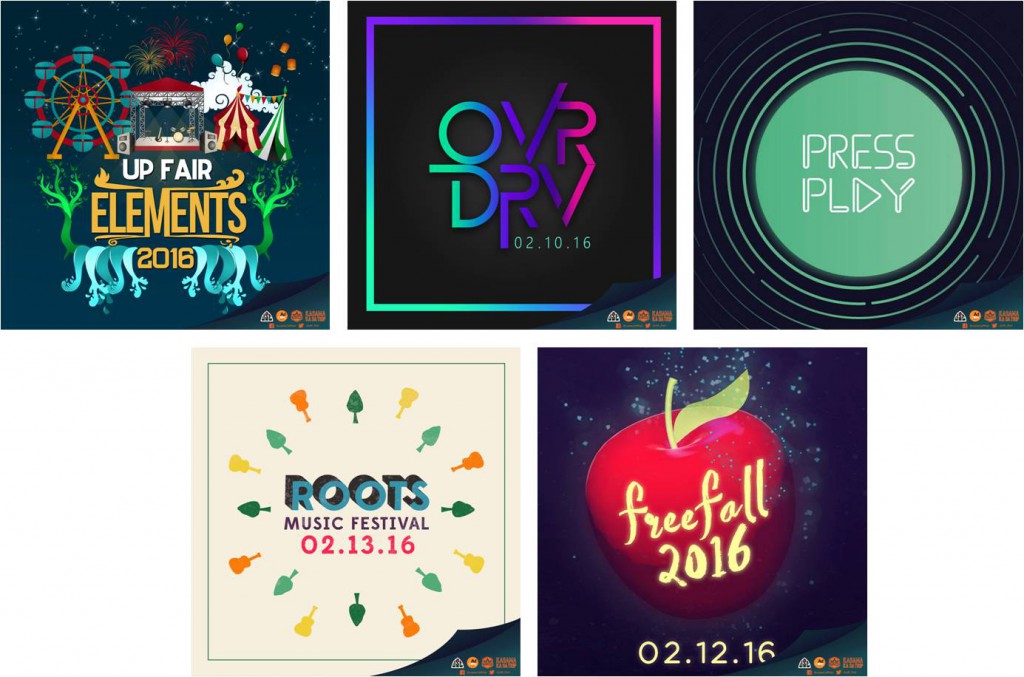 5 DAYS OF THE BEST MUSIC. The 5-day event features bands from different genres each night.
UP Fair's format of having a different theme each night will keep even the most discerning of music lovers glued to the event. Booths will also line the outskirts of the UP Sunken Garden, selling all kinds of clothes, food, and even a place for you to get a tattoo.
Here is a list of what you can expect each night:
Press Play: UP Fair Tuesday
– UP Fair's opening night, this night promises the best acts to start the week-long festivities. Performances from Gloc-9, Itchyworms, Mayonnaise, Ourselves the Elves, and Ang Banda ni Shirley.
Overdrive: UP Fair Wednesday
– With performances from Silent Sanctuary, Spongecola, Chicosci, Cueshè, and more, Overdrive promises a night filled with high-energy performances. Don't miss the ONE-HOUR set of Up Dharma Down!
Elements: UP Fair Thursday
– One of the most awaited of all the UP Fair nights, Elements highlights the beauty and diversity of the OPM industry and injecting relevant social issues, like this year's National Elections.
Free Fall: UP Fair Friday
– Brining artists from different music genres like Reggae, Pop Rock, and Indie Folk, Free Fall promises to bring together the best from all backgrounds and unite for a night of simplicity.
Roots Music Festival: UP Fair Saturday
– UP Fair's culminating night, Roots brings back UP's best of the best – a homecoming of the university's best musical talents. This year's line-up includes Parokya ni Edgar, Franco, Ang Banda ni Shirley, Bullet Dumas, Jensen and the Flips, and many more.
Don't miss one of the best school fairs in the country: UP Fair 2016! For more information, please visit https://www.facebook.com/UPFair/.
Details:
What: UP Fair 2016
When: February 9-13, 2016
Where: UP Sunken Garden, University of the Philippines, Diliman, Quezon City