Sinag Maynila Film Festival now poised for its second year
Fresh from the success of its initial year, Sinag Maynila 2016 comes back with a bang as it showcases the best works from notable directors in the local independent film industry.

THE BEST IN INDEPENDENT FILM MAKING. Sinag Maynila is back!
Conceptualized and helmed by its CEO and Founder Wilson Tieng, together with world-renowned and internationally acclaimed film director Brillante Mendoza, Sinag Maynila gives grants to independent filmmakers so they can develop their individual material to a full-length film for public exhibition. For 2016, the festival was opened to any Filipino independent filmmaker who wished to apply for a film grant.
Five filmmakers were chosen and have closely collaborated with Tieng and Mendoza, resulting in stories that reflect the Filipino culture while illustrating messages that will resonate globally.
Here are the five entries that made the cut:
MRS. by Adolf Alix Jr.
70-year old Virginia lives in a bungalow house that stands on an earthquake fault area. When her ever-loyal maid Delia tells her she'd be leaving for good, what follows shows a portrait of a woman and a mother trying to juggle the sad realities of life.
EXPRESSWAY by Ato Bautista
Old-timer Ben needs to do one last assignment before the syndicate boss he works for grants him his much delayed retirement. Assigned to be his partner is neophyte Morris, yearning to prove his worth. This last trip will turn out to be a journey of introspection, self-healing, and redemption.
DYAMPER by Mes De Guzman
Apeng, Poknat, and Tinoy are "dyampers" on the lookout to steal from rice trucks as they meander along the treacherous winding roads of Dalton Pass. In one of their encounters, they accidentally discover a pack of illegal substances which will lead them to the biggest mission of their lives.
T.P.O. by Joselito Altarejos
Teresa, an abused wife, attempts to secure her freedom by filing a Temporary Protection Order against her abusive husband only to be caught in the battered system of bureaucracy filled with neglect and indifference.
LILA by Gino Santos
To escape a past that threatens to consume her, a young woman decides to move into a house owned by a warmhearted landlady, looking for a fresh start and a chance for atonement. The house, however, has other ideas.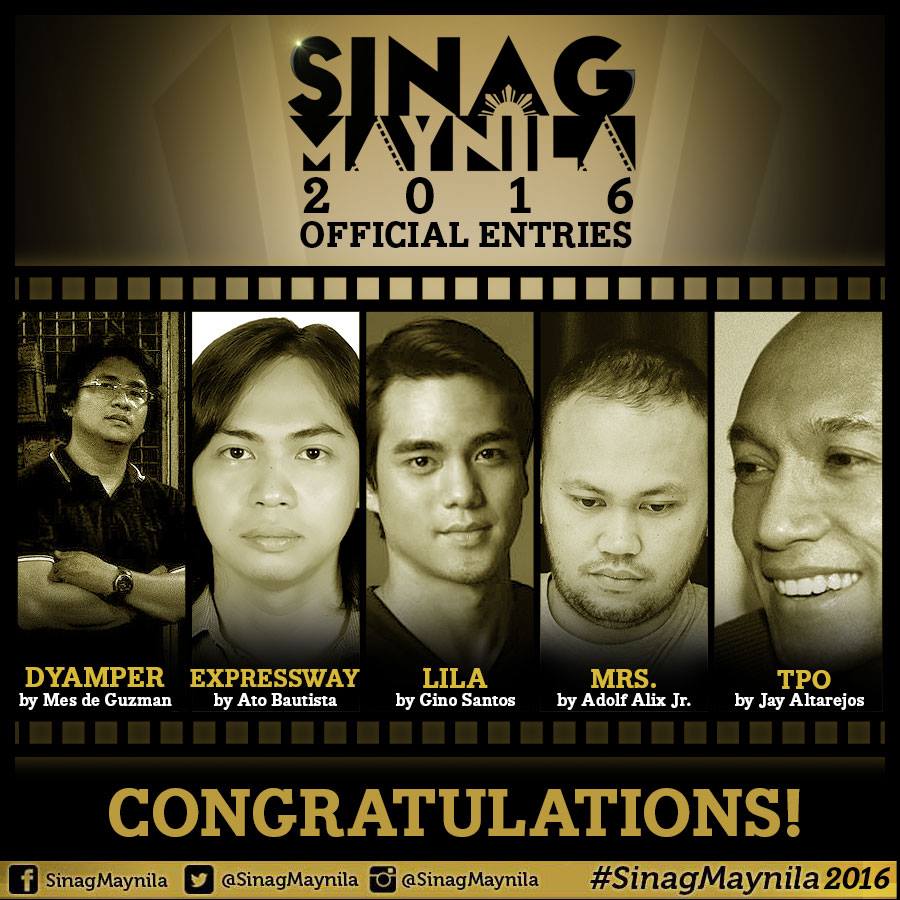 CREAM OF THE CROP. The five directors that made the cut.
Click here for a look back at the entries of 2015 and a behind the scenes look at the featured directors and their films for this year's Sinag Maynila Film Festival.
The 2nd Sinag Maynila Film Festival will run from April 21 to 26, 2016 in select theaters. For more updates, look for Sinag Maynila on Facebook (SinagMaynila), Twitter (@sinagmaynila), and Instagram (@sinagmaynila).
Details:
What: 2nd Sinag Maynila Independent Film Festival
When: April 21 – 26, 2016
Where: Showing in selected theaters

Photo courtesy of: Sinag Maynila Facebook page.