3 Stars and a Sun Musical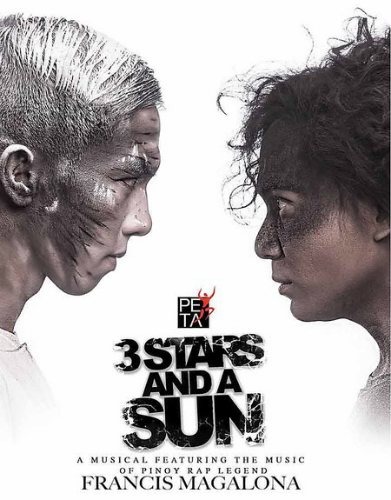 For 2016, PETA offers us a one of a kind rap musical through 3 Stars and a Sun, featuring the music of the late Francis Magalona known as the "Filipino King of Rap."
The highly anticipated musical will run from February 4 to March 6, at the PETA-PHINMA Theater in New Manila, Quezon City.
The original musical is PETA's offering to close the 48th theater season. Written by Mixcaela Villalon and Rody Vera and directed by Nor Domingo, the musical is said to be set in the future, with a story that revolves around Good governance, youth, and nation building. It deals with the unresolved problems of the present and how it can affect the future if it still continues to be unsettled.
It is a timely musical regarding social commentaries on Philippine society, and also in time for Francis Magalona's 7th death anniversary in 2016.
The musical will be filled with various inspirational hit songs and raps by Magalona, which has contributed a lot to the OPM industry in the country.
The cast includes Paolo Valenciano, Giannina Ocampo, and Carla Guevara-Laforteza among others. For more details, see the information below.
DETAILS
What: 3 Stars and a Sun Musical
Where: PETA Theater Center , No.5 Eymard Drive, New Manila, Quezon City
W hen: February 4- March 6, 2016
Ticket Prices (Ticketworld.com.ph)

VIP: P2,000
Orchestra Side: P1,400
Balcony Center: P1,800
Website: http://petatheater.com/3-stars-and-a-sun/

Contact Number: 891-9999