Giant Lantern Festival 2015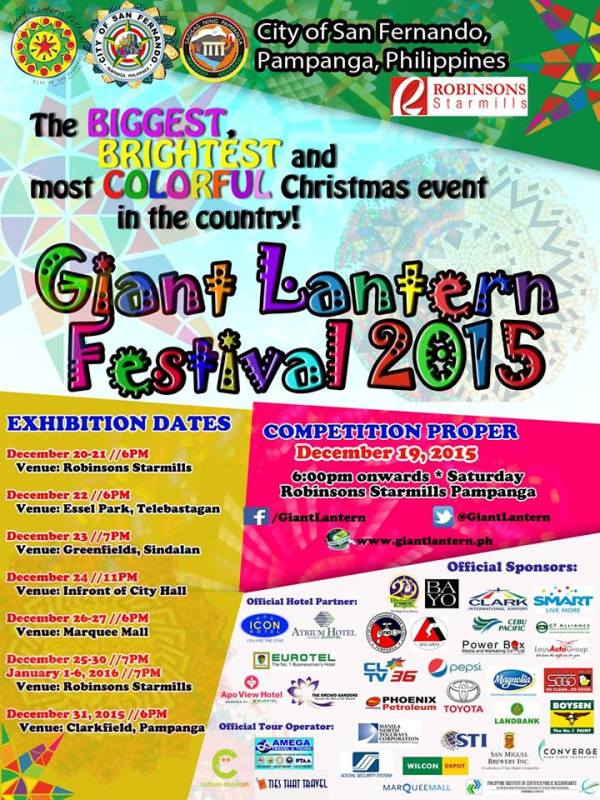 Want to celebrate Christmas the Filipino way? Join the annual Giant Lantern Festival on December 19, 2015 in Robinsons Starmills Pampanga and be amazed by the biggest and brightest event in the Christmas Capital of the Philippines.
The time of the year has come once again for the public to witness this one-of-a-kind festivity. The Giant Lantern Festival is a yuletide event that takes place in the City of San Fernando, Pampanga, about two hours north of Manila. In this occasion, you can see a parade of dazzling multicolored Christmas lanterns turning the streets into a sea of exquisite lights and hues.
The lanterns are made by the competing barangays (town districts) who join and showcase their respective lantern entries. As this has become a tradition in the city, many families have long been trained to be giant lantern makers. There, the craft of lantern-making which started by just using simple materials has evolved into a culture of creating intricate technical and aesthetic showpieces of Filipino ingenuity.
There will be booths at the event venue where you can buy official Giant Lantern Festival merchandise like souvenir items. Aside from the competition, there will be other sights to see such the fireworks display and hot air balloon show in partnership with the Lubao International Hot Air Balloon Festival.
PHOTO SOURCE: Giant Lantern Facebook Page
DETAILS:
When: December 19, 2015 / 6 pm onwards
Where: Robinsons Starmills Pampanga, City of San Fernando
Contact details:  CSFP City Tourism Office: (045) 961-8722 / 961-6640 loc. 211
Website: http://GiantLantern.ph
Exhibition Dates and Venues:
December 20-21 @ 6pm: Robinsons Starmills
December 22 @ 6pm: Essel Park, Telebastagan
December 23 @ 7pm: Greenfields, Sindalan
December 24 @ 11pm: In front of City Hall
December 26-27 @ 6pm: Marquee Mall
December 25-30 @ 7pm: Robinsons Starmills
January 1-6, 2016 @ 7pm: Robinsons Starmills
December 31, 2015 @ 6pm: Clarkfield, Pampanga