World Bazaar Festival 2015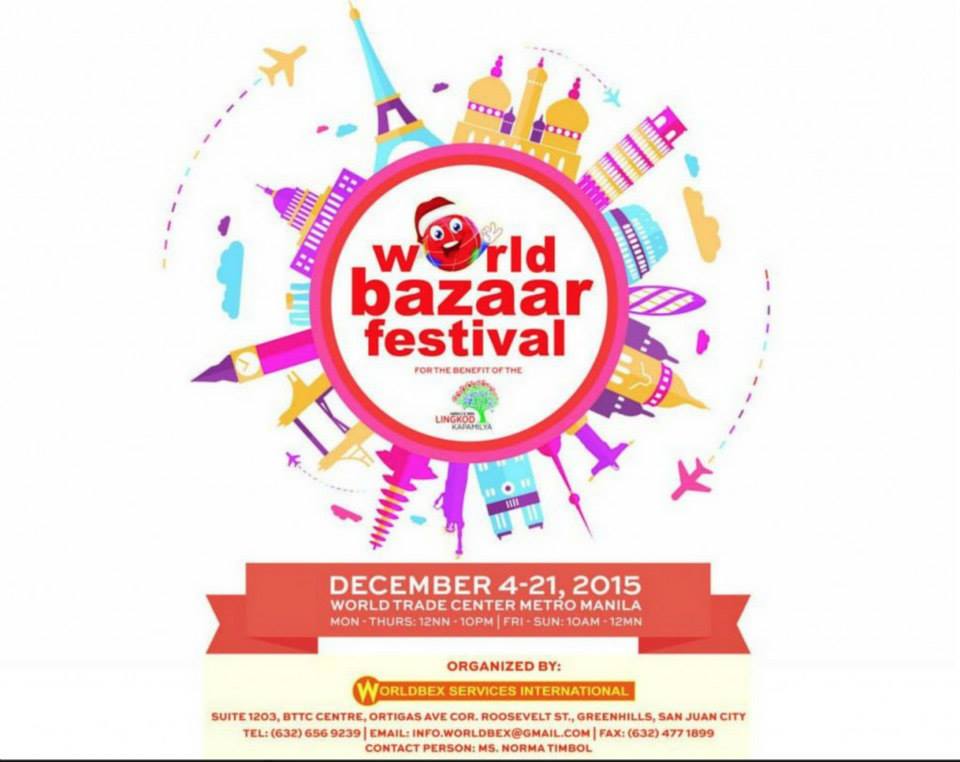 Brace yourself for the year's largest charity bazaar to be held from DECEMBER 4 to 21, 2015, at 10am-12mn at the World Trade Center in Pasay City.
Holding the title as the longest-running annual charity bazaar in the Philippines, World Bazaar Festival, WBF has the widest coverage of choice selections of leather goods, novelty items, shoes, bags, clothes, lifestyle products, fashion items, toys, perfumes and loads of more all perfect for the yuletide season's spirit of gift giving.
With an overwhelming number of more than 600 exhibiting companies and 230,000 shoppers strolling around 700 booths, sponsored by various leading names of the local market, World Bazaar Festival is the grandest shopping experience of the holidays. WBF aside from being the largest shopping harbor, is a great stop to find business opportunities too, since numerous product manufacturers and distributors are just few steps away.
With its tri-media partnership, expounding promotions and publicity, World Bazaar Festival still is the most widely held and recognized all-for-a-cause bazaar in the Philippines.
For more information, visit their website or contact them through:
+632 656-9239
+632 477-1899 (Fax)
Source: http://www.worldbex.com/Event/Bazaar