Early Christmas Party for Expats at UMU Dusit Thani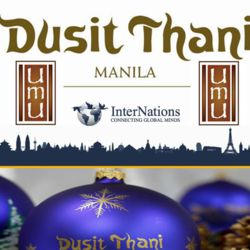 InterNations, the global online network dedicated to expatriates around the world is inviting its member expats in Manila to join its pre-Christmas celebration at the renovated Dusit Thani Manila on November 13 at 6pm to 9:30pm.
For years, Dusit Thani at Glorietta Makati has become the destination of foodies all over the metro and UMU at Dusit Thani Hotel is widely recognized as the premier Japanese restaurant in Makati.
Surrounded by the stunning oriental gardens of Dusit Thani Hotel, UMU opens its Sushi and Robata space to InterNations for a unique Christmas experience.
Expats are welcome to make new friends, do business, socialize, play, and have a fun time with fellow expats! For more details on how to be an InterNation member and join the event, click here.
Please see below for the event details:
Included in the attendance at the door counter:
DRINKS:
• Two (2) tokens per pax collected at the entrance include two (2) drinks of your choice: Fresh Juices / Soda / Beer
FOOD:
• One (1) plate per pax with UMU's speciality Wakadori Kuwayaki (Japanese Chicken Skewers)
30% DISCOUNT ON EVERY ADDITIONAL MENU ITEM:
• Extensive menu, with a wide variety of sake, wines and the best Japanese cuisine in Makati: sashimi, sushi, grilled meats on offer, salads, shiru mono, nimono, tempura, robata, teppanyaki, nabemono, kaiseki ryori, and other choices.
Please arrive early at Dusit Thani, and whilst at the registration, you're automatically listed for the possibility to WIN A PRIZE!
RAFFLE DRAW:
• Two (2) vouchers worth 25% discount for any purchase at the newly opened Dusit Thani's The Pantry.
And if it happens to be your birthday, bring over your selected guests and friends to have fun by living the spirit of InterNations – Ambassador to Manila Edgar Jose Prates will award you with an amazing surprise gift too!