Momzilla Fair 2015
Moms know best and they surely love new discoveries!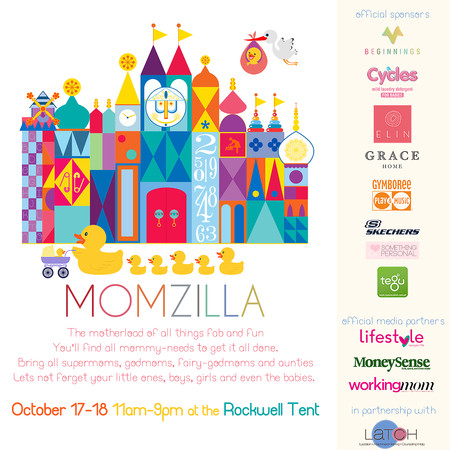 Think Pink Events thus brings you the 1st Momzilla fair, an event that aims to cater to the growing demand for more fab and fun mom and baby-friendly products.
This shoutout to all moms and moms-to-be fair is going to be held on October 17 to 18, 11am to 9pm at the Rockwell Tent in Makati.
In partnership with L.A.T.C.H., a non-profit organization that offers quality lactation education and peer counselling services to mothers who wish to breastfeed, the fair not only wishes to empower the local selling industry but also to serve as a platform for both new and experienced mothers to connect with each other and share the joys and challenges of parenting.
Calling all the supermoms, godmoms, aunties and grandmas to visit the 1st Momzilla fair. Don't forget to bring the little ones too!
*Tickets can be purchased at the registration booth during the event.
Contact Details:
For inquiries, e-mail: momzillaph@gmail.com
Schedule/Venue:
Rockwell Tent
Rockwell Center
Plaza Drive, Rockwell Center
Lopez Drive, Barangay Poblacion
Makati, Metro Manila, Philippines