L'Apertivo Italiano: Experience Italy After Work!
Hump Day got you bad? Let go of all your Wednesday stress at the most chic weekday social!
The Italian Chamber of Commerce in the Philippines, together with The Italian Embassy, The Dante Alighieri Institute and Travelife Magazine, invites you to L'Apertivo Italiano on August 26, 2015 from 6 to 10PM at the Makati Diamond Residences!
–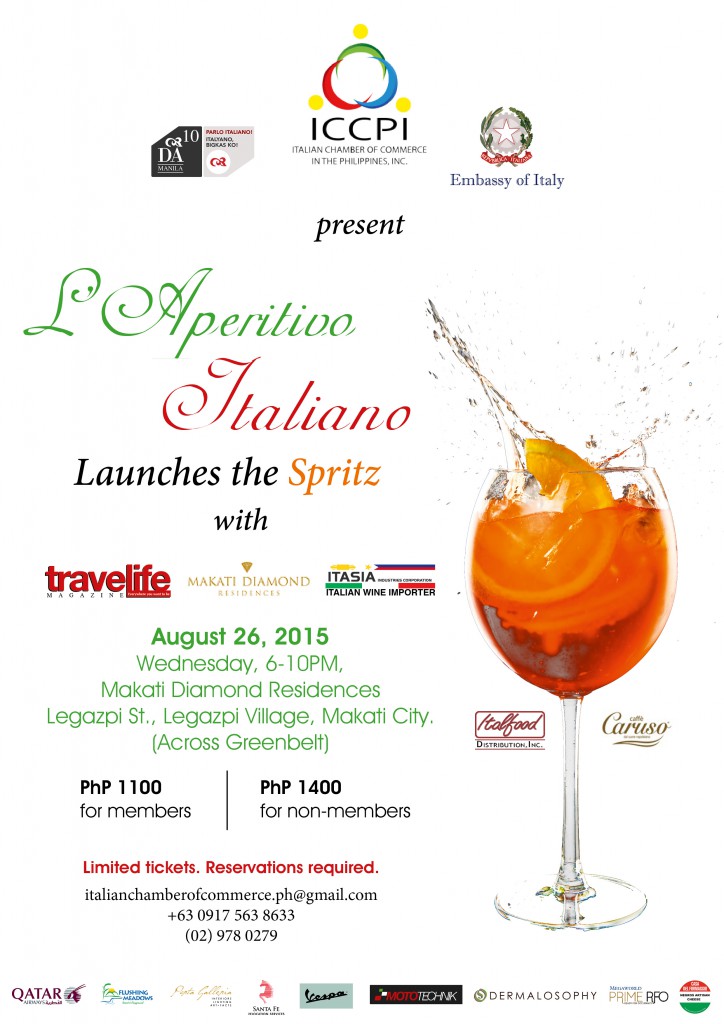 –
From the word aperire, which means to open, L'Apertivo Italiano aims to introduce to the curious and the interested the Italian tradition of having drinks pre-dinnner time. These are usually taken to "open" one's appetite. This is very different from the "happy hour" tradition that we are used to as it promises to be a more stylish social gathering among colleagues and friends.
Sample the best antipasti and snacks paired with the best Italian wine, cocktails and other special drinks in Asia. Drink in the beautiful interior of the newest serviced residences in town. Dish out a smile or two as you relax with your friends and meet new and very interesting people.
Be the first to try the iconic Italian alcoholic cocktail, the Spritz (a mix of Prosecco, Aperol and soda) which will be launched in the Philippines for the first time. The Spritz is considered the epitome of the Aperitivo in Italy.
Busy this coming midweek? Don't worry as L'Aperitivo Italiano is a monthly event!
"L'Aperitivo Italiano in Manila will have a monthly date here," says the Italian Chamber of Commerce. "We trust that we can keep up to the expectations of the many Filipinos and expats who look for [a] social lifestyle event with Italian gastronomic flair." 
Aside from the exhilarating Italian experience, get the chance to win two (2) air tickets to italy (sponsored by Qatar Airways) or a weekend stay for two (2) in Flushing Meadows Resort & Playground in Bohol! All you have to do is to take a selfie during one of this monthly events and post it on Facebook, Twitter or Instagram using the hashtags #LAperitivoItaliano2015 #iccpi.
Tickets are at PHP 1,100 for the members of Italian Chamber of Commerce in the Philippines and PHP 1,400 for non-members. This entitles you to three (3) glasses of the best Italian wine and/or the Spritz and an unlimited serving of various Italian finger food.
So, put on your most fashionable frock and your most sophisticated suit, and andiamo a predere un Aperitivo! Ci vediamo!
For any inquiries, contact the Italian Chamber of Commerce at +639 175 638 633 or 02 978 02 79 or visit their Facebook page or their website.
–
Article by Madeline Castillo