Andrea O. Veneracion International Chorale Festival at the CCP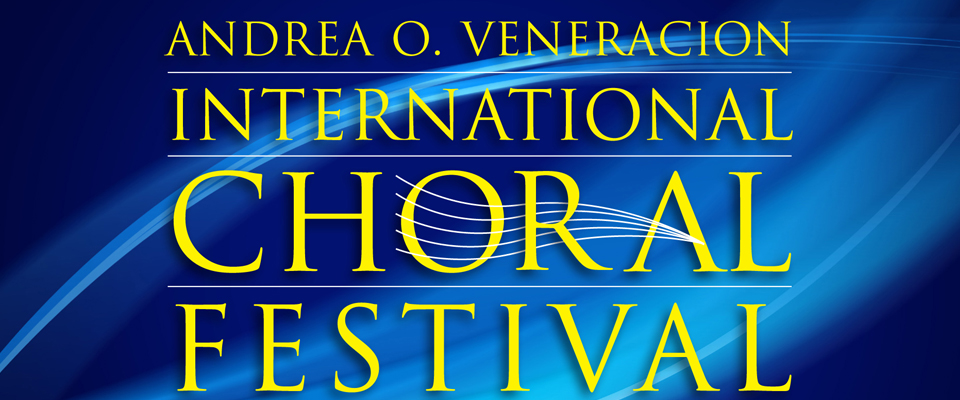 Photo credit: Andrea O. Veneracion International Choral Festival Facebook
–
A total of 16 international and local choirs will be gathered for the 2nd Andrea O. Veneracion International Chorale Festival at the Cultural Center of the Philippines on July 22- 26, 2015.
The Andrea O. Veneracion International Chorale Festival competition showcases choirs for the following categories: Folk Song, Vocal Ensemble, and Chamber Choir. Each category will be judged by an international jury of conductors namely Andre van der Merwe, conductor for Stellenbosch University Choir in Cape Town, South Africa; Brad Allred, conductor Salt Lake Choral Artists in Utah, USA; Silvana Vallesi, conductor to Coro Universidad de Mendoza in Argentina with awards for the first Latin American conductor with the European Grand Prix for Chorale Singing; Jānis Liepiņš, conductor to the Latvian youth choir Kamēr; and Mark Anthony Carpio, choirmaster of the Philippine Madrigal singers.
The following choirs will be pegged for the three-day competition:
INDONESIA
Inggou Victory Children Voice GKPS
Svaditra-Bandung Chamber Choir
The Archipelago Singers
Universitas Pelita Harapan Choir
ITALY
Gioventù in Cantata
MEXICO
Túumben Paax
PHILIPPINES
Boscorale
De La Salle University Chorale Dasmariñas
Koro Ilustrado
Mandaluyong Children's Choir
Technological Institute of the Philippines (TIP) Choral Society
The Voices of Davao
Philippine Vocal Ensemble
University of Baguio Voices Chorale
University of Los Baños Choral Ensemble
University of the Visayas Chorale
Not only would there be music and harmony from the contestants, the Philippine Madrigal Singers will be performing on the festival's gala night on July 25 and the Latvian youth choir Kamēr will be performing a special concert on July 26. See you there!
For schedules and ticket information visit the CCP website HERE.
–
Article by Michelle Tumanpos