The Art of Storytelling 2015 Workshop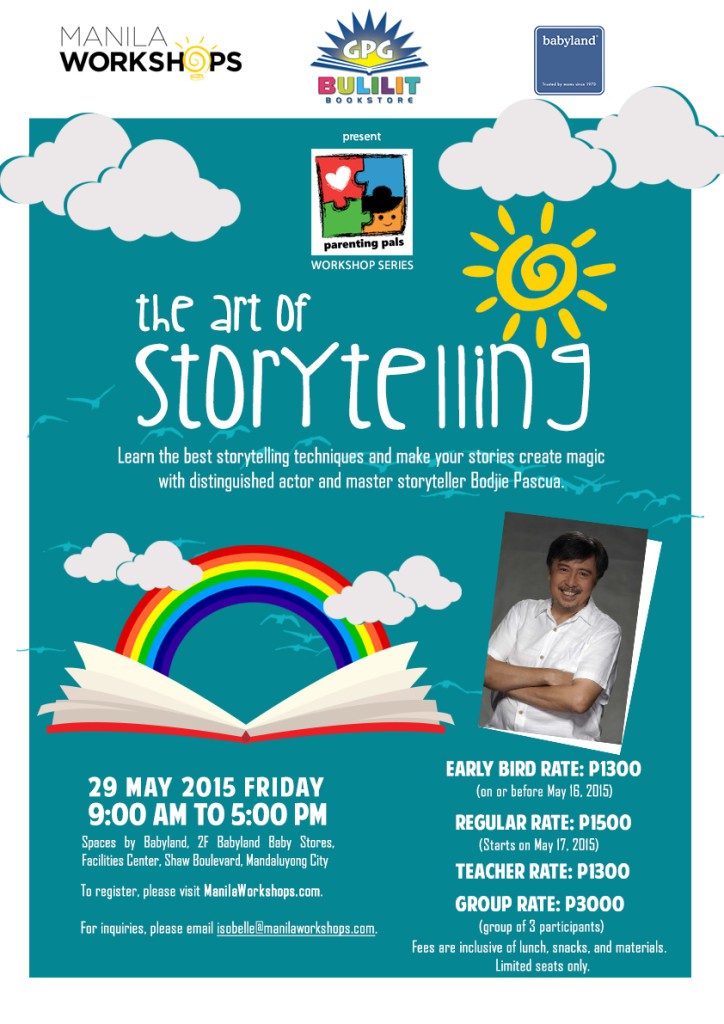 –
Learn the magical formula in storytelling from the grand magus himself: Bodjie Pascua.
Manila Workshops and GPG Bulilit Bookstore, happily brings you The Art of Storytelling 2015 and is inviting you to learn how to weave enchanting stories for your children on May 29, 2015 Friday at 9AM to 5PM at Babyland Baby Stores, Facilities Center, Mandaluyong.
All mommies, daddies, teachers and community volunteers are invited! Join the magical workshop to know more about storytelling and its marvelous fascination to kids.
The workshop will discuss the principles and techniques of storytelling, performance skills, improvisation and interactive skills, verbal and nonverbal communication and analyzing stories to maximize impact onto the young listeners and to give them a more spellbinding and wonderful bedtime story experience. It's not just simple reading of text from books but it's transforming you, from a street magician to a great wizard of storytelling.
Writing materials and activity kits will be given to the participants. There will also be lunch, and snacks will also be served during the breaks, and a certificate will be handed over after the event. The interactive workshop will be facilitated by the highly experienced and well-respected thespian Luisito Pascua aka Kuya Bodjie of the popular Filipino children's TV shows Batibot, Bulilit, and Sige, Sali Ka Na! And,is currently as "Tito Luis" in ABS-CBN Foundation's Epol-Apple.
Now grab your wands and fly with your carpets or your broomsticks, ladies and gentlemen, to Babyland and learn the fundamental skills and knowledge in creating your own exciting magical story for your kids. Let the wands of storytelling be sharpened!
–