Wanderland 2015: Camping Has Never Been Better
This festival is art, music and nature put together in one heck of a camp.
…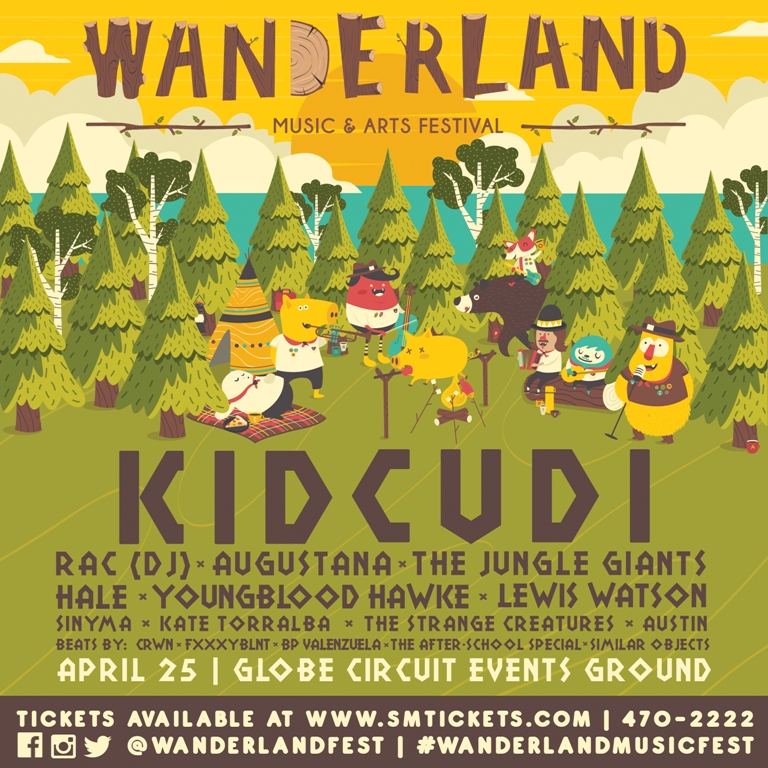 …
Everyone's been waiting for it for months. And now, we are three days away from the coolest camp to hit this blazing hot summer: Wanderland Music & Arts Festival Camp 2015 is happening on April 25, 2015, Saturday at the Globe Circuit Event Grounds.
This festival promises truckloads of fun, adventure, dining and eargasm from noon 'til midnight. Gear up and get away from the hurly-burly of city life for one day. Rough it and go all camp ranger as you experience the best smores stations, obstacle courses, tents and many more. See art like you've never seen before with live exhibitions from June Digan, Kris Abrigo and Tokwa Peñaflorida.
And of course, there's the music.
Highlights of the event are the act from artist Kid Cudi (A Kid Named Cudi, Day 'n' Nite), fancy beats from RAC, indie rock from the band Augustana, Australian indie pop from the quartet The Jungle Giants, and performances from Youngblood Hawke (We Come Running) and British folk and acoustic singer-songwriter Lewis Watson.
Sway to the rhythm of local talents: OPM legend Hale, beat-savvy SINYMA, smooth-sounding and sassy Kate Torralba, and Wanderband winners The Strange Creatures and Austin. Dance all day to the sick beats of CRWN, FXXXYBLNT, BP Valenzuela, The After-School Special and Similar Objects.
Regular priced tickets are available for the rate of P5,500. Visit SM Tickets outlets or check out availability of purchase at www.smtickets.com for more convenient access.
Want to get the party started a tad bit earlier than other campers? Check out the Bandwagon to Wanderland and arrive at the festival in pizzazz (and with exclusive perks, too!).
See you there!
***
To get the latest heads up about Wanderland 2015, visit their official website or follow their official social media feeds: Facebook/Wanderlandfest, Facebook/KarposMultimedia, Twitter/wanderlandfest, Instagram/wanderlandfest, Twitter/karposmm, Instagram/karposmm.
WanderlandMusic & Arts Festival Camp 2015 is a music and arts festival by Karpos Multimedia Inc., presented by Globe and Locally. Official Apparel: Topshop, Topman and Official Alcoholic Beverage: Smirnoff Mule.