Laboracay 2015 Is Here!
Learn all you need to know about the biggest beach party this summer.

—–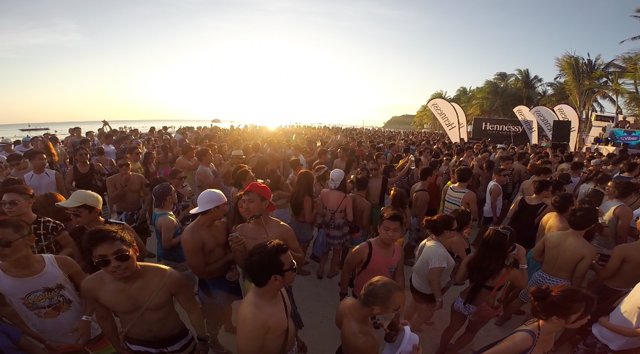 Photo grabbed from La Boracay 2014 via vimeo
—–
Regarded as one of the best beaches in the world, Boracay is everyone's favorite summer destination. With its beautiful white sand beaches, it has definitely put the Philippines on the map. For a couple of years now, though, Boracay came up with an unofficial Philippine festival that picked up popularity overnight: Laboracay.
Different event organizers and brands like Nestea, Century Tuna, Nivea and many others worked together in launching Laboracay or the Labor Day weekend in Boracay. Basically, the idea is to head to the most visited beach in the country on May 1. There, people are offered a long list of activities to do, from different water sports, unlimited choices of food, shopping bazaars, games, contents and competitions to night parties with known DJs playing music for the party souls.
Laboracay has always been and will always be a party to remember. Some of Laboracay 2014's highlights were the Nestea Beach activities in the morning and the crazy parties at night in some of the posh bars like Epic or Hey Jude Boracay. Local and international artists joined this event too last year, one of them was DJ Cedric Gervais from the US.
Watch out for the official list of artists local and international that will party with the Boracay crowd will soon be revealed, not too long 'till the biggest summer party this year. And Primer will gladly share it all to you.
Itching to attend this year's Laboracay? Here's a list of things you need to do now:
• Make arrangements. Book a flight to Boracay and make your hotel/resort reservation before it gets very, very
• Stay healthy. Traveling and partying all weekend long can be exhausting, so make sure you have the energy to last you the weekend. Also, be at your fittest Boracay body!
• Save! While a fun activity to do, Laboracay can be enjoyed with the right amount of money to spend. Booze and food can cost a lot, so make sure you're ready for that.
• Watch out for the best deals. Since you'll be spending a lot during that weekend, lessen your costs by looking for good deals. Brands and organizers usually have promos and contests you can join.
• Invite friends. Find your best travel buddy and plan the weekend with them!
Stay tuned for more Laboracay updates! Continue reading Primer this summer.