BUSINESS TAXATION SEMINAR BY SUZAN C. BIGAY CPA, CMA
Business Taxation Seminar:
Wednesday, January 21, 2015, 1:30pm – 4:30pm
Friday, January 30, 2015, 1:30pm – 4:30pm
RCBC Plaza, Makati City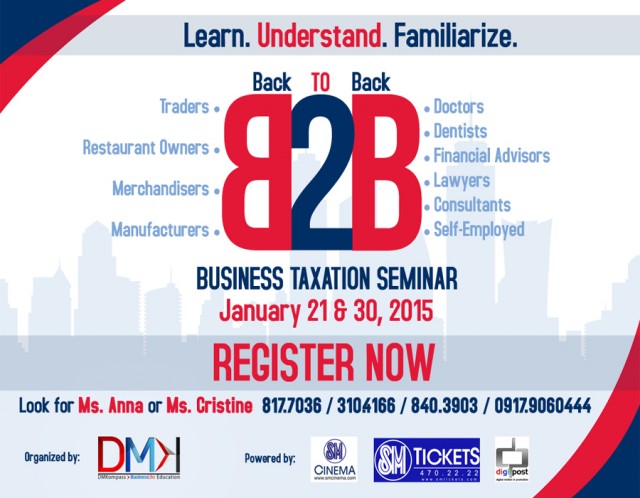 You Should Not Evade Taxes
In 2013, Revenue Commissioner Kim Jacinto-Henares reported that the tax evasion rate among self-employed professionals has reached 90%. Under her leadership, the Bureau of Internal Revenue went after tax evaders like a bloodhound.  Cases were filed, and reputations were tainted owing to the bureau's relentless campaign. Whether you agree with the Commissioner's methods or not, one thing is certain: you are legally bound to pay taxes. There are hundreds of Internet resources that discuss how to compute and file taxes. But a do-it-yourself approach puts you at risks of making mistakes that can quickly put you in jail.
Evade Death, Not Taxes
Nothing is certain but death and taxes.  While it is perfectly legal to cheat death, evading your tax obligations will close your business or book you a long stay in prison.  Though there are hundreds of Internet resources taxes, self-studying these topics may lead you to costly mistakes for your business and you.
As executives and entrepreneurs, one of our objectives is to maximize profits and reduce costs. Unknown to many professionals, there are perfectly legal and ways to reduce tax obligations. So instead of risking the wrath of the Bureau of Internal Revenue, why not take your taxes head on?
The DMKompass Solution
In this Business Taxation Workshop our subject matter expert will can break down complex and updated concepts to make your learning experience easier and enjoyable. Real-world examples will be shared so that you can immediately put into practice. With the right training, you will be able to confidently file your income tax return and make correct tax payments every time.
Who Needs This Workshop?
Business Taxation Seminar on January 21, 2015
Traders
Manufacturers
Restaurant Owners
Merchandisers
Business Taxation Seminar on January 30, 2015
Self-employed
Doctors
Lawyers
Engineers
Architects
Entertainers
Free lancers
Business Taxation Seminar Course Outline
1.    Principles of Taxation
–    Taxation and taxes definitions
–    Types of Internal Revenue Taxes and persons liable to pay
–    Types of Taxpayer
2.    Certificate of Registration (COR)
3.    Taxpayers registration guidelines and procedures
4.    Annual registration fee
5.    Registration of invoices and receipts
6.    Registration and keeping of books of accounts, manual and computerized
7.    Tax returns, forms, deadlines of filing, payments and procedures for filling-up
8.    Business Taxes
–    Value Added Tax (VAT)
–    VAT rates and computation
–    Exempt transactions
–    Zero rated transactions
–    Withholding on VAT
–    Percentage Tax
–    Withholding Tax System
–    Expanded Withholding Tax
–    Withholding tax on wages
–    Final Withholding Tax
10.    Income Taxation
–    Corporate Income Tax
–    Individual Income Tax
11.    Basic taxpayers' remedies on tax assessments
12.    Question and Answer
13.    Workshop (please bring a calculator)
Meet Your Mentor
Suzan C. Bigay, CPA, CMA
Apart from having an MBA, Suzan is a CPA, Certified Management Accountant (CMA) in Australia, entrepreneur, and educator. She teaches Managerial Accounting, Tax Accounting, and Entrepreneurial Management as a graduate school professor. Suzan is also the chief executive of DM Competitive Asia, Inc., an accounting and finance advisory firm. Most of her previous students and trainees have established companies of their own.
Contact Info
DMKompass Inc.
Suite 401 Evekal Bldg., 855 A. Arnaiz Avenue, San Lorenzo Village, Makati City
Office: +632 310.4166 | +632 817.7036
Mobile: +63 917.9060.444
Telefax: +63 840.3903
E-Mail: info@dmkompass.com
Facebook: DMKompass, Inc.
Website: www.dmkompass.com
– See more at: https://www.smtickets.com/event/details?event_id=2869#sthash.wn5Ts4DT.dpuf