Learn more about travel photography with Ricky Ladia
This March 25, join critically acclaimed photographer Ricky Ladia as he allows us to capture emotions and stories during our travels through another Travel photography workshop happening at the Ayala Museum.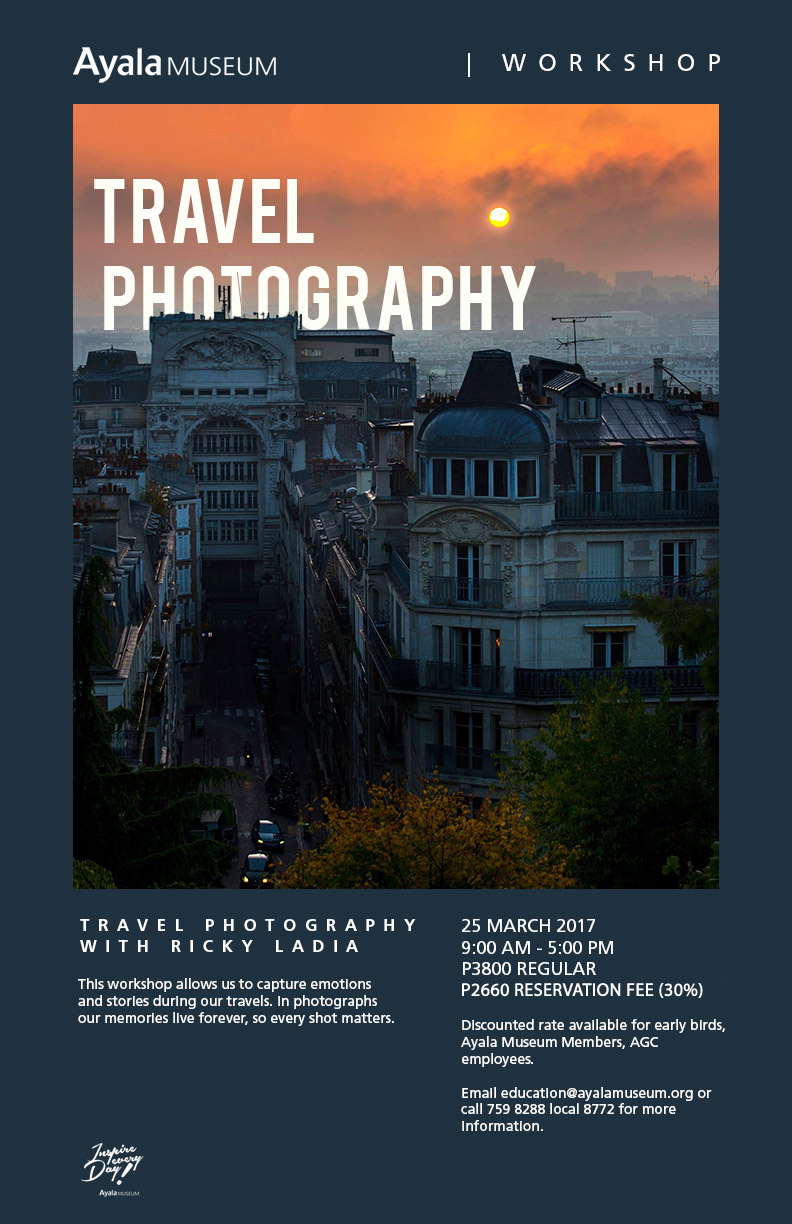 Ricky Ladia worked as a photographer at an advertising and publishing company in the Middle East for two years where he specialized in taking detailed photos of artifacts and reproducing paintings and old photographs. 
Ladia later took on freelance work for mainstream magazines from reputable publishing companies such as Eastgate Publishing (Mabuhay Magazine), ABS-CBN, Summit Media and Hinge-Inquirer Publications. He has also shot for first-class hotels, resorts, fashion and retail brands, and has done celebrity profiles, among other things. 
Ladia is also known for his food photography, having worked with several food magazines, as well as with various restaurants and culinary schools in the country. He also dabbles with fashion photography, having done covers for leading style publications. While Ladia considers himself a generalist photographer who does not want to limit his creativity.
Workshop outline:
* Photography in the digital age
* The essentials of travel photography
* Photojournalism and travel photography
* Packing your bags like a travel photographer
* Travel photography photo editing ethics
* Caring for cameras and other equipment
The workshop fee is P 3,800 inclusive of materials, handouts, snacks, a certificate, one day free admission to the museum and one day free access to the library. The deadline for reservations is on March 11, 2017. A 5-percent discount will be given to those who pay in full on or before the deadline.
Payments can be made in cash, check, or through credit card.
*Discounts do not apply to credit card transactions.
For inquiries, please call Marj at 757-7117 to 22 local 25, email villaflores.md@ayalafoundation.org or visit www.ayalamuseum.org
Source: ayalamuseum, theayalamuseum