GUIDE: Where to Celebrate Oktoberfest in Manila This 2022
We've waited so long for this, and now it's back! If you've missed the Oktoberfest scene and want to know where to party or feast, browse through this list, and we'll bring you straight to the festivities.
German Club Manila
When: October 14 & 15, 2022; 6:00 p.m. 
Where: The Tent at Solaire Resort & Casino, Parañaque City

Craving for an authentic and exclusive Oktoberfest celebration that mimics the original festivities in Munich, Germany? We have great news for you! The longest-running Oktoberfest celebration in the Philippines is back, and German Club Manila is inviting you at The Tent in Solaire Resort & Casino to join the feast.
Also Read: German Club Manila's OKTOBERFEST Returns to Solaire this 2022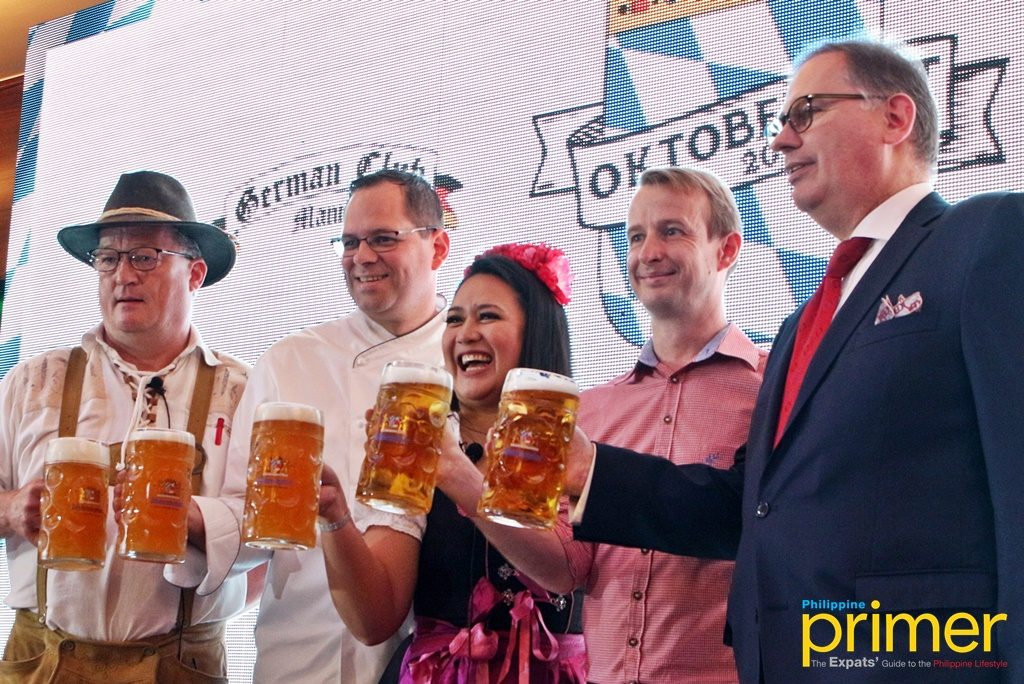 81st Oktoberfest at Solaire
Once again, the taste of Bavaria is set to tease your senses as authentic Bavarian food and beer will be served aplenty during the two-day celebration. Lovers of German food may expect an all-out festival complete with its all-time favorite Weihenstephan beer and the much-anticipated performances from the Bavarian Sound Express.
Bavarian feast
For seat and ticket inquiries, call 02-8818-4236 / 02-8894-2899 or send an email to reservations@germanclub.ph. You may also visit their website at www.germanclub.ph or their Facebook page, German Club Manila, Philippines.
Fukudaya Japanese Dining
When: October 1 to October 31, 2022; 5:00 p.m. to 10:00 p.m. only
Where: Unit 7, The Plaza, Arya Residences, McKinley Parkway, Bonifacio Global City, Taguig
Beer and Japanese chows are the perfect pair to a celebration! So, if you want to experience the best of Japanese dining while celebrating Oktoberfest, join Fukudaya during its month-long celebration, and enjoy 50% off on local beers, Lemon Chu-Hi (Lemon Dou), and classic cocktails!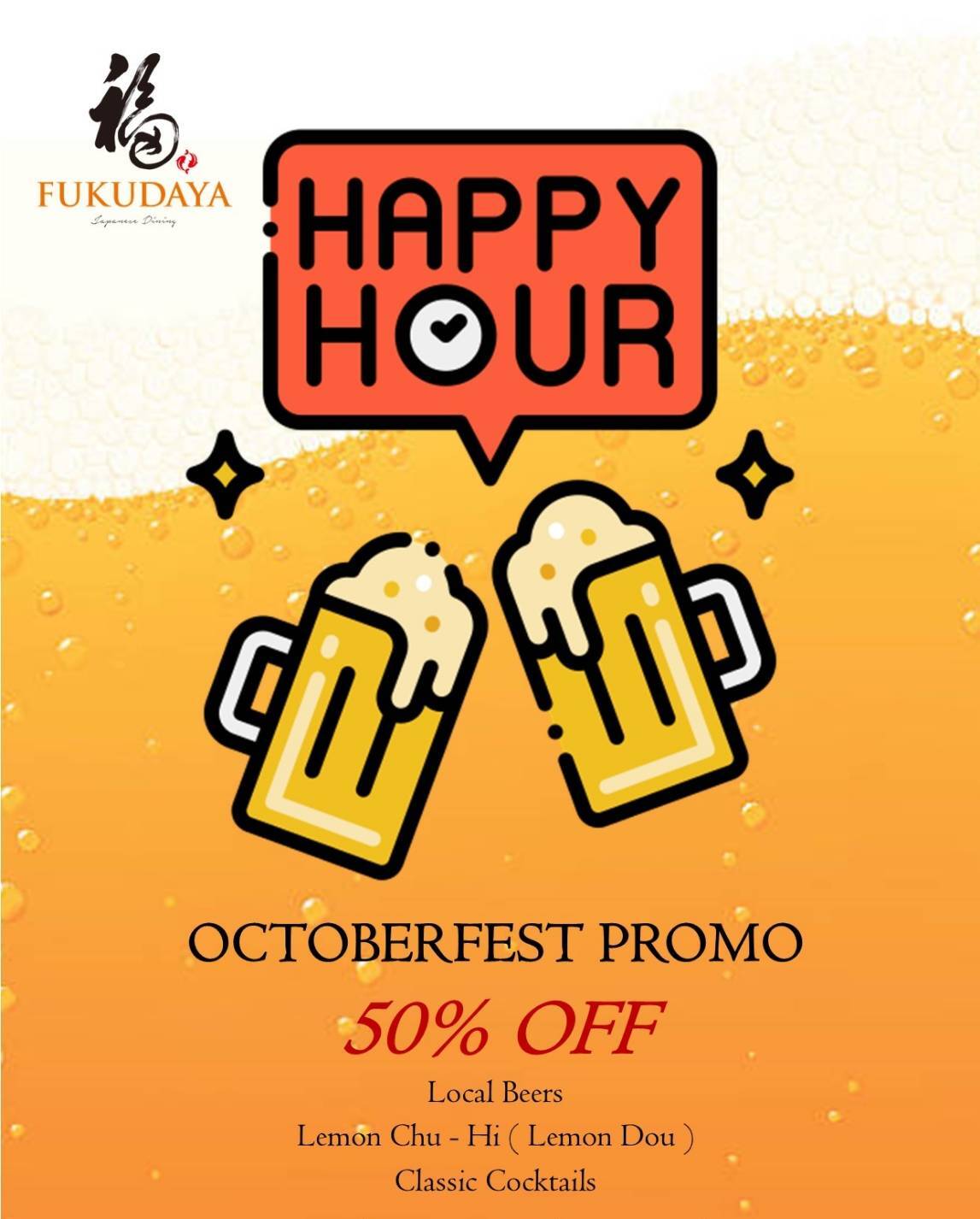 IMAGE from Fukudaya Japanese Dining
Don't forget to pair these with Fukudaya's assortment of sumptuous Japanese sushi, sashimi, and maki rolls to savor the best of Fukudaya in BGC.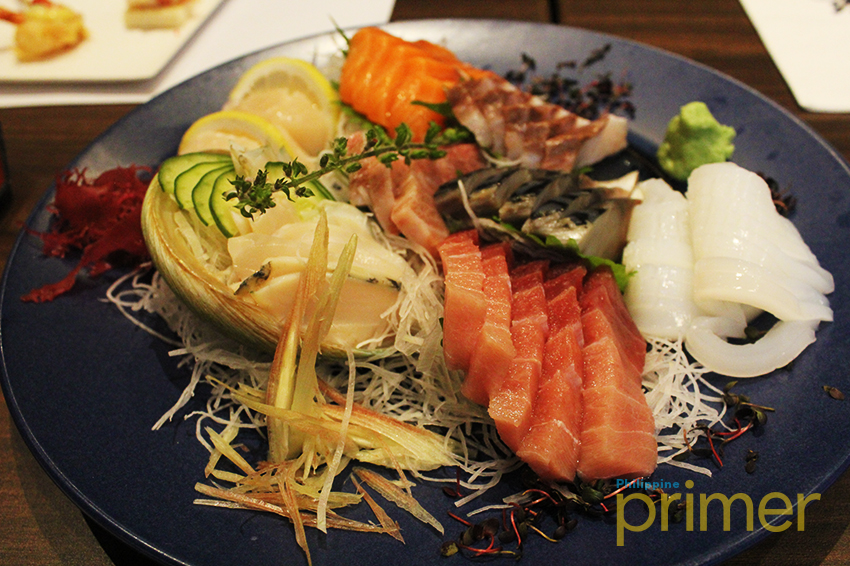 For more information, you may reach Fukudaya at 0927-264-0171 or visit their Facebook page, Fukudaya Philippines.
HIRO Japanese Yakiniku Restaurant
When: October 13 to 15, 2022
Where: 1D Palanca Street corner Dela Rosa Street, Legazpi Village, Makati City

Sake or Japanese rice wine becomes the star of the show at HIRO Japanese Yakiniku Restaurant as it celebrates Oktoberfest with a Sake Beer Bomb! Enjoy an explosion of sake performance every 7:00 p.m. to 7:30 p.m. from October 13 to 15, 2022. The exciting part? Whoever wants to drink sake can get it for free!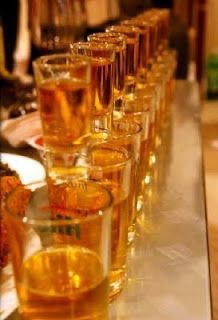 Sake Beer Bomb / IMAGE from HIRO Japanese Yakiniku Restaurant
To get the best of HIRO, you might also wish to try its elevated Japanese yakiniku or grilled meat made of Omi beef from the famous Daikichi Black Wagyu Farm in Shiga Prefecture, Japan! For starters, you may order the Tamate-Bako, a selection of assorted meats, great for first-time customers.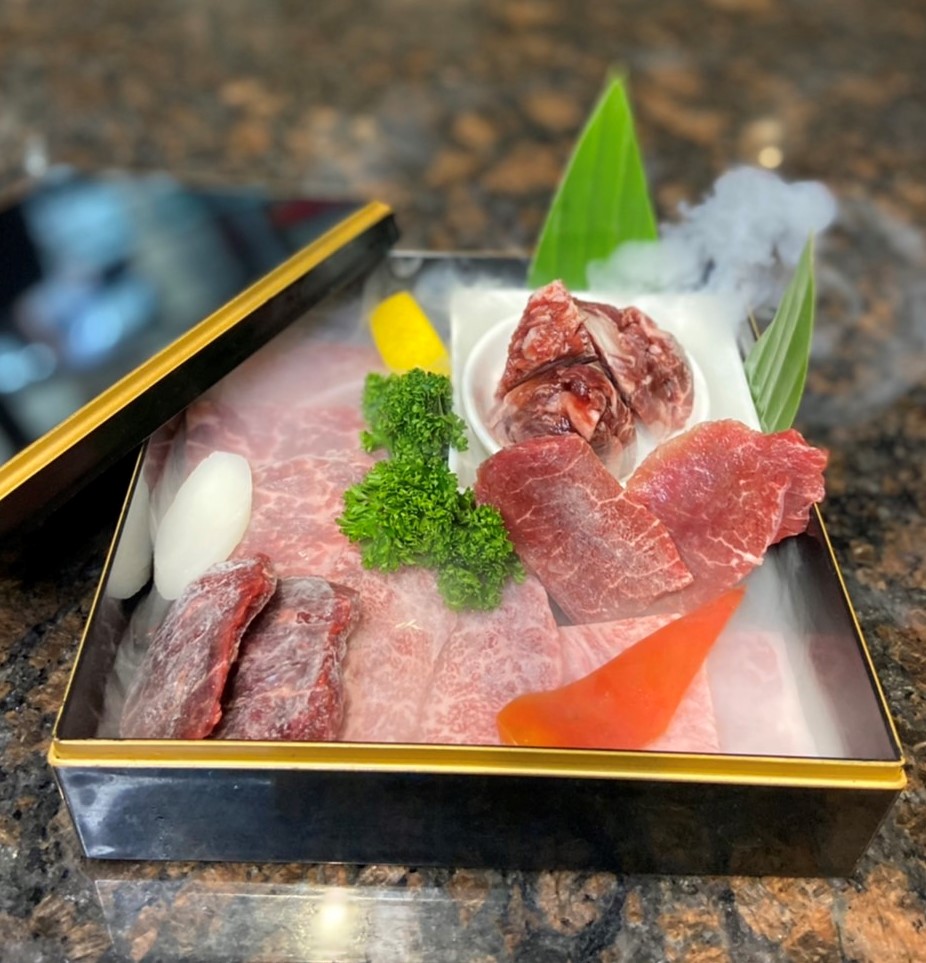 IMAGE from HIRO Japanese Yakiniku Restaurant
To know more about HIRO, visit their Facebook page, HIRO Japanese Yakiniku Restaurant or call them at 0917-133-2828. 
Brotzeit Philippines
When: September 12 to October 29, 2022
Where: 112 G/F Streetscape, Shangri-La Plaza Mall, Mandaluyong
Brotzeit Philippines sticks to traditions as the Bavarian restaurant began its Oktoberfest celebrations on September 12, 2022! But don't fret, because it's far from over.
Enjoy an everyday feast until October 29, 2022, at Brotzeit with Bavarian dishes like the Nürnberger Stadwurst, a 450-gram sausage served with sauerkraut (pickled cabbage), roasted potatoes, and onion mustard. Bring your friends to play games and win prizes for an Oktoberfest celebration worth remembering.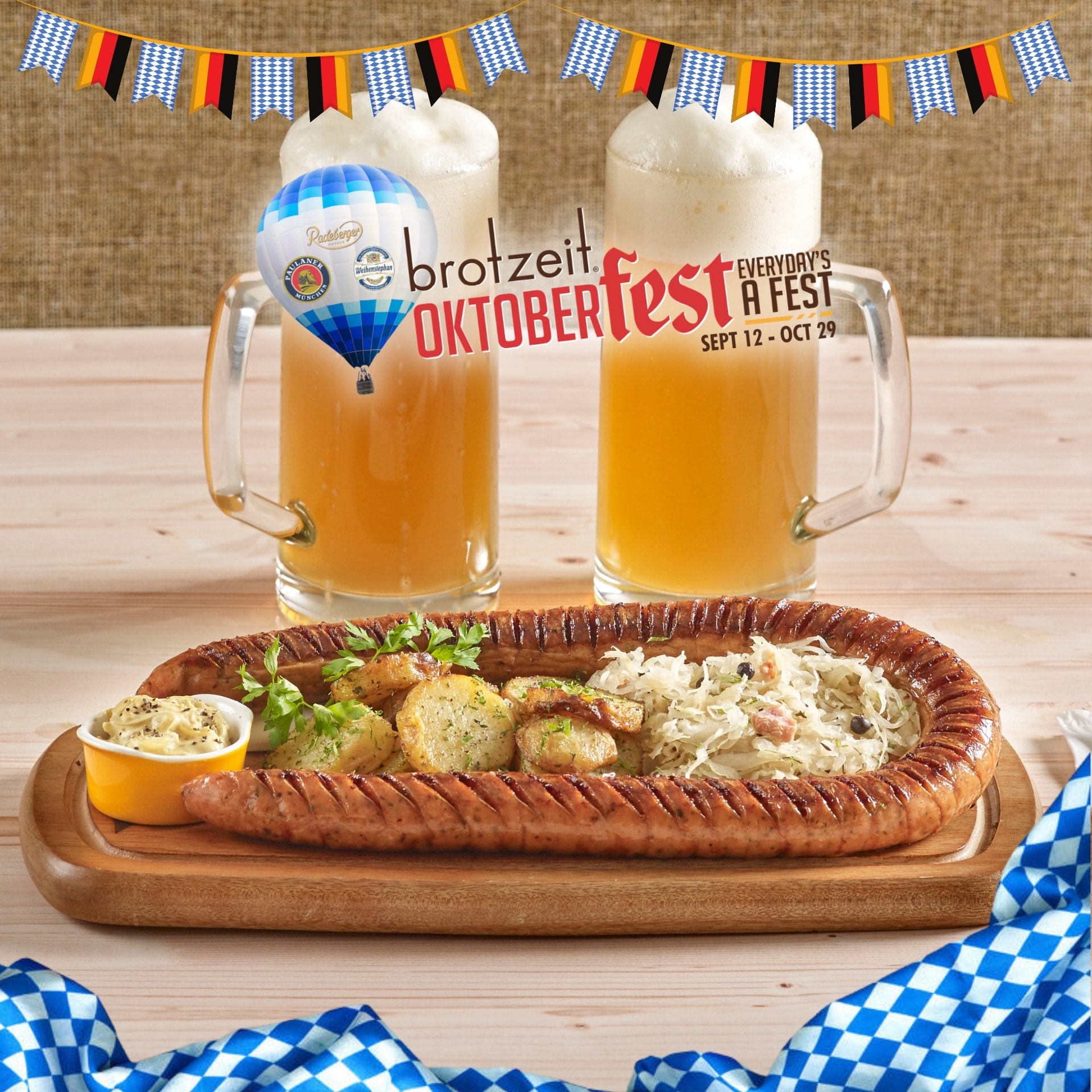 IMAGE from Brotzeit Philippines' Facebook page
Reach Brotzeit at reservations@brotzeitphil.com or 0949-881-0360 for inquiries. They also deliver! Place your order through www.brotzeitdelivers.com.
Rotary Oktoberfest 2022
When: October 13, 2022; 6:00 p.m. 
Where: The Tent at Solaire Resort & Casino, Parañaque City

There's nothing better to celebrate Oktoberfest than by helping others too. With various Rotary Clubs assembling to partner with German Club Manila and the Intercountry Committee Philippines-Germany, Rotary Oktoberfest takes a step closer to ending polio and helping the Philippine Rotary in Emergency Preparedness and Response.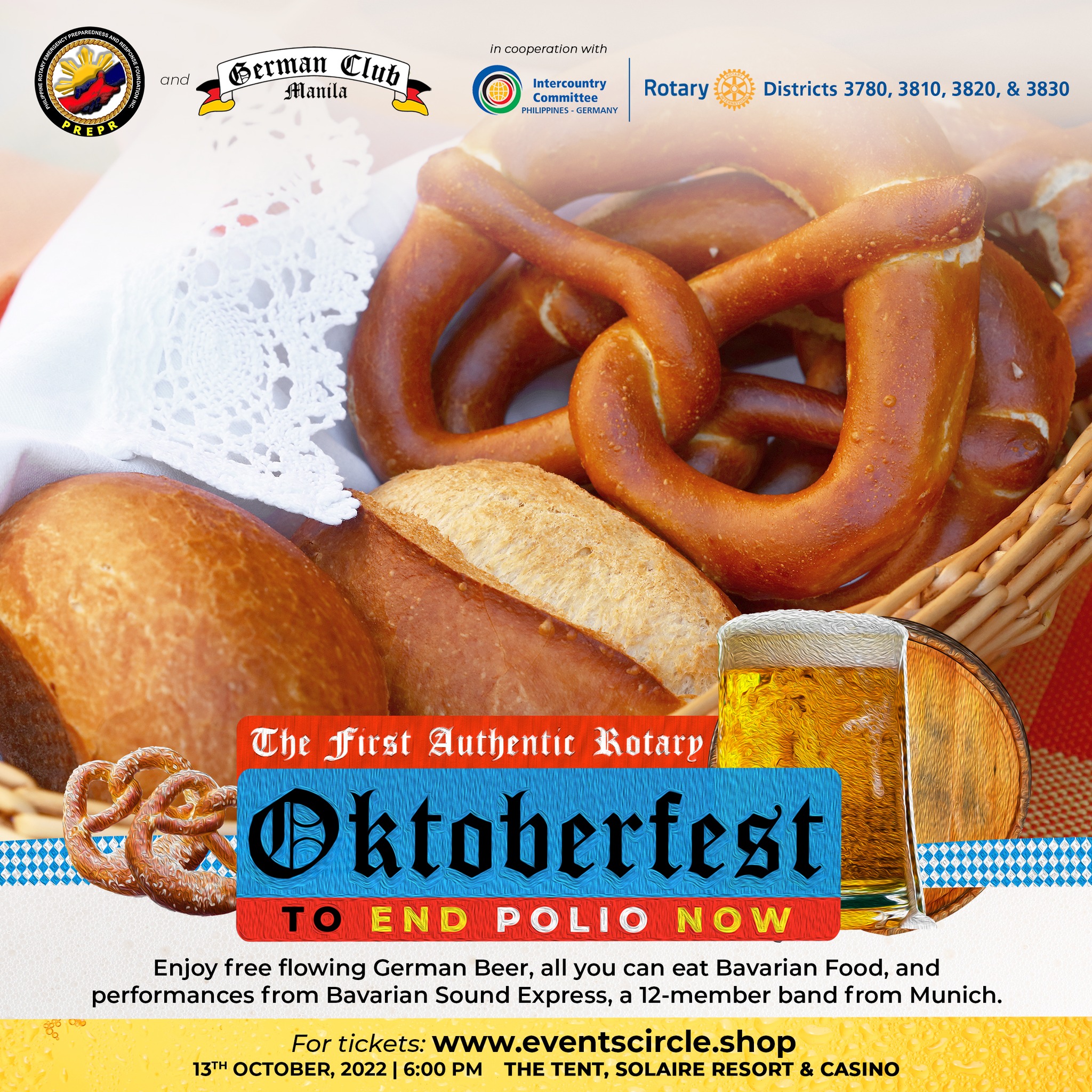 IMAGE from Rotary – Oktoberfest 2022 Facebook page
Choose to help this October 13, 2022, at the "first authentic Rotary Oktoberfest" that will let you celebrate with a cause. Get your tickets at www.eventscircle.shop/home, and visit their Facebook page, Rotary – Oktoberfest 2022 for more information!
Chesa Bianca Swiss Restaurant
When: September 29 to October 15, 2022
Where: 7431 Yakal Street, San Antonio Village, Makati City
The home of authentic Swiss cuisine brings you an extensive Oktoberfest menu from appetizer to dessert in its headquarters in San Antonio Village, Makati City!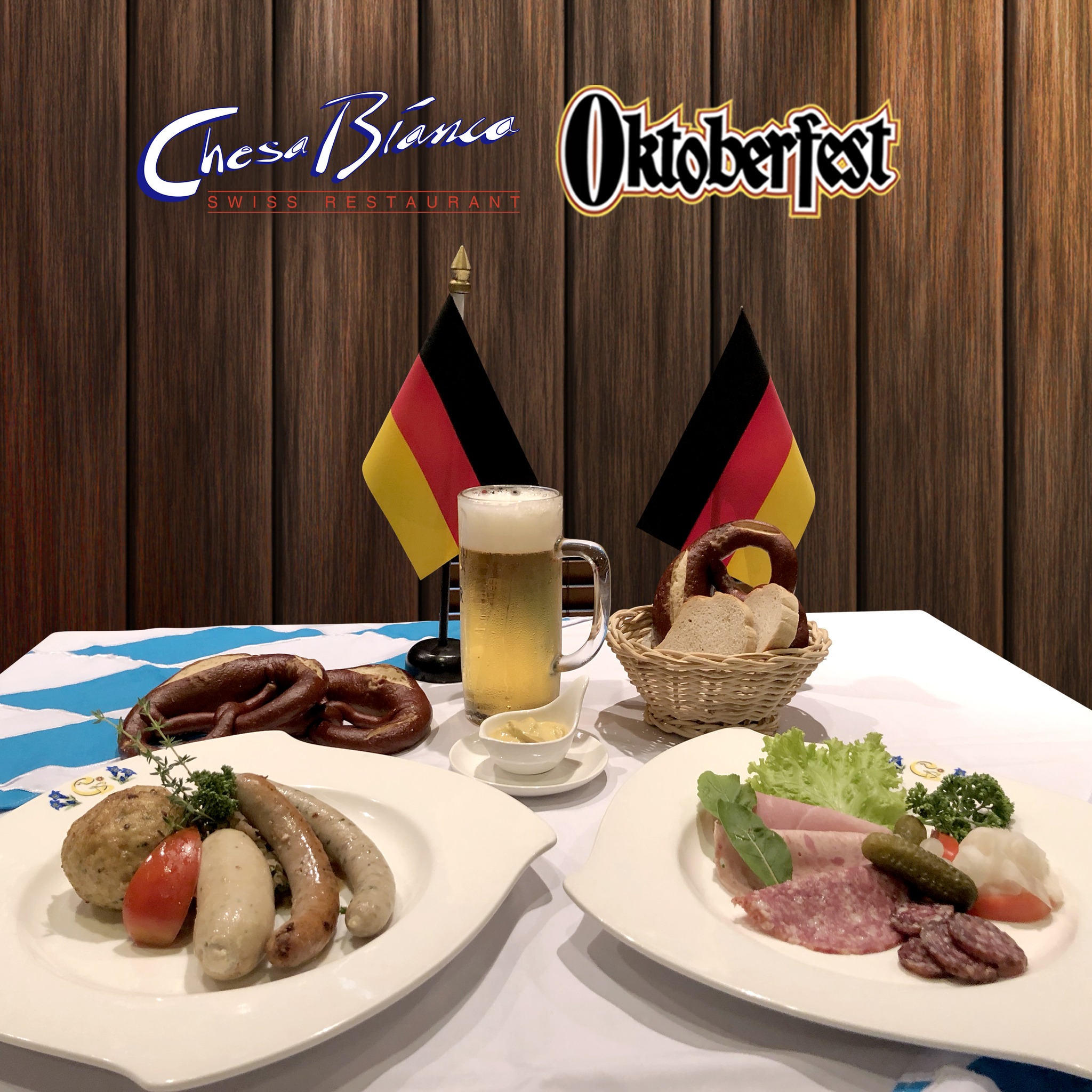 IMAGE from Chesa Bianca Swiss Restaurant
This menu includes the traditional Bavarian sausage, Munchner Weisswurste (Php 460 +) best savored with sweet mustard and the Octoberfest Hax'n (Php 1,780 +) or pork knuckles served with sauerkraut and boiled potatoes, good for two. This menu is available only until October 15, 2022, so don't miss it!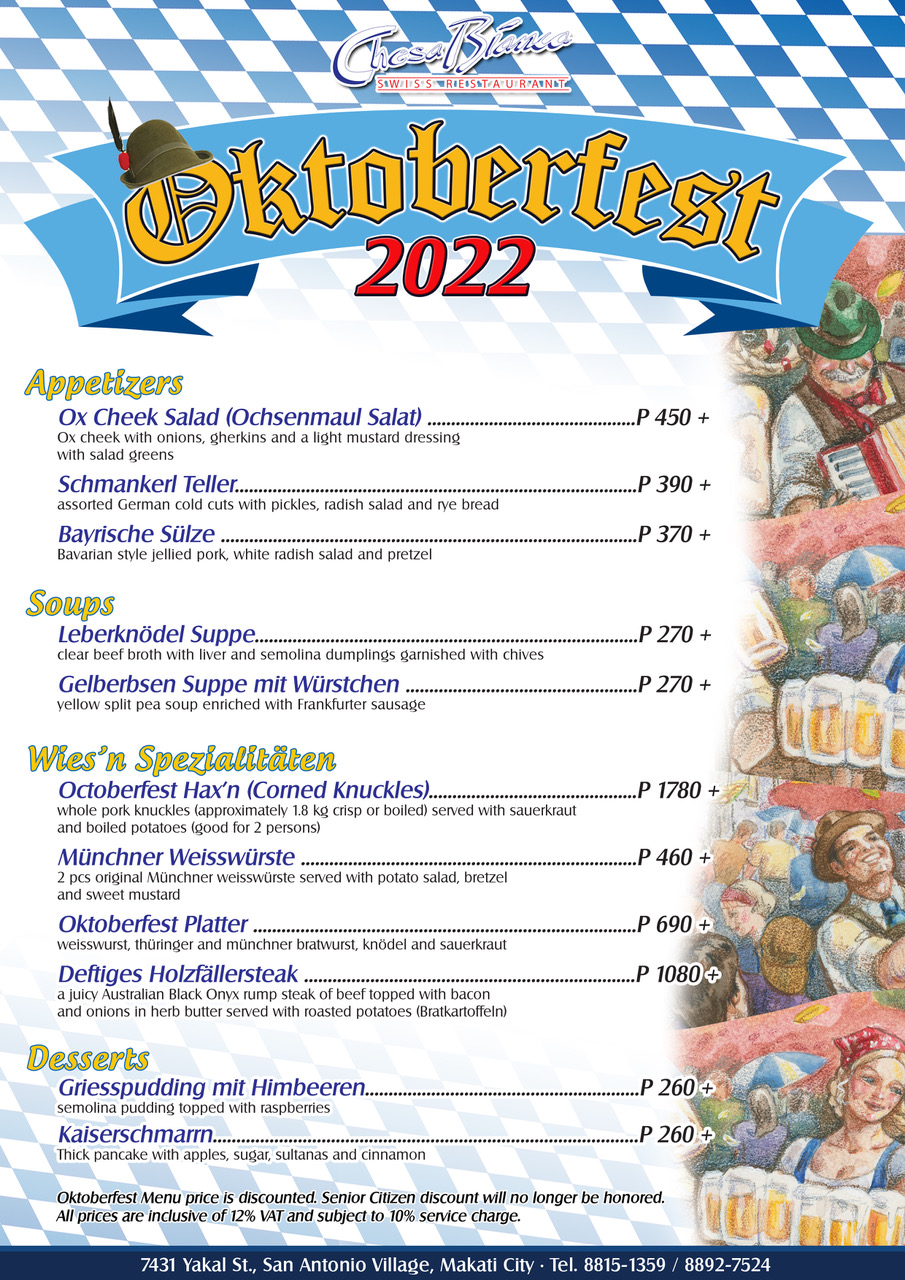 IMAGE from Chesa Bianca Swiss Restaurant
For reservations, contact Chesa Bianca at 02-8815-1359 / 02-8892-7524 / 0916-235-1026. You may also follow them on Facebook, Chesa Bianca Swiss Restaurant, to be updated on future Swiss home-style offerings!
O2 Rooftop Bar
When: October 22, 2022 (with early bird promo until October 10, 2022)
Where: 27/F Penthouse, The Residences, Bonifacio Civic Center Tower, 6 McKinley Pkwy, BGC, Taguig City
When it comes to a night of revelry, O2 Rooftop Bar in BGC might just be your next go-to social scene this Oktoberfest season! Situated at the 27th floor of the Penthouse, the bar and lounge offers a view of the beautiful Taguig skyline, perfect for your outdoor O2Beerfest celebration.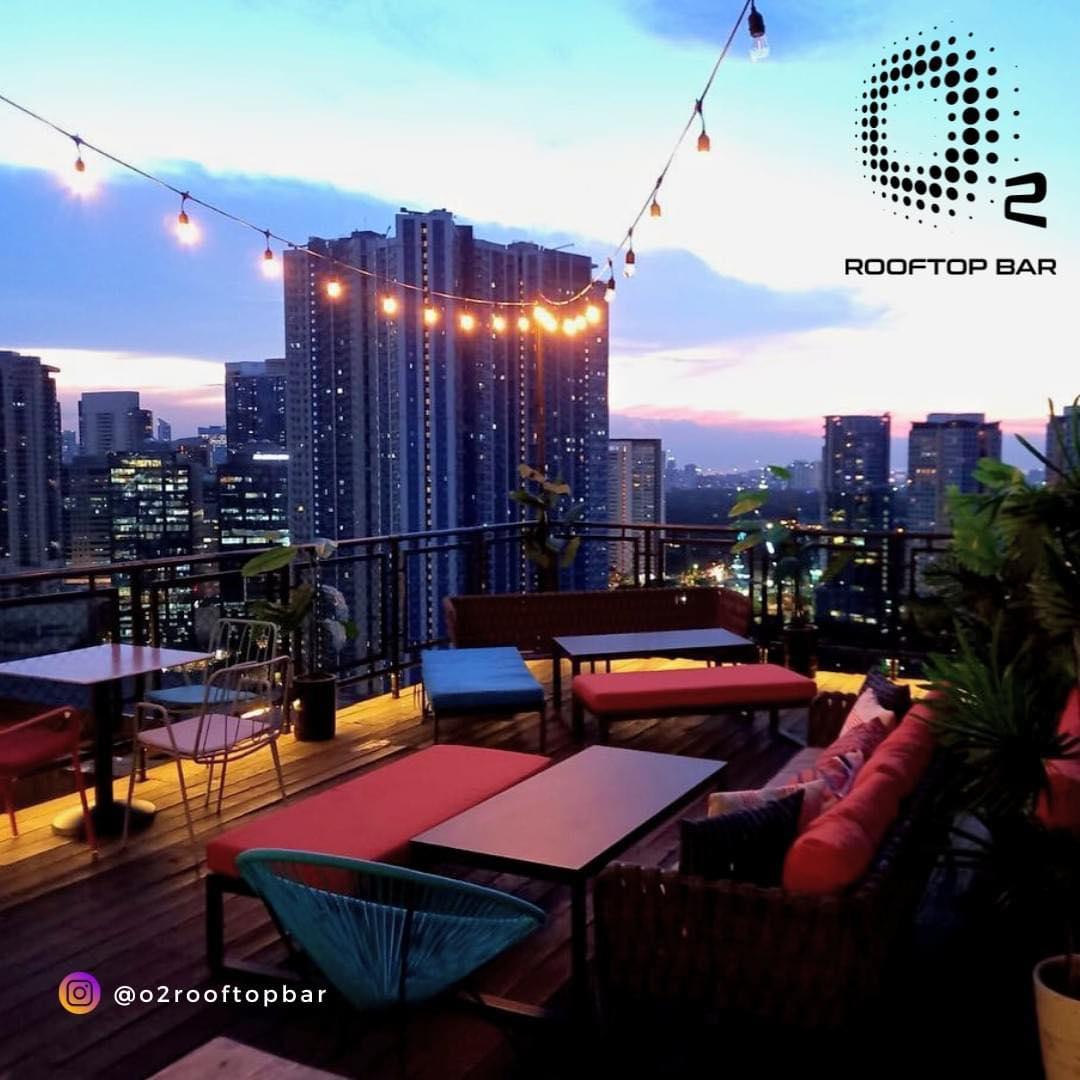 IMAGE from O2 Rooftop Bar's Facebook page
Join their main event on October 22, 2022 and book through http://booking.o2d2.ph/. However, if you want to enjoy the Oktoberfest celebrations as early as now, O2 Rooftop Bar has an early bird promo that offers German buffet and free-flowing beer for only Php 1,999.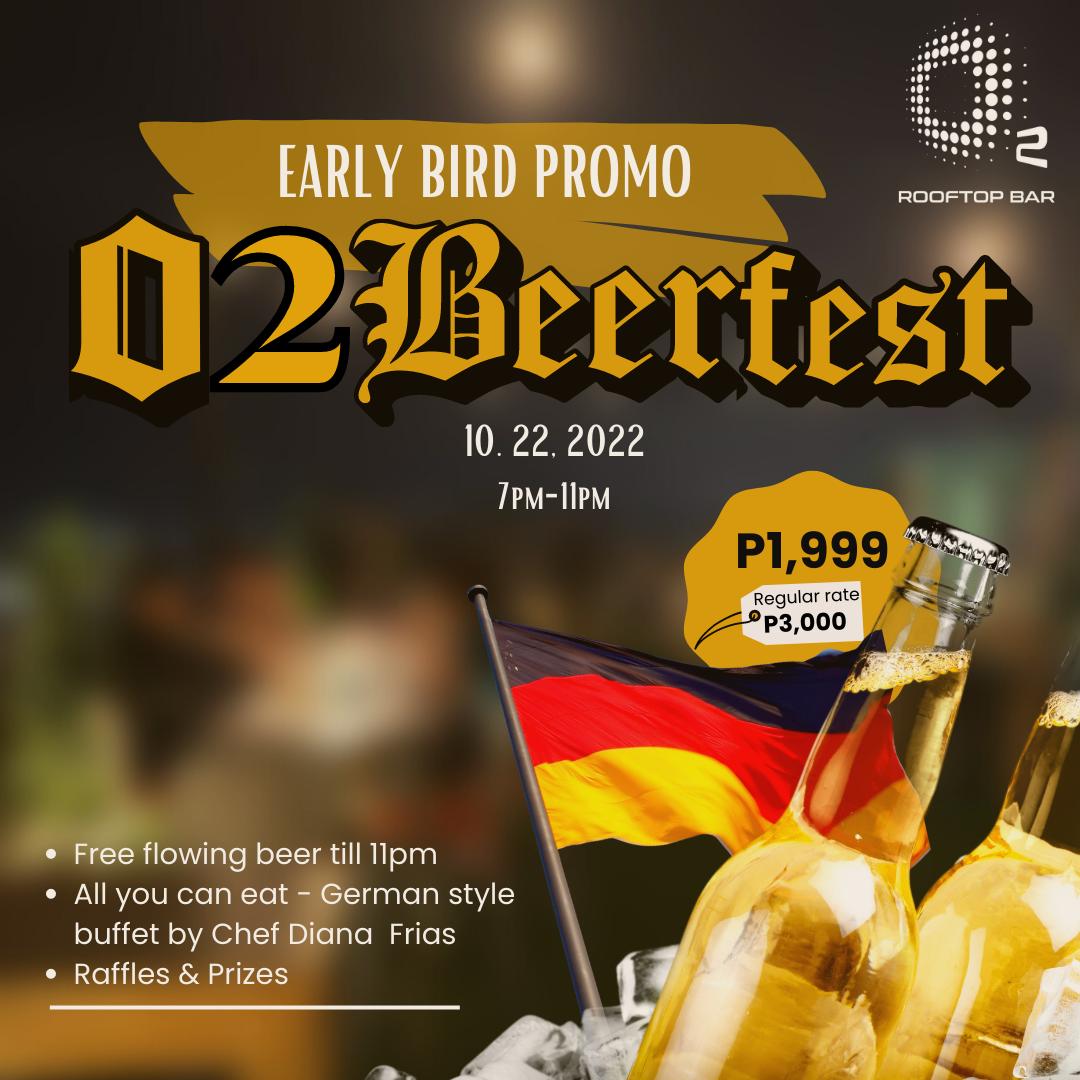 You may avail this only until October 10 so be sure to visit their Facebook page and make your reservations now!
OKTOBER FEST at Alabang West Parade
When: October 14 to 30, 2022 
Where: Alabang West Parade, Muntinlupa City
People from the South, we hear you! We know you don't want to miss the Oktoberfest celebrations, and we found just the right place to join the fun near you.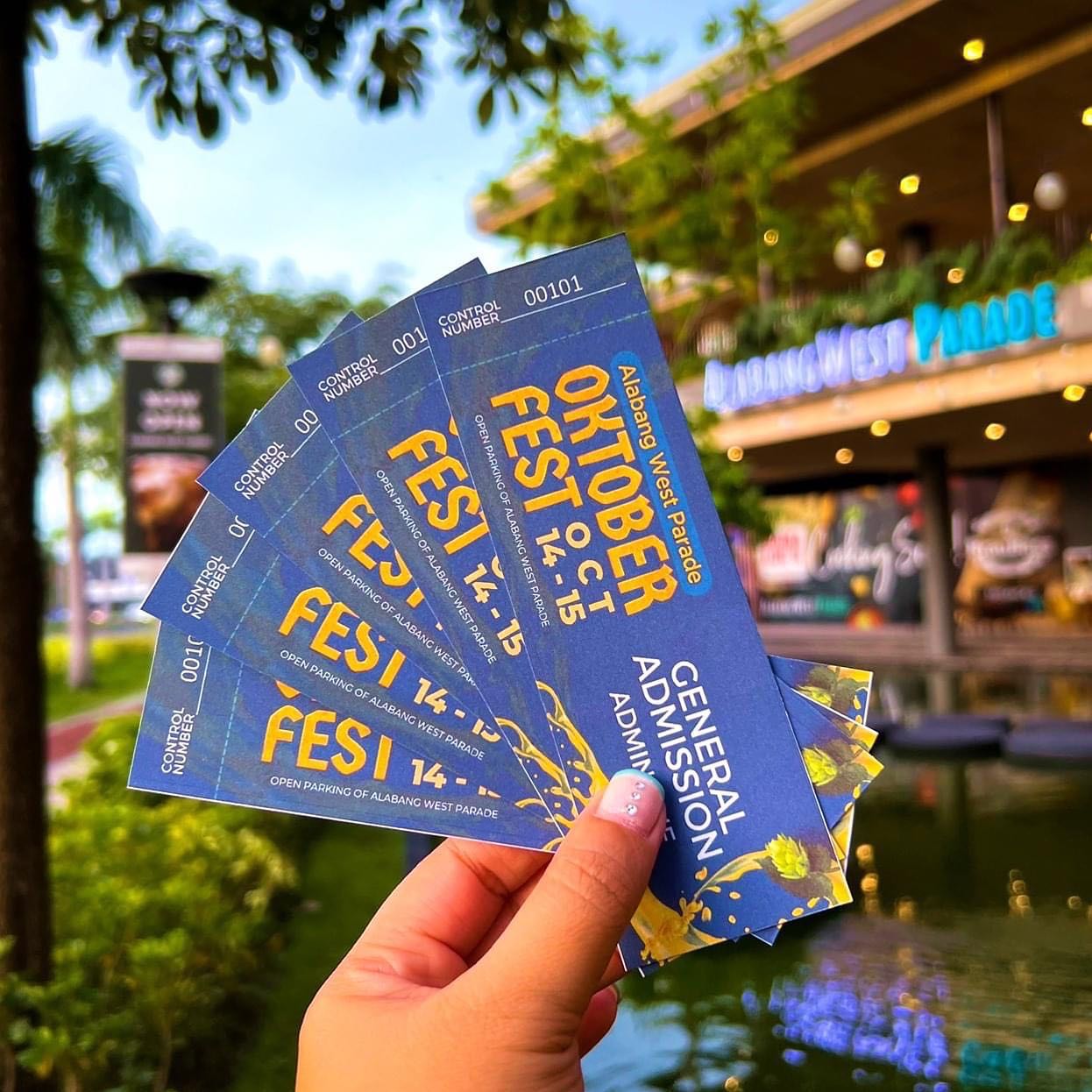 Local band performances await at Alabang West Parade on October 14 to 15, 2022 with Beats & Booze, featuring Mayonnaise, Sandwich, Hey June, Hale, and the rising solo artist, Adie! To make things more exciting, Alabang West Parade lets you exchange your single receipt worth Php 1,000 for one general admission ticket.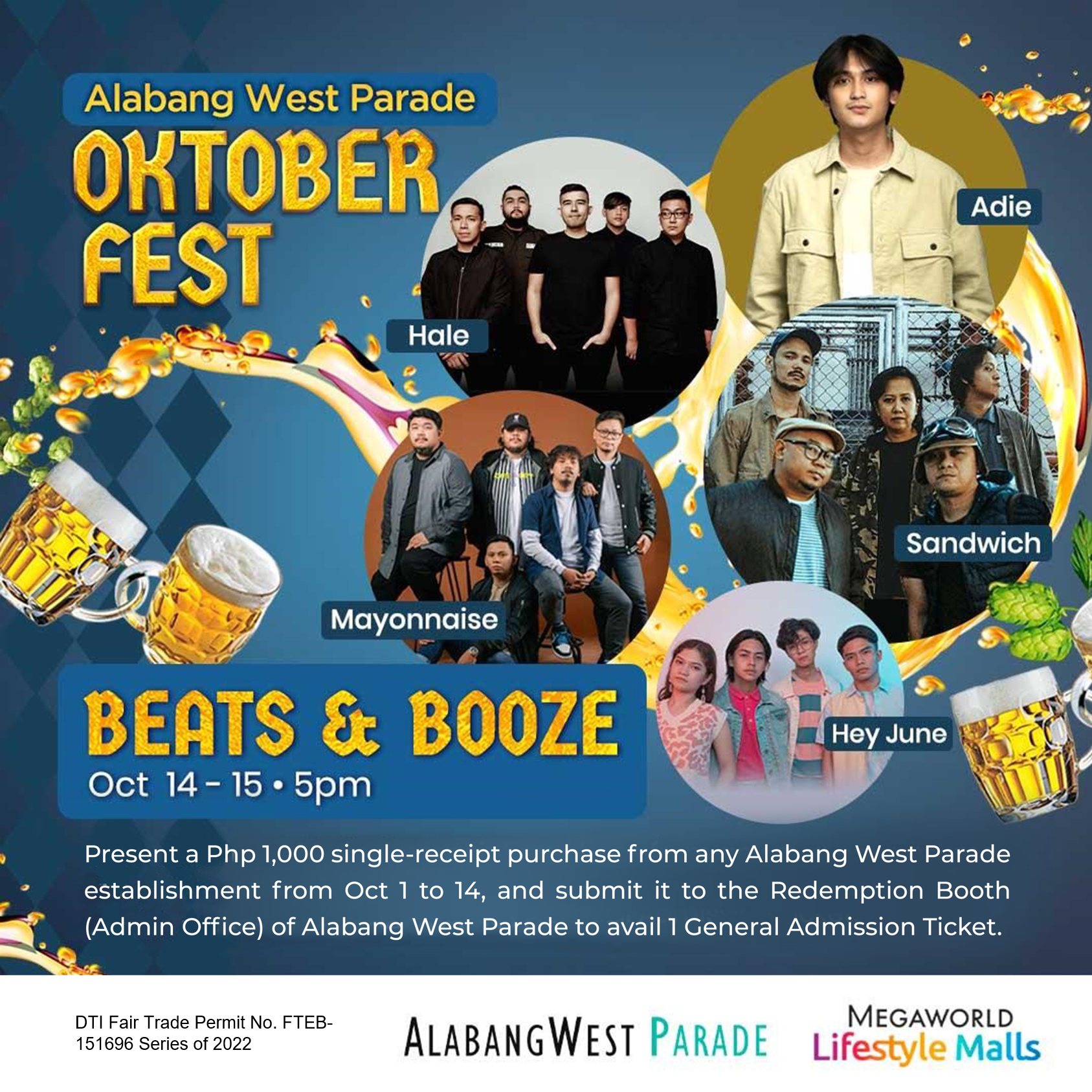 To know more about OKTOBER FEST in the South and the schedule of Oktoberfest activities from October 14 to 30, visit Alabang West Parade's Facebook page.
Which Oktoberfest celebration are you most excited about? Share your thoughts with us!